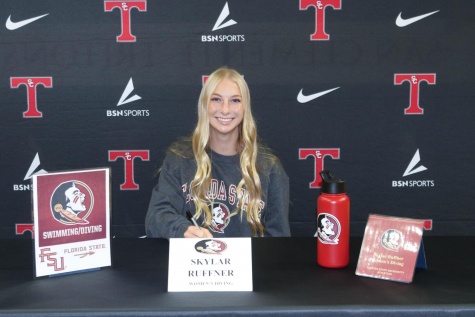 Jill Greene | Head Editor
January 14, 2021
Skylar Ruffner is an unstoppable force at San Clemente High School.
A senior, Ruffner has maximized her time here by taking part in a variety of rigorous courses as well as joining clubs such as CUSD Against Racism, for which she is a member of the social media committee. Through her hard work and dedication, Ruffner has earned herself a whopping 4.7 GPA.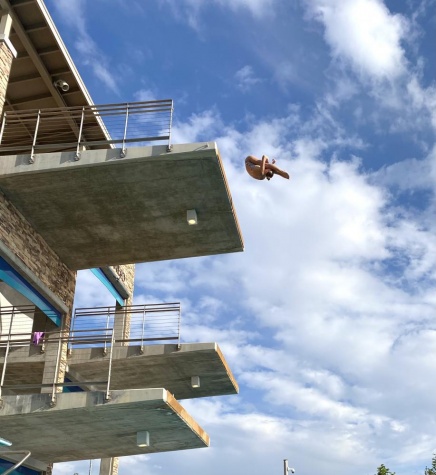 While she spends a great deal of time maintaining her grades, to Ruffner, academics aren't everything. Her greatest passion in life is diving—which she practices 6-7 days a week.  "When standing on the edge of the ten-meter platform, there's a moment in time where the world stands still, and everything goes quiet," Ruffer said. "In the moment, when I am in total control of my actions, I feel free. That freedom to chase after my dreams, and jump into the uncomfortable and unknown, brings me a sense of pride and passion for the grace and perfection of diving." The sport, Ruffner said, has shaped her into the person she is today, and through it, she's learned how to endure challenges as well as the importance of supportive friends and family. Ruffner started diving at the age of 13, and she just recently signed to Florida State University, where she's committed to diving for a full four years.
Outside of academics, and when she's not diving, Ruffner enjoys spending her free time with family or friends, watching movies together late at night. 
While she is a hard worker, at the end of the day, Ruffner's success comes down to her love for what she does. "I think I would tell people to do what makes them happiest," Ruffer said when asked what message she'd like to share with her fellow SCHS students. "Do not base your self-worth on the opinions or standards of others. Find joy in something, whether it be inside or outside of school, and pursue it with a smile on your face. We all face hardships in our life…but know that one day those struggles will fade away, and the lessons you've learned from them should inspire your motivation and fuel your inner drive. So do what you love, pursue something for yourself, and appreciate the kindness and friendship of those around you, as you're only here for a few short years before you're off into a new world of opportunities. "
At FSU, Ruffner plans to major in biomathematics and minor in neurobiology. She plans to earn both a master's and a doctorate. From there, Ruffner hopes to pursue a STEM-related career, either in research or as a professor. Ruffner is a stand-out senior and we look forward to seeing what the future has in store for her!