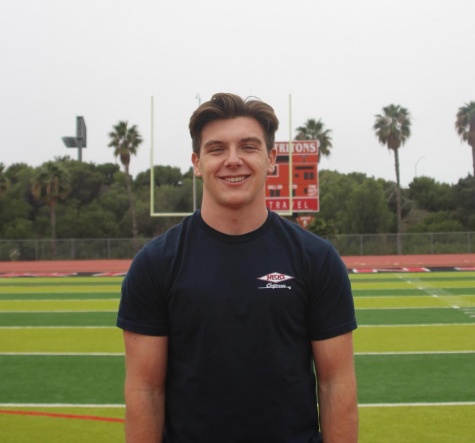 Owen Simler | Writer
February 7, 2021
For many Americans, passion for football runs deep in their blood, and that is especially true for senior Ryland Swarthout. Swarthout is #56 on the field and plays in the defensive line. He has been on the varsity team for the last three years and has been part of the Triton Football program for four years. In Swarthout's junior and senior year, he was a captain of the varsity team. 
"Football has been my gateway to happiness since I was a kid," Ryland said. "I'm not your typical 4.6 GPA kind of kid, like most of my friends are and football has really saved my butt."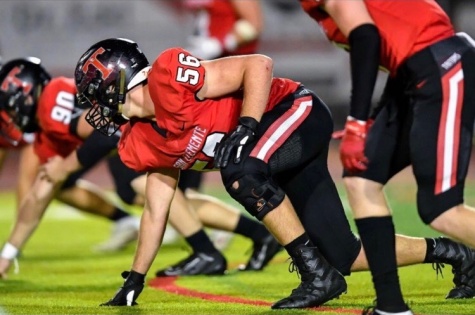 Swarthout is currently planning on playing college football while also earning a degree in business. Swarthout has not yet decided on or signed with a school and is keeping his options open. 
Because of the current pandemic, the entire football team has not been able to have a single official game. "COVID-19 has really damaged a lot of us seniors," Swarthout said. "During these tough times, I've been trying my hardest to ignore all of the chaos and keep my head down with a dedicated attitude." 
With no official practices, Swarthout has continued to train and improve with his own resources. He continues to spend long hours on the open fields refining his skills and improving as a player, teammate, and person. 
Swarthout has loved every year of high school with each year being better than the next. "I have had so many tremendous memories throughout the last four years of my life," he said. "But my favorite few memories that I will never forget were Friday Night Lights. Walking out with the band behind my brothers and me is unforgettable."
Swarthout continues to have hope that he will be able to experience this once again for his senior year of high school. There is no official start date set for their season yet but the whole team remains hopeful that there will still be a season.