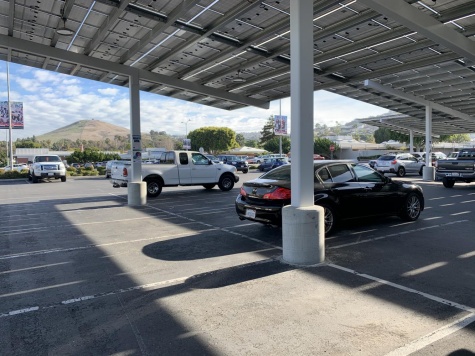 Clara Helm | Head Editor
February 7, 2021
At SCHS, all it takes is a simple $100 handover for the honor of having a glorious main parking lot spot. You won't even mind having to maneuver your way out of and around the Talega moms in their BMWs at the end of the day, just as long as you don't have to make the dreaded walk up to the upper campus lot. This tradition has been long accepted at SCHS, but this year, the students are wondering why now? Why should we pay for a spot that gets used not even half the week, especially when barely half the lot gets used per day? 
It all started in August of 2020. We got the annual registration packet with all the usual school year information. But there it was, the yearly parking pass fee. In shock we stared at the charge, not a sympathy Covid fee waiver in sight. The typical price for an SCHS parking pass is $100 with an ASB card and $120 without, but this year the price has been split into two. At the start of the fall semester, students were charged $25 with an ASB card and $30 without. When the spring semester rolled around, to "renew" the parking pass it was $50 for students with an ASB card and $60 dollars without. In total this would be $75-90 for a parking pass this year.
"Making seniors pay for a parking permit both semesters is an abomination considering the money is going absolutely nowhere based on the fact that every single event for seniors has been canceled," senior Danika Miller said.
Our school parking system has always been odd. Without enough parking space to accommodate the large mass of license-toting students, we host a yearly raffle of who gets the main spots and who gets exiled to upper campus. However, there is a loophole in this system. If your parents are willing, they are more than welcome to bid on a parking pass for their senior, junior, or even unlicensed sophomore in a worthy ED foundation fundraiser for the school…for about triple the price.
What this money is allocated to is something that the average student does not know. According to Assistant Principal Mr. Lovett and the official school expense reports, these funds are mostly allocated to the salaries of certain school staff and extra expenses such as permit/ID sticker printing, repairs, maintenance, and security. In the 2019-2020 school year our administration received $62,600 in permit sales and in the year 2020-2021 our administration has collected $15,435 in permit sales. We as a school should try to be more transparent to where our paid funds go towards, especially with something that most students see as not being something they should pay for. Rather than having to investigate themselves, students and parents should be informed the moment they pass over their check. An informed school body is one that works efficiently.
So what exactly are the laws and regulations regarding public school parking fees? It is a bit difficult to tell due to the overlapping laws and education codes. According to the SCHS website, "All parking regulations and citations set forth in the California Vehicle Code, Section 21113A, Division 11 shall be enforced by the Orange County Sheriff's Department." The code states that a person can not drive/leave standing a vehicle whether unattended or attended at a public school. This code has been interpreted to allow parking fees, but it also could be suggested that without specific authorization in the Education Code, the fees may not be charged since the Vehicle Code only speaks in terms of parking regulations. When investigating on the CAPOUSD webpage, the district states that parking is under the permissible fees a school can charge "for the parking of vehicles on school grounds" (Question #5 on this webpage) again under the Vehicle Code section 2113. Under the California Constitution and Assembly Bill (AB) 1575 (Education Code §§ 49010 et seq.), the free school guarantee prohibits charging students any fee, charge, or deposit for any curricular, extracurricular, credit, or non-credit activity that is an integral fundamental part of the District or a school site's educational program. Does our school consider the transport of students to school as nonessential?
What most people look to when arguing for free parking is the California Constitution. It guarantees every child a free K-12 education; therefore, charging for parking would violate that principle. No matter how they spend this money, it is not relevant if they have the authority to charge for a parking lot that was built and maintained by property taxes and school bonds can be questioned. On the side of the educators and administrators, it is often the position that driving to school is not a requirement and therefore does not fall under the umbrella of necessary free education. They cite that students can get to school in any number of ways walking, biking, carpool, get dropped off by parents, and public transportation. But what this ignores is a number of factors such as the availability of modes of transportation, close proximity to school, the availability of parents, and the Covid safety of those traveling on public transportation. On top of all these factors, parking outside of our school parking lot is not something that is easily done. The neighborhood parking around our school is heavily restricted and there is very minimal street parking around the school, only adding another hurdle.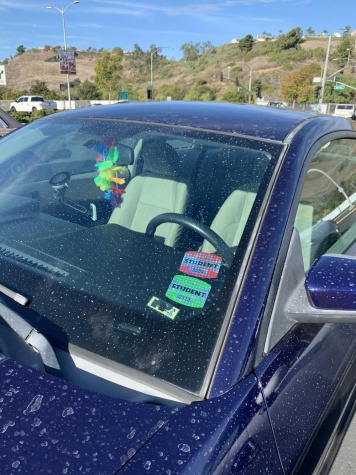 What also tends to confuse students is the exception of charged parking for staff, which means that parking fees have been imposed unilaterally on only the students. Most California college campuses require visitors, staff, and students to pay parking fees, which means the law is fairly applied to bear the cost of parking. Under the Equal Protection Clause of the 14th Amendment to the US Constitution, States are prohibited from denying any person within its jurisdiction the equal protection of the laws. So districts must charge everyone or charge no one.
What has been especially bothering students this year is the amount of use they get for these charged parking passes. With our hybrid schedule, which many of our students enjoy, our parking lot is left half-empty every day. Students are using their parking passes only two days a week, therefore concluding that the prices for the passes should decrease as much as our in-person school days have—significantly. 
"Last year we paid for the whole year but could not, for obvious reasons use our passes from March to the rest of the year," senior Ginger Krug said. "This year, we didn't even return to school until October and we only go twice a week, and we have to miss school if we have any sign of illness or exposure during this pandemic, but we still have to pay almost full price." 
While some students are able to afford this charge, and still frustrated for obvious reasons, for some this extra charge could be something of a disadvantage. While the school may know of students that are lower-income and allow cost waivers/scholarships for the parking pass, this year has shifted the demographic of students who can not swing this cost. With Covid-19 still raging across our country and one-in-four adults having trouble paying their bills since the coronavirus outbreak started, this fee could be seen as insensitive to the families who do not have it in their budget to spare the extra expense. This leaves these students in the situation of having to find elusive parking off-campus, find another mode of transportation, or seek a waiver. Many students have transitioned to 100% online to avoid having to pay for parking, a move that may not have been best for their personal learning requirements.
"With this year being so depressing for any grade level, especially as a senior, it just adds more weight to have to pay so much for the little time we get on campus," senior Ginger Krug said.
After a frustrating year with little normalcy and festivities, seniors are having a hard time understanding any expense that makes it harder for them to come to school. With some parents unwilling or unable to pay, this could be a factor in why less students are deciding to come to school in person. In the end, the issue should not be fully placed on our school administration. From talking to our school administrators this week there is definitely a willingness to open discussion and understanding towards those who are frustrated with the parking passes. As a school administration it is hard to balance the wants and needs of students with the demands of our overall school district, but our next step should be to fight for the district to provide necessary salary compensation to school employees so the burden does not fall on the student.