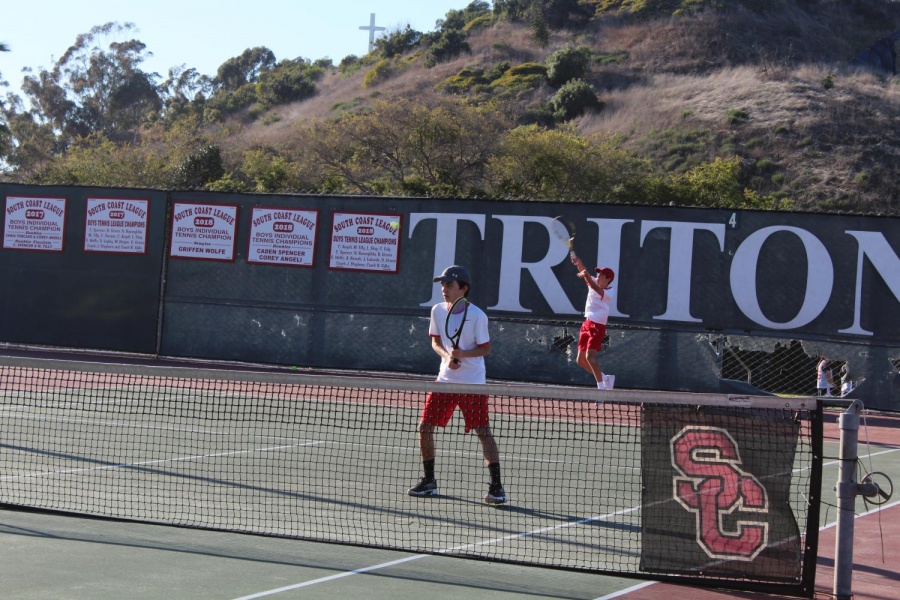 Jack Hagen | Sports Editor
Mach 5, 2021
Last week the California Department of Public Health officially announced that outdoor sports can resume based off of the colored Cover-tracking tiers in each county.
At San Clemente this week and through the weekend both girls and boys tennis, golf, and cross country resumed competition. Everyone is super happy to be back to playing their sports.
"I am super stoked to be back out on the golf course again," junior golfer Bane Corbett said. "It feels great to be back out there competing with my teammates again." The golf team takes on Dana Hills on Thursday and Monday at the SC municipal course and the San Juan Hills Golf Club. 
Another event going on this week is the Cross Country meet on Saturday against El Toro. "It is great to be back racing," junior runner Diego Crawford said. "We finally have something to actually work towards and accomplish."
Throughout the week there are various tennis matches against both Corona del Mar and Trabuco Hills.
Ultimately everyone just wants to play. It is a good thing for people to get back out and be active in their sports, which the Let Them Play movement in south Orange Country has been exclaiming for quite some time now. Finally, we see some sort of progress towards things going back to normal. Hopefully, the rest of the sports will follow soon.
The requirements are as follows:
Purple Tier (Widespread)
Outdoor low-contact sports
Archery

Badminton (singles)

Biking

Bocce

Corn hole

Cross country

Dance (no contact)

Disc golf

Equestrian events (including rodeos) that involve only a single rider at a time

Fencing

Golf

Ice and roller skating (no contact)

Lawn bowling

Martial arts (no contact)

Physical training programs (e.g., yoga, Zumba, Tai chi)

Pickleball (singles)

Rowing/crew (with 1 person)

Running

Shuffleboard

Skeet shooting

Skiing and snowboarding

Snowshoeing

Swimming and diving

Tennis (singles)

Track and field

Walking and hiking
Red Tier (Substantial) 
Outdoor moderate-contact sports
Badminton (doubles)

Baseball

Cheerleading

Dodgeball

Field hockey

Gymnastics

Kickball

Lacrosse (girls)

Pickleball (doubles)

Softball

Tennis (doubles)

Volleyball
Orange Tier (Moderate) 
Outdoor high-contact sports
Basketball

Football

Ice hockey

Lacrosse (boys)

Rugby

Rowing/crew (with 2 or more people)

Soccer

Water polo 
Indoor low-contact sports
Badminton (singles)

Curling

Dance (no contact)

Gymnastics

Ice skating (individual)

Physical training

Pickleball (singles)

Swimming and diving

Tennis (singles)

Track and field

Bowling
Yellow Tier (Minimal) 
Indoor moderate-contact sports
Badminton (doubles)

Cheerleading

Dance (intermittent contact)

Dodgeball

Kickball

Pickleball (doubles)

Racquetball

Squash

Tennis (doubles)

Volleyball
Indoor high-contact sports
Basketball

Boxing

Ice hockey

Ice skating (pairs)

Martial arts

Roller derby

Soccer

Water polo

Wrestling