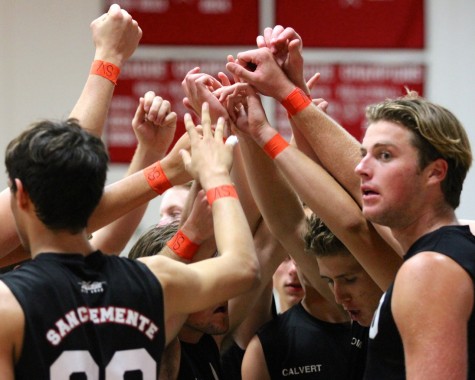 By Maisie Shea | Writer   &   Brycen Dutchik | Writer
May 7, 2015
As the SCHS boys' volleyball season finishes up their successful 26-6 run this season, currently sitting as the 4th seed heading in to CIF playoffs, we sat down with spot-starter, sophomore Jess Hunt. Hunt is playing his first year on varsity at outside hitter and opposite. You can read more about this high-flying, hard-hitting 10th grader below:
What inspired you to start playing?
My brothers and father played volleyball and I figured I better try it.
In a nutshell, what is the greatest individual benefit this team has for you?
It feels nice to be a varsity athlete and a part of the program as a sophomore.
What is your greatest individual challenge involving volleyball?
It's definitely a challenge having to compete for time on the court.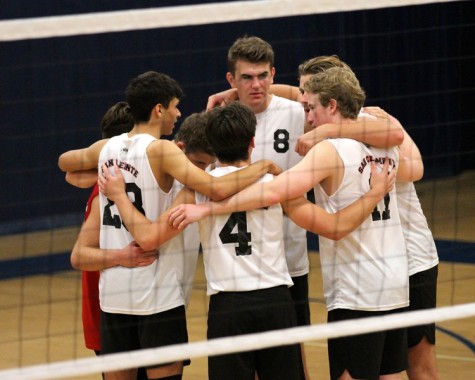 From a long-term perspective, what path do you see the sport taking you? 
I love volleyball and I plan to play in college.
Will the team be competing in CIF? 
Yes, we will be competing, as the first round is next Tuesday, May 12th.
What is it like having Mr. Miller as your coach? 
Miller is a great guy, teacher, and coach!
A QUICK Q&A WITH VARSITY ASSISTANT COACH MATT MILLER
What goals did you originally set for this years team?
South Coast League title, contend for CIF playoffs.
Which goals did you accomplish, and how?
26-6, second place in South Coast League with hard work, focus, and determination. Head Coach Ken Goldstone passed Triton legend Jack Iverson for career wins at 346.
Please be sure to check out the team Tuesday, May 12 at home against Redondo Beach in the first round of CIF. The 2015 CIF schedule is as follows – CIF PLAYOFFS: May:12 14, 15, 20, 23 | STATE REGIONALS: May: 26, 28, 30