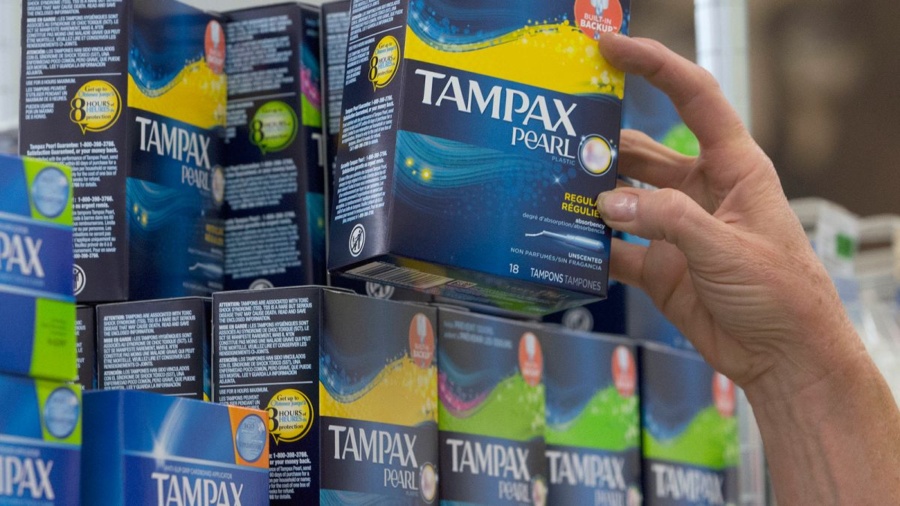 Reaghan Mulligan | Newsroom Manager
October 22, 2021
The average woman spends close to $18,000 on menstrual products in her lifetime. With such high costs necessary each and every month, the financial and mental stress—along with the physical stress of a period—amounts to an emotionally complex menstrual cycle. 
While at shopping malls, or even some restaurants, the presence of low-cost period items, such as pads and tampons, is not an uncommon occurrence. A significant number of public bathrooms host what looks like a vending machine of period products in the women's bathroom for anyone to purchase. Most of the time, these items are around a quarter in cost and can be of great convenience to a woman in sudden need of a pad or tampon.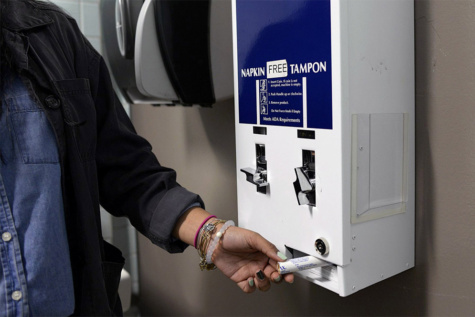 However, in public schools across the country, the access to period products is more than lacking. Most of the time, purchasing or obtaining a menstrual item on campus can be a strenuous process. If a teacher, fellow student, or the nurse's office do not carry adequate supplies, a student may be out of luck, as the bathrooms likely lack any sort of product.
In California, a 2017 law required schools in low-income areas to provide free menstrual products to its students, emphasizing the importance of accessibility for all, and potentially alleviating some of the financial burdens associated with a period. 
In disadvantaged locations, period poverty—or the lack of access to proper period and hygiene products in a community—runs rampant, and affects a significant portion of low-income individuals who experience menstrual cycles. This inadequate ability to obtain proper period products due to circumstances out of individual citizen control furthers the stigma associated with periods, despite their normality.
Building off of this 2017 law, California Governor Gavin Newsom signed off on a new legislation requiring all California public schools and colleges to provide free menstrual products for students on campus. This law, signed on Friday, October 8, applies to public schools grades 6-12, community colleges, and the CSU and UC campuses. The passing of this legislation also urges private schools and colleges to follow in a similar manner. 
Starting in the 2022-23 school year, public school bathrooms statewide are expected to be stocked with appropriate menstrual care items.
"Providing resources for citizens is never a bad choice, especially when it combats the greatness that is period poverty," senior Bethany Padilla said. "The ridiculous overpricing of menstrual care is debilitating for families, and the state providing support in a school setting is entirely appropriate."
The Menstrual Equity Act for All 2021, created by Democratic Assemblywoman Cristina Garcia, demonstrates efforts from activist groups across the nation, all pushing for equitable accessibility to menstrual products in any circumstance. The ultimate goal of many of these groups follow recent legislation from Scotland that established free access to period products for any citizen in need of supplies. 
Although cost-alleviated access to products seems to be many legislations away, any form of movement towards mitigating the stress revolving around adequate menstrual supply accessibility marks a significant step in state policy making.
By passing this legislation, California takes a step forward in the process of eliminating period poverty. 
While the Act specifically targets public and state-affiliated schools, the continuation of this bill throughout private schools and colleges would aid in moving the efforts of period-access forward. Ideally, other public and private establishments will follow suit, offering free or low-cost period products to their customers in order to ensure that everyone has equal access to menstrual supplies when in need of it.
"It's really no different than a school supplying toilet paper or even bandaids, it really should be expected," senior Madeline McDonald said. "This law is saving students from anxiety-inducing situations."
The stigmatization of menstruation undoubtedly plays a major factor in the admittedly late establishment of period products in schools state-wide, as well as the lack of similar legislation across the country. 
The taboo surrounding the topic of periods and menstrual hygiene products creates an environment that is unwilling to adapt and come to terms with the need for universal access to quality period supplies, only furthering the pervasive period poverty that affects persons with a menstrual cycle globally.