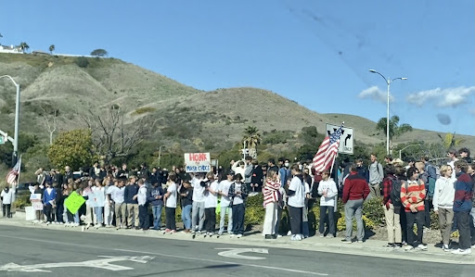 Harrison York | Editor-in-Chief
February 25, 2022
On February 15, California's indoor mask mandate expired. Students, however, are still forced to wear them six hours a day in the classroom. And unlike the statewide mandate, the restrictions in schools have no set end date. Despite their glorified use over the past two years, masks have been little more than pandemic band-aids, comforting and seemingly helpful while ineffective.
Masks have been a persistent symbol of pandemic life. At San Clemente High School, they were required both indoors and outdoors during the 2020-2021 school year. This year, they are required when inside. This creates a strange dilemma, as the doorway to classrooms somehow represents a sudden need to wear masks.
As soon as the bell rings and students leave class, masks come off. In the fall, football games were major events where students crowded into stands for hours, and the Homecoming Dance featured moshing on the field. Hundreds of students gather in close proximity during lunch every day, they pass by each other without masks between classes, and sports teams don't have to worry about masking up when they are outside. Besides all of the mass gatherings on campus, masks are of no concern to students in public or when they are with others outside of school.
The idea that masks are essential for personal well-being in class is a source of misplaced comfort. "Kids are careless outside of class, and they even take masks off during class to eat or drink or just out of comfort," an SCHS junior explained. "So many people have masks under their noses [in classrooms]. If the mandate is going to be enforced, then it should apply all the time, but masks aren't helping anything if they only matter during class."
If the mask mandate was lifted in classrooms on the 15 like it was for most other places, there wouldn't be such heated debate on their presence. People are depending on state officials to give them guidance, but the rules telling when or where to mask up are arbitrary and exhausting.
In response to the division created by persisting restrictions on classrooms, Newsom stated "We feel very confident on the 28 [of February]; not only will we announce a date, but the date will be well within the period of time where people feel confident and safe." 
Pandemic fatigue and disillusionment have turned many students against masks. "I hope that [Newsom] announces the mandate will be ending soon," one junior stated. "It's a waiting game and most of us are already done." Considering the number of students who are vaccinated, have natural immunity from the virus from a past infection, or, in many cases, both, keeping the mask requirement makes little sense and would stir up unnecessary opposition.
Don't forget that Newsom's own student children attend a wealthy private school, which has operated in-person since October 2020. As far as Newsom's own behavior is concerned, he was pictured multiple times without a mask at an NFL playoff game in Los Angeles prior to the lifting of the mandate, along with a slew of other public figures. Also, look back to the holiday 2020 surge in cases when Newsom and other state politicians disregarded their own rules.
Masks are the band-aids of the pandemic. They are worn to provide a sense of protection in classrooms, but they aren't effective in preventing outbreaks of the virus at our school due to their limited presence. "With masks on, you are free to mentally forget about the virus and act like you are safe to resume your daily activities," an SCHS senior said. "I would call masks an extremely large-scale placebo effect."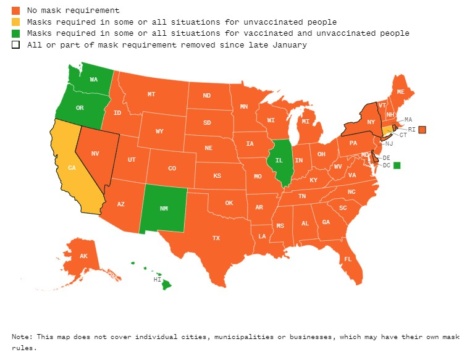 Ultimately, wearing a mask should be a personal choice in classrooms just as they are in other indoor locations across California. "COVID-19 has decreased past the point of masks being necessary anymore," the student continued, as is evident from the shifting sentiment of state and national leadership. The vast majority of states have already dropped their mask mandates for all people—vaccinated or not—including the top five most populated states in the country excluding California: Texas, Florida, New York, and Pennsylvania. 
The United States is approaching the two-year anniversary of "15 days to slow the spread," which kicked off a period of uncertainty and isolation in education back in March of 2020. Since then, schools have gone through a series of rough transitions to online learning, hybrid settings, and now to masked indoor settings. These drastic changes have had detrimental effects on students' retention, with studies by the Department of Education concluding that students are "falling even further behind pre-pandemic expectations," in important subjects like "math and reading."
The pandemic changes have also caused "nearly all students" to experience "some challenges to their mental health and well-being." These overarching themes disproportionately impact students of color, students with disabilities, and those with limited access to technology. "Identity-based harassment and violence" have also increased over the course of the pandemic.
Making masks optional in schools will serve to signal a return to education as it was before the pandemic. Wearing masks exclusively inside classrooms is unnecessary and hypocritical with the lifting of restrictions elsewhere. As students are especially resilient to the virus, setting apart classrooms even as statewide mandates were lifted is holding schools back from progressing.