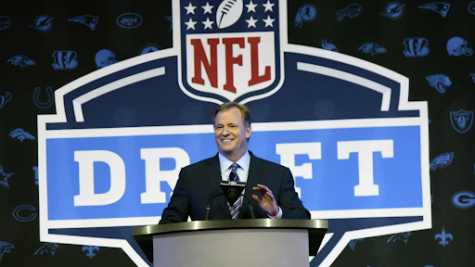 Ben Cooper | Sports Editor & Lucas Rapeepat | Head Editor
May 16, 2022
In the wake of the 2022 NFL draft, fans and analysts have scrutinized teams' picks, predicting which rookies will break out into key players in the upcoming season. Each team has different areas for improvement, which throws surprise and excitement into the mix, and while some teams met these needs, others fell short of expectations. Here's a look into each franchise's decisions.
ARIZONA CARDINALS: C+
The Cardinals started their draft by trading their first-round pick for Ravens receiver Marquise Brown to keep Kyler Murray happy. They then grabbed the best tight end available in Trey McBride, though they have two more established TE on the roster. Finding two solid contributors for their front seven in Cameron Thomas and Myjai Sanders to offset the loss of Chandler Jones was nice, but their Day Three picks were just okay. Guard Marquis Hayes was a value pick who fell to the seventh round. Their draft, however, will be defined by the Brown trade.
ATLANTA FALCONS: B+
After trading away franchise cornerstone Matt Ryan, the Falcons needed a long-term replacement. They shrewdly waited until the third round to pick up an arguably first-round quarterback in Desmond Ridder, who has good traits. Their additions of edge rushers Arnold Ebiketie and Deangelo Malone, as well as linebacker Troy Andersen, provide great players to aid one of the worst defenses in the league. They also found a late power back to give the new man under center some help. The only thing knocking them down is their high-risk first-round selection of receiver Drake London, who was ranked below other pass-catchers such as Garrett Wilson for his bust potential.
BALTIMORE RAVENS: A
Based on value, the Ravens knocked the draft out of the park. Taking Kyle Hamilton, a top-five prospect, at number fourteen was an incredible addition of a versatile defensive weapon. They added the best center in Tyler Linderbaum with the pick used to trade away Hollywood Brown and picked up a first-round prospect who slid due to injuries in David Ojabo. Their later picks, of which they had many, added strong depth with plenty of upside, such as nose tackle Travis Jones and massive tackle Daniel Faalele, as well as a pair of intriguing tight ends. The only question mark is at receiver, with the selection of a punter over speedy wideout Calvin Austin and the neglect of the position in free agency.
BUFFALO BILLS: B
The contending Bills entered the draft looking for players they liked that could push them to the next level. They traded up for cornerback Kaiir Elam, a solid replacement for recently departed Levi Wallace as a number two. Another running back who can serve as a pass-catching option in James Cook will take pressure off of Josh Allen. Late-round studs such as receiver Khalil Shakir and punter Matt Araiza could upgrade a few more positions of need and add to the offensive arsenal.
CAROLINA PANTHERS: B+
Although trades for Sam Darnold and C.J. Henderson left their stockpile diminished, Carolina made most of their picks count. Their most pressing need was offensive line, and one of the elite top two, Ikem Ekwonu, fell to them. They then traded up for some competition for Darnold in Matt Corral, who has arm and athletic upside that could lead him to start sooner rather than later. Late-round picks Brandon Smith, Amare Barno, and Cade Mays could end up being solid rotational players who can develop into starters.
CHICAGO BEARS: C+
Despite Justin Fields entering a second year in which he is in desperate need of help in the form of weapons or protection, the Bears completely ignored the weakness by taking two defensive backs with their first two picks. Kyler Gordon and Jaquan Brisker bring good value that could become studs in the secondary, but it is difficult to ignore that their first attempt at helping out Fields came in the form of a fast receiver who will turn 25 before the season starts. Tackle Braxton Jones has starting potential, but all in all, the Bears failed to meet their top priority of giving Justin Fields weapons, though they upgraded their back end on defense.
CINCINNATI BENGALS: B-
After addressing the offensive line in free agency, the Bengals did not have any glaring needs and got okay value on their first few picks. Daxton Hill is a great safety whose true potential will be determined by how the defensive coordinator deploys him. Their next two picks were solid, but both may have been reaches on the defensive side of the ball. The five out of six picks they used on defense were decent but not anything to be excited about.
CLEVELAND BROWNS: B
The Deshaun Watson trade left the Browns without a first-round pick, and they traded back from the second round to move down even further. Exchanging quality for quantity got them decent contributors in Martin Emerson and Alex Wright, but receiver David Bell and defensive tackle Perrion Winfrey were great selections in the third and fourth rounds that could develop into starters. The Watson deal is what will be remembered when looking back at this draft class, but the picks themselves were meant to add depth rather than an impact starter.
DALLAS COWBOYS: B+
Though first-round pick Tyler Smith is a bit of a project who was taken over stud edge rushers like Jermaine Johnson or George Karlaftis, they made up for this by drafting Sam Williams, a speedy pass rusher with proven production. Jalen Tolbert was a steal who can immediately slot into Dallas's third receiver slot, and late-round selections Damone Clark and John Ridgeway could be sleepers in the front seven. Taking Jake Ferguson is a solid method of replacing Dalton Schultz to save money when he most likely departs next season.
DENVER BRONCOS: B
The package to get Russell Wilson took most of Denver's flashy picks, but the rest of the Broncos' draft was solid. Edge Nick Bonnito is fast and a potential long-term replacement for longtime cornerstone Von Miller. Greg Dulchich is a great receiving tight end who can assume Noah Fant's role. Their seven Day Three picks provided a mixture of defensive talent, with the most interesting being Eyioma Uwazarike, a massive defensive end/tackle hybrid who could be an interesting fit.
DETROIT LIONS: A-
The Lions were definitely ecstatic to see hometown edge rusher Aiden Hutchinson fall to them at number two, and he provides a very high floor while still holding the potential to develop into a Pro Bowler. Trading back for Jameson Williams, who would have likely been the first receiver off the board had he not been injured, gives them a lethal weapon for 2023. Pass rusher Josh Paschal was a great selection who provides good value. Jared Goff is still their starter, but the Lions will most likely wait for 2023 to grab a new signal-caller.
GREEN BAY PACKERS: A-
The Packers had an underrated draft, as they added two pieces to their defense in the first round with linebacker Quay Walker and defensive tackle Devonte Wyatt. Green Bay fans were concerned about the receiver position, but Brian Gutekunst quickly silenced them by trading up early in the second round to select Christian Watson. Watson may not be the same caliber as the receivers taken in the first round, but many experts claim him to be the steal of the draft as receiver. The rest of the draft was filled with offensive line selections and depth picks at receiver, defensive line, pass rusher, and safety. With a solid draft class and Aaron Rodgers returning, the Packers will be a contender once again.
HOUSTON TEXANS: A-
Though the argument for picking Derek Stingley over Ahmad Gardner continues, Gardner's freshman year tape was excellent and undoubtedly demonstrated his top cornerback talent. After a bit of a reach on interior offensive lineman Kenyon Green, the Texans got great value with their next four picks of Jalen Pitre, John Metchie, Christian Harris, and Dameon Pierce, who can all immediately contribute in their rookie seasons. An offensive tackle or edge rusher would have been nice, but they gained a solid infusion of talent.
INDIANAPOLIS COLTS: B+
General Manager Chris Ballard and the Colts entered the draft without a first-rounder and left having filled most of their needs. Big-bodied receiver Alec Pierce provides new signal-caller Matt Ryan with another weapon alongside Michael Pittman, and Jelani Woods is tantalizingly large and athletic. Austrian offensive lineman Bernard Raimann was the steal of their draft in the fourth round, as his age was the only thing causing his fall. The Colts drafted athletes who, if successful, may set a precedent for the future.
JACKSONVILLE JAGUARS: C+
The Travon Walker hype was real. Out of nowhere, the Georgia defensive end sprang up mock drafts until Jacksonville made it a reality with the first overall pick. Though his combination of freakish size and speed is tempting, he is a far more dangerous selection than players like Aidan Hutchinson or one of the tackles. They then double-dipped at a position they had addressed in free agency with off-ball linebackers Devin Lloyd and Chad Muma. Grabbing pretty good late-round players does not erase the questionable choices early on when safer players were available to kickstart the rebuild.
KANSAS CITY CHIEFS: A
The Chiefs got great value across the board in their retooling after the Tyreek Hill trade. Their first pick was Washington corner Trent Mcduffie, who may not possess the prototypical size, but is lockdown in press. Edge rusher George Karlaftis was next, a relentless, high motor player who fell to the back of the first round. Skyy Moore's route running and ability to get open sets him up for success in Patrick Mahomes's offense. Athletic beast Leo Chenal can fly around the field on run defense and blitzes. A defense that was constantly picked apart in 2021 upgraded tremendously to make the rich get richer.
LAS VEGAS RAIDERS: B
With their first pick coming in the third round due to the Davante Adams trade, the Raiders did what they could with the limited supplies they were allotted. Dylan Parham is a run blocker who can potentially start right away. Zamir White is a reasonable pick after the team declined Josh Jacobs's fifth-year option. Some sleeper picks could be defensive linemen Neil Farrell and Matthew Butler, who could help stop the run, and doubling up on the position is helpful. The Adams trade catapults the Raiders into contention in the AFC West, and their draft added some decent pieces in positions of need.
LOS ANGELES CHARGERS: B+
The Chargers had an eventful offseason after narrowly missing the playoffs. They have done their best to surround young star quarterback Justin Herbert with enough talent to compete for a Super Bowl. In the first round, Los Angeles selected an offensive guard in Zion Johnson to improve Herbert's protection. In the third round, Los Angeles went on to select safety JT Woods, who will help the team contain the explosive offenses in the AFC West. The next two rounds were depth picks with players that can immediately contribute in running back Isaiah Spiller and defensive lineman Otito Ogbonnia. The Chargers have a real chance to compete this season, and their draft class will help them go far.
LOS ANGELES RAMS: B-
The Super Bowl Champion Rams didn't have a selection until the third round of the draft. They didn't seem to care, as general manager Les Snead wore a "f*** them picks" shirt to the Super Bowl parade. With the limited picks they had, they were able to add depth to the championship roster. The third-round selection of offensive guard Logan Bruss increases their protection for QB Matthew Stafford. Like many other teams, their late-round selections simply added range to their roster, including four picks in the secondary with Decobie Durant, Quentin Lake, Derion Kendrick, and Russ Yeast. The Rams will be contenders again, and their draft picks have a shot at cracking the rotation.
MIAMI DOLPHINS: C
The Miami Dolphins had a very different draft compared to the last two years, as they traded away picks to acquire wide receiver Tyreek Hill. Miami's first selection didn't come until the third round with linebacker Channing Tindall. Tindall was a solid selection as a versatile linebacker for the defense in the middle. The rest of the draft was underwhelming for the Dolphins, with players that are unlikely to see the field.
MINNESOTA VIKINGS: B
The Minnesota Vikings made multiple trades throughout the draft and turned the picks into solid players. With the last pick in the first round, they selected safety Lewis Cine, who will be a great complement to Harrison Smith. Cine is a great scheme fit in Minnesota, bringing versatility and phenomenal tackling. The Vikings doubled up in the secondary by taking cornerback Andrew Booth Jr.—who is regarded as one of the steals of the draft—in the second round. Throughout the rest of the draft, Minnesota made picks on the offensive line, all over the defense, and some depth at skill positions on offense.
NEW ENGLAND PATRIOTS: C-
The New England Patriots shocked many with their selections, as always. Bill Belichick has his own style, and while it has led to six Super Bowl rings, it has also caused some busts in the draft. In the first round, New England shocked the world by selecting offensive guard Cole Strange, who was projected to go in the second round. They proceeded to make more questionable picks, including taking wide receiver Tyquan Thornton over George Pickens. Belichick has proved people wrong before, but his picks left fans questioning.
NEW ORLEANS SAINTS: B+
The New Orleans Saints were adamant about upgrading their roster in the draft as they selected wide receiver Chris Olave and offensive tackle Trevor Penning in the first round. Olave and Penning will quickly become key contributors to the Saints and shape the future of the franchise. In the second round, New Orleans added cornerback Alontae Taylor, who gives them another corner in the rotation. They didn't pick again until the later rounds, where they drafted backup players. Overall, this draft class for the Saints will help them improve for the future.
NEW YORK GIANTS: A
One of the big winners of the draft was the New York Giants. The Giants had two phenomenal draft picks in the top ten with edge rusher Kayvon Thibodeaux and offensive tackle Evan Neal. Thibodeaux and Neal were among the best at their respective positions. They continued to upgrade their roster throughout the draft and are now set up for a bright future.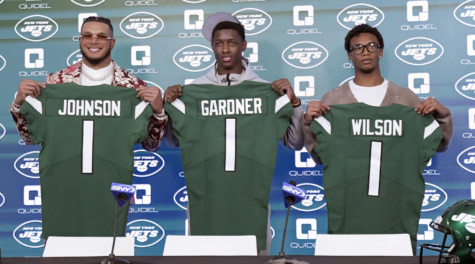 NEW YORK JETS: A+
The best draft came from the New York Jets, who killed it from top to bottom. Like the Giants, they had two picks in the top ten, which they used to select cornerback Sauce Gardner and wide receiver Garrett Wilson. Gardner and Wilson were the top-ranked players at their positions by many draft experts, making these home run picks. The Jets continued their success in the first round by selecting edge rusher Jermaine Johnson with the 26 pick, and Johnson is expected to contribute to their pass rush for years to come. New York followed up by securing QB Zach Wilson some help with running back Breece Hall and tight end Jeremy Ruckert. The Jets won this draft, and they have great building blocks for the future of their franchise.
PHILADELPHIA EAGLES: B+
The Philadelphia Eagles were active in trades on draft night, acquiring star receiver A.J. Brown. However, they were still able to upgrade their roster in the draft, especially with their selection of defensive tackle Jordan Davis. Davis is the best defensive tackle in the class and will be an elite player for the Eagles' defense. In the second round, Philadelphia went for their offensive line, but got a steal in the third round with linebacker Nakobe Dean. Dean fell down the board but is a super talented player. The team is looking to build upon last season, and their new players will be critical pieces toward that goal.
PITTSBURGH STEELERS: B
With Ben Roethlisberger retiring, the Steelers took a quarterback in round one with the selection of Kenny Pickett. Pickett was a surprise pick, but Pittsburgh followed it up with solid choices during the rest of the draft. They added to their receiving core with George Pickens and Calvin Austin while adding depth on the defensive line. The Steelers will be looking to make the playoffs in their first year with a rebuilt roster.
SAN FRANCISCO 49ERS: B-
Last season, the San Francisco 49ers fell one game shy of the Super Bowl. San Francisco didn't have a pick until the second round, when they selected edge rusher Drake Jackson. Jackson will be a great complement to Nick Bosa and the rest of the stout defense. The rest of the draft consisted of adding depth at multiple positions. With Trey Lance likely starting this season, we will get a look at the future of their team.
SEATTLE SEAHAWKS: A
The Seattle Seahawks pulled off a big trade in the offseason, sending quarterback Russell Wilson to the Broncos. They got a major haul in return, including multiple draft picks. Seattle added an elite pass protector in tackle Charles Cross with the ninth overall pick. The rest of their picks were used to make upgrades at multiple positions with Boye Mafe at edge, Kenneth Walker at running back, Abraham Lucas at tackle, cornerback Coby Bryant, and more. It was a quality draft for the Seahawks, and they have a bright future ahead.
TAMPA BAY BUCCANEERS: B
The Tampa Bay Buccaneers had an eventful offseason with Tom Brady retiring and returning quickly after. Head Coach Bruce Arians also stepped down, leading Todd Bowles to take the helm as head coach. Tampa Bay used the draft to improve on the line of both their offense and defense. There were offensive weapons and a punter sprinkled in, but an overall building up of the interior of both units. This will ensure the protection of Brady and limit the run game of opposing teams.
TENNESSEE TITANS: B+
The Tennessee Titans had to make the difficult decision of trading away A.J. Brown on the first night of the draft. To replace Brown, Tennessee selected wide receiver Treylon Burks, who has the potential to be a star. Another notable pick included quarterback Malik Willis in the third round, who some draft experts expected to go in the first. Willis has the opportunity to compete with Ryan Tannehill for the starting QB spot next season. This draft was all about preparing for the future, as the rest of the AFC is filled with young talent, and the Titans need to have the players to match other teams.
WASHINGTON COMMANDERS: B-
The Washington Commanders had a decent draft, focusing primarily on upgrading their offense. They drafted wide receiver Jahan Dotson in the first round, who will contribute heavily to the offense in his rookie campaign. Later in the draft, Washington selected quarterback Sam Howell, who could develop into a starter if Carson Wentz doesn't pan out. Washington has a great defense but will have an uphill climb to making the playoffs this upcoming season.