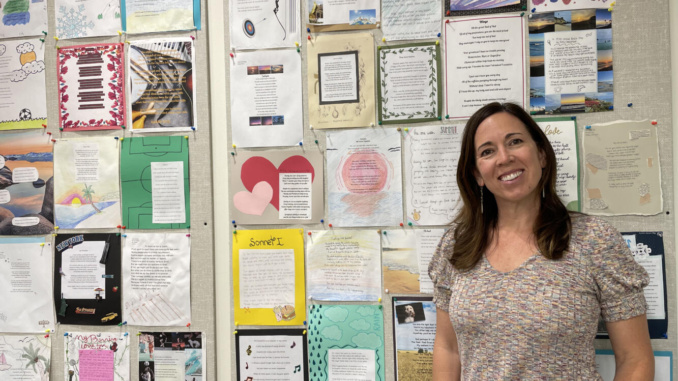 Sofia Sipelis | Opinion Editor
May 26, 2022
Known for her charisma, charm, and passion for English, Ms. Dutton is a fan favorite English teacher on campus. Whether it's her vivacious smile or how she magically remembers every former student's name as she greets them in the hallway, Ms. Dutton is a pinnacle of kindness, warmth, and intellect. Ms. Dutton has a strong voice, she stands up for her students and cares deeply about the success of each and every student, she is forgiving, understanding, and loving towards all. 
Ms. Dutton has been a San Clemente Triton for 16 years, and her passion for teaching is unwavering as she teaches a full load of classes: English I, Honors English I, ELD 1 and 2, and IB/AP Language and Composition. She pursued teaching to help teenagers navigate some of the hardest years of their lives, seeking to help students learn the study skills she felt she lacked when she was in high school. 
"Ms. Dutton taught me study and writing skills that really prepared me for my AP test and will help me in the future," junior Taylor Campbell said.
Her love for English goes back to her childhood when she found solace in her books. She encourages her students to lose themselves in literature and live a life of authenticity.
When asked why she chose to go into teaching Ms. Dutton said: "I knew I wanted to be a teacher and in college, I started tutoring fellow students, that's when I knew I had a knack for teaching." 
Ms. Dutton's students would describe her as friendly, welcoming, inclusive, passionate, wildly-intelligent, and loving. She fosters a classroom environment that encourages kindness, acceptance, inclusivity, and hard work and ensures that her students feel supported, educated, and capable of managing the intense workload that high-level English classes can provide. Her class is engaging and hands-on promoting students to take charge of their own learning and become passionate about what they love. 
"Ms. Dutton has an energy for teaching that is evident in her style of teaching" junior Megan Mills said. 
Few teachers share the passion for English and the genuine success of each student like Ms. Dutton does. I have had the privilege of being Ms. Duttons' student for two out of my three years at San Clemente High, I couldn't ask for a teacher that's as kind, supportive, and incredible as her!