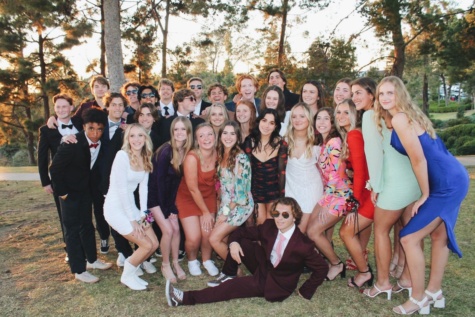 Amy Parr | Head Editor
May 24, 2022
I remember the first day of freshman year like it was yesterday. Walking into Mr. Wilson's first period Honors Biology, I immediately felt like the smallest fish in the biggest pond. How could I possibly find my place among my 600 peers, most of whom I'd never even seen before? I somehow read the seating chart and found my place next to Eli Ritchie, Connor Guerrero, and Chase Geyer. I barely spoke, afraid of overstepping a nonexistent boundary. Little did I know, nearly four years later I would be making 'your mom' jokes with Geyer in math class, not a care in the world. 
Small moments like these illustrate the growth we have experienced as a class. Freshman year went by without any major incident, and the Class of 2022 had no idea what was to come with our sophomore year. We all felt a little more comfortable around each other, no longer at the bottom of the social food chain, and just as soon as many of us began to find our places, our entire lives changed. Enough articles have been written about the effects of the pandemic and subsequent quarantine on teenage mental health, but for many in the Class of 2022, it was a blessing in disguise. 
"Even though the world was collapsing around us, the initial quarantine was a really relaxing time for those of us that were lucky enough to stay home and be healthy," senior Teresa Yubeta said. We got to have the longest summer of our lives, and in the grand scheme of things it's very selfish to romanticize this time, but most look back on these months as a much-needed respite from the outside world. After six months off of school, we were faced with the ever-daunting junior year of high school. 
It's pretty safe to say that junior year was one of the worst times of my life. Locked in my room, with five AP courses and the world collapsing around me, I felt extremely hopeless at times. For those that elected for the hybrid route, it wasn't much better.
"The desks were all separated in class so it just felt super uncomfortable having discussions," senior Evan Lipofsky said. "It didn't feel like real school because all the best parts about school were gone, like the socializing and activities." 
Due to the lack of quality school-sanctioned socialization, students were left to their own devices to rekindle friendships, many of which were extinguished during quarantine. My best friend and I made a habit of going for drives with no destination, seeing as many places were off-limits, and used that time to have genuine conversations that are typically abandoned when other, more exciting alternatives are available. This was a period of limited, but prime socialization, as the bonds that formed between us were heartfelt and never forced. This camaraderie, combined with gratitude for our opportunities and sympathy for the Class of 2021, propelled our class to make our senior year of high school worthy of its own High School Musical film.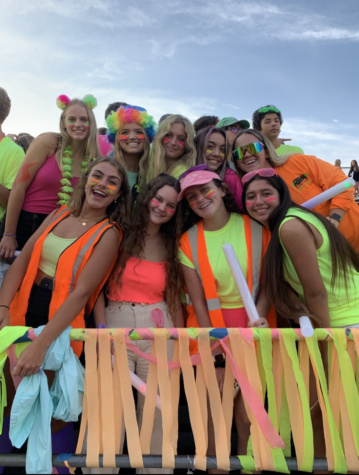 The first day of senior year could not have been more different than the first day of freshman year. Waking up at 4:30 for the traditional 'Senior Sunrise,' I carpooled down to the beach with a group of seven other girls, half of whom were complete strangers to me when I started high school. When we reached the two hundred or so seniors at T-Street, I could immediately sense a difference compared to the last time this many of us were gathered, which had to be our sophomore formal. The scene was fluid, with hardly any cliques exclusively speaking to each other, and everyone walked around greeting each other like old friends. After witnessing the Class of 2021 get robbed of everything that encompasses a memorable senior year, everyone was simply grateful to be there. And before we knew it, the bell rang, signaling the start of our first in-person year since 2020.
The first few months passed in a flurry of activity and happy surprises. Dance practices and Crumbl runs defined September for most, as did the infamous Friday Night Lights. First semester was a time of friendships, both new and old, forged under the desire to make the most of our last year together. Fifteen-year-old me would be shocked at my newfound friendships. Was I really friends with my freshman year crush? Do I actually participate in school events without feeling embarrassed? I'd like to think that she would be proud of the person I became, no longer lingering in the shadows. My newfound school spirit was not specific to just me, and more seniors than ever became enthusiastic participants in school events. Homecoming was the highlight, with dress-up days and an incredibly wholesome "Top Eleven" court perfectly encompassing our class spirit.
In my head, I refer to this part of the year as the "honeymoon phase." Everything was new and shiny following a yearlong separation, but once October and November rolled around, so did the pressure of college applications. Tutorials previously filled with laughter turned into hushed whispers and Common Apps. Following the high of the honeymoon phase, these months were most certainly underwhelming, and seniors were more than ready to click 'submit' and start a new semester. 
Without football games to unite the class, there was a definite drop in class-wide camaraderie going into the second semester. Only a select few attended basketball games, and I am lucky to count myself amongst this group. If there's anything this time of the year taught me, it was to take advantage of every single school activity because it goes by way too fast. It might be cliché, but it's a cliché because it's true. 
February flew by, and with March came college decisions, reminding seniors of their dwindling time at SCHS. During our last few months together, I've thought a lot about friendships within the senior class, and the sad reality is that most of us will never speak to each other again. However, that does not undervalue any relationships and interactions because we'll take them with us for the rest of our lives. Odds are that I will never see Jordan Armstrong again, but I will never forget about the time that he made an impromptu speech about the parallels between crackers and cheese and sex. I'll probably never come across Austin Ashizawa after graduation, but I will always cherish how we laughed over The House of the Spirits at completely inappropriate times. Nick Humphrey will be a stranger to me in twenty years, but his baseless belief in my math ability never failed to brighten my day. Although these moments might not constitute a deep friendship, they represent the kinship formed between the Class of 2022, one that I will be devastated to leave behind on June second.