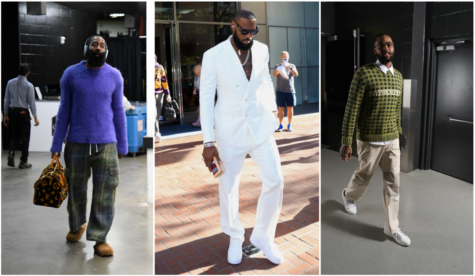 AJ Cabagbag | Student Life Editor
October 28, 2022
As of October 18, the NBA kickstarted the 2022 season with a stacked doubleheader: the Boston Celtics played the Philadelphia 76rs and the Golden State Warriors squared off against the Los Angeles Lakers. Prior to their games, NBA stars also participated in dressing to impress, stunting their looks in the corridors of stadiums and arenas. Senior Liam Wilfong said "I always forget athletes can have style too. Basketball players are more known for their fits than other sports I think."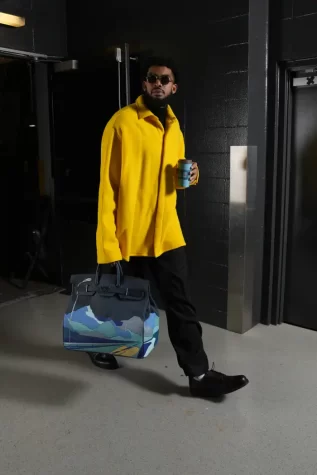 First to show up and show out was Lebron James, who stunned fans with his all-white outfit. A double-breasted blazer, relaxed pants, clean sneakers, and classic black shades topped off the monochromatic look, fit for a king. Color-blocking and monochrome became a trend as seen through other players like Utah Jazz point guard, Mike Conley, and Warriors power-forward Draymond Green. Conley showcased a compilation of pieces all different shades of red, from his ruby letterman to the maroon-patterned trousers and Nike SBs, while Draymond was tongue-in-cheek with his last name, sporting a sheen-finished emerald suit. 
While some highlighted their outfit through bold choices, others found their style in simplicity: Resembling somewhat of a "substitute-geography-teacher" as INSIDER would quote, Timberwolves point guard D'Angelo Russel decided to dress in plain cargo pants and pair his BODE wool-knitted sweater with a white collared shirt underneath, playing into the popular but casual style trends of the new generation. Warriors guard Jordan Poole looks like he forgot the rest of his wardrobe at home, wearing a simple white tee and casual black jeans. However, Pelicans forward Garret Temple paired simplicity with sophistication wearing a classy and perfectly-tailored navy power suit with a maroon-accented pocket square.
Even with all of the different and stylish looks, there were few select players that truly outshone the rest: Sixers guard James Harden takes comfy and cozy to a luxury level, decked out in a lavish pajama-like sweater and pants. Timberwolves center Karl-Anthony Towns mirrored that of a runway model, stunting a mustard fleece coat, sleek black pants, and accessorizing with a limited edition Hermes Birkin bag.
While it is not the main focus of the season, the concrete catwalk is undoubtedly one of the most iconic aspects of the NBA that gives it an incredible amount of impact outside of the game. It brings more to the table than just a sport, allowing pop culture and fashion to bleed into their overall influence on the watchers. Some fans would also like to see this aspect used alternatively, like how Senior Kian Jadbabaei said "The outfits are cool, but I feel that the best outfits are when there is a theme and everyone dresses based off that, like the pink out." Theme or not, the NBA will continue to showcase their players' incredible outfits off the court.