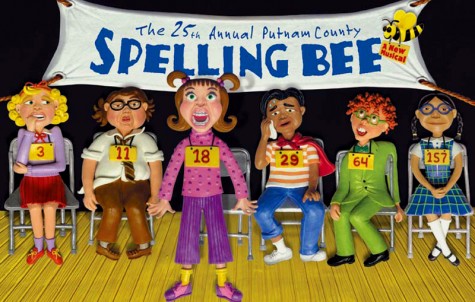 By Saffron Sener | News Editor
September 11, 2015
The county's best spellers are back for this year's annual spelling bee! Reinstating the beloved summer season, the SCHS Theatre Arts program is performing the Tony Award winning "25th Annual Putnam County Spelling Bee," a musical that explores the troubles of a parent and a child's relationship. By following the path of a certain six spellers, this show delves into the effects of expectation, anxiety, competition, and friendship can have on children and adults alike.
Set in the modern-day, Putnam County's spelling bee is hosted by the charming Rona Lisa Peretti, a former champion of the bee as well as the top realtor in the region. She is being portrayed by Bri Kirkwood, a senior. Acting as her co-host and the announcer for the bee, Doug Panch, or junior Luke Gianelli, is a returning judge madly in love with Ms. Peretti, an non-mutual feeling. The last adult included in the show, Mitch Mahoney, presented by senior Jonathan Jackson, is the designated "comfort counselor," giving the children who lose juice boxes. He is also on parole and is completing his community service by volunteering at the bee.
As the bee begins, we meet the six main competing members. Charlito "Chip" Tolentino, played by sophomore Zach Thomas, is boy scout, little leaguer, and a returning winner, having found victory at last year's bee and moving on to nationals. Following Chip's introduction, young Logainne "Schwartzy" SchwartzandGrubenierre runs in. Tamara Armstrong, a junior, portrays the intelligent daughter of two gay dads, who have extremely high expectations for her. Politically aware. she is the youngest member of the bee, being only seven years old. Next, we meet Leaf Coneybear, who is being represented by Garrett Claud, a senior. He is the enthusiastic son of former hippies who has believed his whole life that he is not smart enough, due to belittling from his numerous siblings.
William Morris Barfée, or senior Daniel Klevit, is last year's finalist, but had to forfeit due to an allergic reaction. He prides himself on his ability to spell, using his infamous "Magic Foot," wherein his foot spells each word for him. His last name is often mispronounced, and becomes a point of contention for him throughout the bee. Marcy Park, played by junior Annie Combs, the contestant introduced after Barfée, is an exchange student from Virginia, placed ninth at nationals the year before, speaks six languages, plays hockey, rugby, and Chopin and Mozart on multiple instruments. The final speller that we are explicitly introduced to is Olive Ostrovsky, a quiet young girl portrayed by Cassidy McCleary, a junior. She lives with her father while her mother is on a spiritual journey in an ashram in India. Oftentimes overlooked, her knack for spelling stems from her childhood friendship with her dictionary.
Throughout the musical, the tropes of childhood pressures are dissected, from analyzing the effect of overbearing parents to almost absent ones. Each character carries some sort of meaning, either through their backstory, or simply their being. Though the seemingly heavy topic matter, this show is incredibly energetic, enjoyable, and overall hilarious. Costume and makeup crew member Julia Becker disclosed, "I think that this show is actually really, really funny. It's one of the funniest shows I've ever done." She excitedly added on, "Please come see it!"
Since I am the Stage Manager for this production, I have had the ability to watch it grow and become a great show with depth and humor. Countless hours of work during both the summer break and school year have been poured into the creation of this fantastic musical. As summed up by Bri Kirkwood, "This show is going to be one to remember."
A mix of sadness and happiness, this musical is sure to be loved by people of all ages. A must see, it is being presented as an open dress rehearsal on September 16th at 5:00 PM for $5. It is also being shown the 17th and 18th at 7:00 PM, and the 19th at 7:30 PM. Tickets are $10 for students, children, seniors, and members of the military, and $15 for general admission. Hope to see you there!