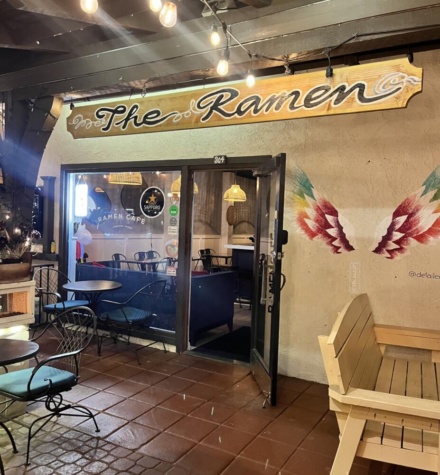 Claire Hedger || Writer
December 2, 2022
When it comes to ramen in San Clemente, there is no place that does it better than The Ramen Cafe. Ever since their opening in 2018, the popular restaurant (founded by Elly Mohler) has been stealing the hearts, and taste buds, of all San Clemente residents.
Customers customize their ramen orders by choosing between: pork or chicken, spice or no spice, and which broth they would like. Some prefer the Tonkotsu (pork based) broth while others enjoy the Shoyu (chicken based) broth. And if you can't decide, The Ramen Cafe even offers a 50/50 broth (a mixture of the two), as well as a miso broth.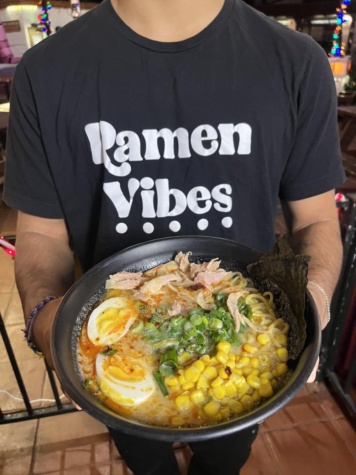 Want to eat vegan? Well you're in luck because the Ramen Cafe offers a vegan ramen with a mushroom based broth and an assortment of different vegan toppings. 
And it's not just ramen that the menu offers, in fact it's much more. The restaurant's Bahn Mi's are a customer favorite. The French-Vietnamese baguette sandwich topped with your choice of meat (pork or chicken), pickled vegetables, spicy mayo, jalapeños, and cilantro never fails to hit the spot. Customers can also choose to order from a list of different starters, such as edamame, garlic noodles, and spicy chicken wontons.
Feeling thirsty? Try one of the restaurant's different bobas or stubborn sodas. Or how about a fresh coconut.
Though it's not just the delicious food that makes the restaurant so popular, it's the aura as well. Senior Sofia Sipelis, a regular customer at The Ramen Cafe, stresses how "welcoming and comforting" the environment is. "I go to the Ramen Cafe as often as I can. I love it there," said Sipelis. 
The Ramen Cafe can be found in Old Town San Clemente at 111 W Avenida Palizada Suite 304. They are open Tuesday-Sunday, 12 to 8 PM. 
So, if you are one of the few people who have not visited The Ramen Cafe, go ahead and give it a try next time you are craving a delicious meal.