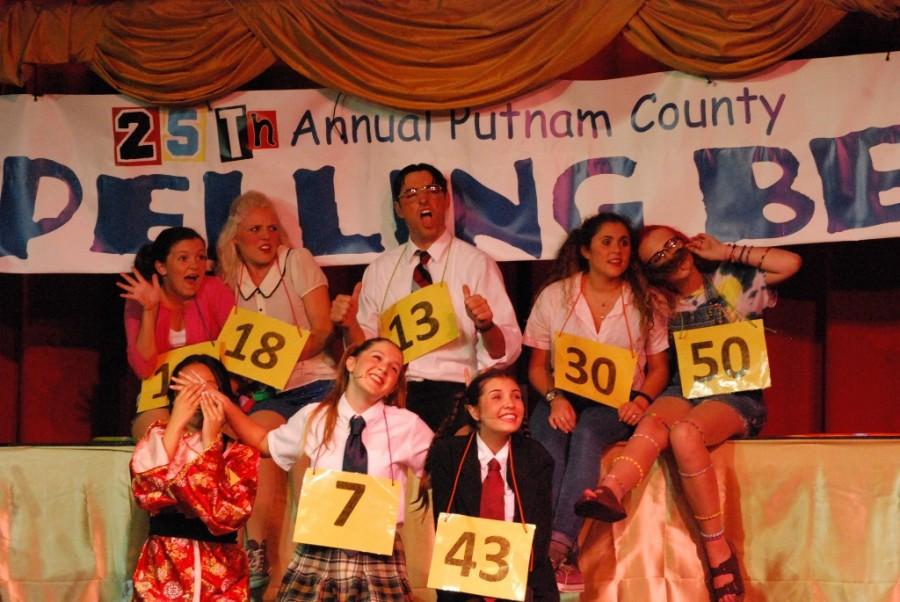 By Ily Macpherson | Sports Editor
September 24, 2015
This past weekend, the SCHS Drama program put on a stellar performance of the Tony-Award-winning musical "The 25th Annual Putnam County Spelling Bee". A theatrical take on a classic elementary school competition, the nineteen musical numbers and 39 cast and crew members made this performance go off without a hitch.
Traveling through the journeys of each young speller in the bee, announcers, played by senior Brionne Kirkwood and junior Luke Gianelli, briefly yet entertainingly introduced each unique speller. With lead characters played by senior Daniel Klevit, junior Tamara Armstrong, junior Annie Combs, senior Garrett Claud, junior Kyra Kuhn, junior Cassidy McCleary, and sophomores Cat Sullins, and Zach Thomas, the play had members of the audience continuously smiling. Each character had a unique quality that made their presence at the bee all the more entertaining such as a "magic" foot that spells, a strong lisp and overly-obsessed-with-winning parents, a "sickening" infatuation with hand sanitizer, and many more lively costumes and antics. Yet, even a budding romance on stage between characters played by Cassidy McCleary and Daniel Klevit couldn't stop Klevit's character from taking home the "Top Speller" prize at the finale of the play.
Even surprise contestants Michael Wallet and Dani Pribyl were called from the crowd to participate in the lively competition as well as earning their own juice boxes when disqualified for misspelling a word, a tradition seen throughout the play.
With contemporary terminology from social media such as Vine, phrases like "iridocyclitis" and "deez nuts" made students laugh at its compatibility with the play while parents laughed at its execution despite knowing what the social media fad meant or not. In addition to its social media additions, some rather risque references had the audience doubling over in laughter yet again.
Directed by Mr. Daniel Ingram and choreographed by Laurie Mason, the Spelling Bee's musical numbers had the audience laughing and tapping their feet along to the beat of the music during its chaotically organized dance numbers. With help of vocal coach Kirsti McCleary, numbers sung by seniors Daniel Klevit and Jonathan Jackson, along with junior Cassidy McCleary and others wowed the audience with their elevated capability to hold high notes, giving the audience goosebumps as they conveyed the emotion behind each character's song perfectly.
Senior Garrett Claud, who played speller Leaf Coneybear, said, "Last night [Thursday] was near perfect," an impressive feat for an opening night performance. Although the dress rehearsal preview on Wednesday  had several technical difficulties we were told, Thursday's opening night performance was indeed near perfect and indeed "hilarious" and possibly "the best play yet" said various members of the audience.
Make sure to mark your calendars for the Drama program's upcoming performances of Haunted House, A Christmas Carol, Coffee House Variety Show, and Addams Family the musical!