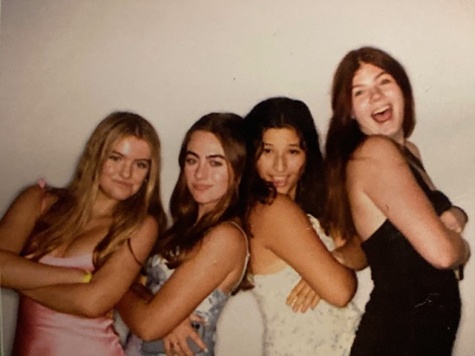 Sophie Rapeepat | Writer
March 17, 2023
Being the "new kid" can suck, but many of us will be forced into this role at some point in our life. For Cameron Hewitt, that happened this year, when she moved to town and entered her first year at San Clemente High School as a junior.
Cam, whose family is originally from Palm Springs, moved at the beginning of the school year in order to fulfill her mom's dream of living next to the beach. With an older brother and two younger siblings, Cam also made the transition with her dogs Kona and Wilson.
She describes how the biggest adjustment was the location switch from the desert to beach weather, but she quickly learned to love the town for its downtown and beaches. As a hardworking and patient individual who loves working with others, Cam almost immediately found work as a hostess. 
Despite still being new to San Clemente High School, Cam's desire to make a difference pushed her to get involved in activities. Her favorite subject is English, mostly because of her amazing teacher who helped her adjust to SCHS. She also loves the school spirit, and her best memories are of the Friday night football games and the Homecoming dance. Cam also is a part of the Global Cultural Exchange Club in which she loves tutoring kids from third-world countries. She has made countless memories working with other members, and even wants to start her own club next year to make a personal difference at SCHS.
Regardless of their grade or situation, every student at San Clemente High School knows Link Crew. Coordinated by Ms. Dimperio and under the student presidency of Kate Loo, Link Crew is a nationally recognized organization steered towards helping freshmen and new students make an easy transition into high school. 
Cam's experiences as one such "new student" has driven her to make a goal of becoming a Link Crew Leader herself as a senior. When asked why she feels so passionately about the program, she replied, "Many of my friends are in Link Crew and they showed me what it means to be a part of it. I want to be more involved with the school and want to make other students like me feel welcomed."
Cameron Hewitt already has made an impactful entrance to San Clemente High School, and her ambition and kindness will surely continue to take her far. Hopefully, her goals at SCHS will come true with continued hard work and dedication. Good luck, Cam!