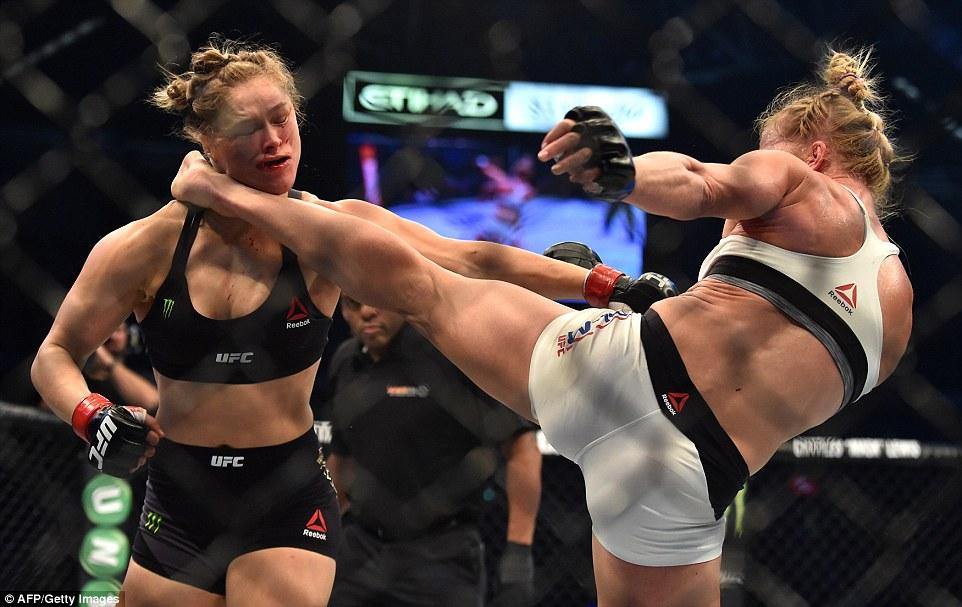 By Max Jonnaert | Writer
November 19, 2015
"She's going to try and kick me in the head but it's not going to go like that," Rousey nonchalantly boasted on The Tonight Show, days before her much-anticipated fight. But that is exactly what happened to Ronda Rousey, the previously undefeated Women's UFC Bantamweight Champion, who was knocked out last Sunday via head kick and punches.
It was a crash that erupted the world of MMA in a shocking uproar and will be remembered as one of the biggest upsets in sports history.
Rousey came into the octagon flexing a 12-0 record and was a  heavy favorite to win the fight. However, her opponent Holly Holms wasn't phased by this. It only took her :59 seconds.
"Yeah I thought Rousey maybe would have gotten it back together in the middle of the fight," sophomore Josh Greene reflected. "When she got knocked with that head kick. I don't think a loss has ever shocked me more."
Prior to this defeat, Rousey had finished 9 of her 12 fights under 1 minute, and her past 3 victories had been under 35 seconds. She quickly became infamous for quick knockouts – most notably known for her armbars. So what exactly what happened to Rousey on Sunday?
Rousey indeed was fighting quite the challenge in Holm, but it was a one-sided beatdown and was not close in the slightest, something the MMA Community has never seen out of her. Rousey's credibility as a fighter simply cannot be questioned off one loss, but what exactly what happened to the "Rowdy" Rousey that had been decimating all competition in her division, and where was she on Sunday? Here are a few of the possible answers.
"I think something was visibly wrong with her before the fight, she seemed sick," said senior Jake Cameron. "Rousey seemed very out of shape compared to Holly…she (Rousey) looked scared like she knew the end was near. There was something clearly wrong."
But what can be attributed to this behaviour and fight result? A lot of it can be visibly credited to her ego before the fight.
Rousey is no stranger to trash talk, just one day before the big night, she took to Instagram and went on an explicit rant, boasting how she would beat "the preacher's daughter" down after a physical altercation that occurred during their weigh in. She took to several other media outlets, firmly stating on multiple occasions that she would beat her on Sunday, handedly. Right before the fight, Rousey refused to touch gloves with Holm, something highly disrespectful as the act of glove touching is a sign of respect and sportsmanship in MMA, especially on such a grand stage like this.
Her intimidation methods proved to be ineffective and did not help her, but rather became more embarrassing for her after the fact.
Rousey leading up to the fight had been getting a lot of encouragement and hype from her fans on social media, something that can definitely get to an athlete's head. The new cover star of the upcoming UFC Game had been highly favored going into this fight, and it really seems like her ill guided confidence ended her flat on her back. Being cocky can be very punishing, more so in an environment like the octagon, so Ronda overhyping herself and being careless only brought the expected result.
"Her coach is a complete idiot," said sophomore Zac Skov. "Her striking is absolutely horrible. During the fight he was saying things like 'great performance' and it's ridiculous because she was doing terrible. She completely missed Holm at one point and buckled her knee, and he thinks that's a good performance. Especially after the fight, he was being super creepy hugging her and whispering stuff in her ear."
A lot of criticism currently is centered on Ronda's coaching staff, specifically on her coach, Edmund of Glendale Fighting Gym for being too positive and an enabler of sloppy technique. Ronda has been known for being a very poor striker, and that was very visible last Sunday when Ronda's punches were easily dodged, misplaced, and in general all over the place.
Against a boxing champ like Holm with extremely high takedown defense, she did not stand a chance with her current skill level for the route she took in the fight. Her game plan of playing into Holm's striking style with her skill is just plainly poor coaching and failure to adapt to the situation.
A lot of fighters and people around the business believe that Edmund just telling Ronda that her style is flawless and not actually coaching, boosting her ego even more, is the main reason her downfall occurred. Coaches need to correct bad behavior and ego, but Edmund encourages her and doesn't teach or improve anything. He found a fighter that was already a star on her own and rather than helping her become better, he took advantage of that and rode the train that came to a jerking halt last Sunday.
Cameras caught him telling Ronda she was doing amazing and going quiet when she was in serious trouble. Even Ronda's own mother has been quoted during an LN (LatiNation) interview saying, "I think Edmund is a terrible coach, and I will say it publicly. I think he's a terrible coach and he hit the lottery when Ronda walked in there." Mothers always know best.
Underprepared, way over her head, arrogance, little to no coaching, confidence without a lack of backing, and being undertrained for the fight all can be contributed to Rousey's loss.
Holm is a phenomenal fighter, and nothing can be taken away from her. She performed very well, but Rousey was not at full throttle. There is a lot of time for Rousey to redeem herself if she chooses to do so. She is currently on a 60 day medical suspension and may extend to 180 depending on her recovery.
Rousey took to Instagram on Monday saying, "I just wanted to thank everyone for the love and support… I'm going to take a little of bit of time, but I'll be back." Current light heavyweight champion Daniel Cormier told reporters Rousey needs at least a year off to improve before she fights again and doesn't believe that Holm is a great choice for fighting again. Jose Aldo on the other hand believes she won't ever fight again adding, "If I'm making a lot of money doing movies or something else, I'd go that direction too."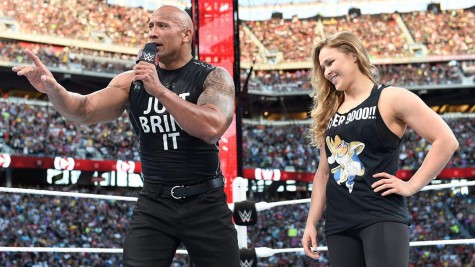 And honestly, movies are a very viable option for her. Rousey could very well follow Dwayne Johnson (The Rock) as she has already starred in two movies (Furious 7 and Expendables 3) and is planned to be in Mile 22 and Roadhouse. Another aspect of The Rock and Rowdy Rousey is that they made an appearance together at Wrestlemania 31, something that has always has had professional wrestling fans hoping for her to make a transition to the other (she actually got her nickname Rowdy from the late and great Rowdy Roddy Piper).
Either way, Ronda has a lot of thinking to do and has plenty of time, but she, for the short term, needs an attitude readjustment if that knockout wasn't one already. A new striking coach and a new camp to train with might not be a bad idea too.
President Dana White and Holly Holm have both been vocal about being open for a rematch, and business insiders predict it may happen at UFC 200.
Until then, only Ronda and time will tell.