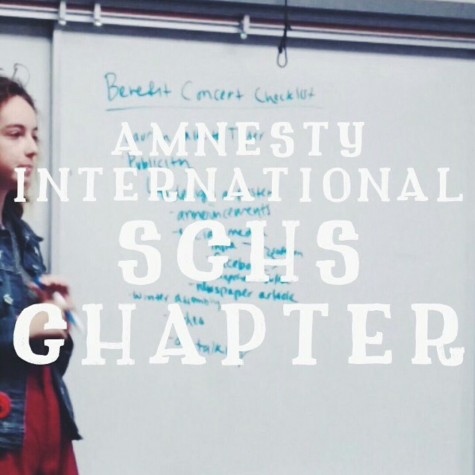 By, Kelsey Morales |  Writer   &   Jahfreen Alam | Writer
The first at San Clemente High School, the Amnesty International Chapter is a club that follows and supports the organization itself: Amnesty International. The members dedicated to this club are determined to protect human rights from government oppression by writing Urgent Action Letters. Overall the purpose of Amnesty International revolves around exposing human rights abuses, fighting injustice, and promoting human rights, all while taking a global stance for change.
The organization originated in 1961 with Peter Benenson, a British lawyer, who was outraged when two Portuguese students were jailed after "raising a toast to freedom," and wrote a radical article for The Observer newspaper. His article was printed around the world, uniting people "in solidarity for justice and freedom."
San Clemente High students gather for the same reasons. During meetings, which take place every other Thursday in room P8 at lunch, members gather in a circle to discuss current injustices taking place around the world and write Urgent Action Letters to a case of their choice from the Amnesty International website.
Urgent Action Letters address topics like prisoners of conscience, armed conflict and arms control, corporate accountability, the death penalty, detention, disappearances, discrimination, freedom of expression, indigenous peoples, international justice, living in dignity, people on the move, sexual and reproductive rights, torture, and the United Nations. When drawing up these letters, the goal of the writer is to appeal to the minister or government official and encourage them to exercise the power they hold and resolve the issue occurring in their country.
According the Amnesty International website, the organization itself is "funded by members and people like you. We are independent of any political ideology, economic interest or religion. No government is beyond scrutiny. No situation is beyond hope." Through sincerity and compassion, Amnesty International attracts those who seek to better the world and preserve human rights for those who are denied them.
Over the past five months, club members Isabel Cervantes, Julia Becker, Chris Nicol, Caitlyn Vilar, Priscilla Merlo, Jahfreen Alam, secretary Alice Zhang, treasurer Lauren Hill, vice-president Baily Donlin, and co-presidents Saffron Sener and Kelsey Morales have placed a large amount of effort in writing Urgent Action Letters, eager to have their voices heard and produce change.
As junior club member Caitlyn Vilar, reveals, "I like talking about social issues with people, and the fact that I get to be with my friends and make a difference by writing these letters to actual people is very cool."
The passion-driven members of the SCHS Amnesty International Chapter are part of what makes this club unique. As self-motivated individuals, the group of students that make up this club offer an inspiring approach as to how to improve the world while being so young.
Co-president Saffron Sener sums up the reason why she and Kelsey Morales joined together to create the SCHS Amnesty International Chapter: "I've always been really into international news and events, and after seeing countless examples of injustice and human suffering, I knew I had to do something. I couldn't just stand by."
The club welcomes all those willing to take action and catalyze change.