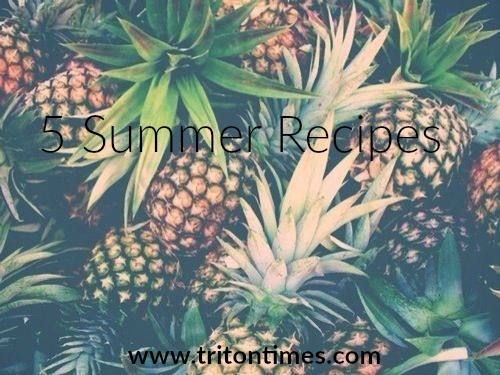 By, Maisie Shea | Writer  &  Bryce Dutchik | Writer
May 11th, 2016
With summer right around the corner, students are enriching their meals with ripe fruit and fresh vegetables. From frosty, cold drinks to warm dessert treats, here are five things to make and try this summer.
"The Best Lemonade Ever"
What you'll need:
1 ¾ cups of white sugar

1 ½ cups of lemon juice

8 cups of water
In a small saucepan, combine sugar and 1 cup water. Bring to boil and stir to dissolve sugar. 2. Allow to cool to room temperature, then cover and refrigerate until chilled.

Remove seeds from lemon juice, but leave pulp. In pitcher, stir together chilled syrup, lemon juice and remaining 7 cups water.
"Strawberry-Melon Summer Salad"
What you'll need:
1 cup of lemon yogurt

1 tablespoon of honey

1 teaspoon of lemon juice

2 cups of watermelon balls

2 cups of cantaloupe balls

2 cups of halved fresh strawberries

.
 1. In a salad bowl, whisk together the lemon yogurt, honey, and lemon juice until smooth, and gently fold in the watermelon balls, cantaloupe balls, and strawberries.
2. Toss to coat, and serve.
 "Fruit Salsa and Cinnamon Chips"
What you'll need:
2 kiwis, peeled and diced

2 Golden Delicious apples – peeled, cored and diced

8 ounces raspberries

1 pound strawberries

2 tablespoons white sugar
1 tablespoon brown sugar

3 tablespoons fruit preserves, any flavor

10 (10 inch) flour tortillas

butter flavored cooking spray

2 tablespoons cinnamon sugar
In a large bowl, thoroughly mix kiwis, Golden Delicious apples, raspberries, strawberries, white sugar, brown sugar and fruit preserves. Cover and chill in the refrigerator at least 15 minutes.

Preheat oven to 350 degrees F (175 degrees C).

Coat one side of each flour tortilla with butter flavored cooking spray. Cut into wedges and arrange in a single layer on a large baking sheet. Sprinkle wedges with desired amount of cinnamon sugar. Spray again with cooking spray.

Bake in the preheated oven 8 to 10 minutes. Repeat with any remaining tortilla wedges. Allow to cool approximately 15 minutes. Serve with chilled fruit mixture.
"Blueberry Cream Muffins"
What you'll need:
4 eggs

2 cups white sugar

1 cup vegetable oil

1 teaspoon vanilla extract

4 cups all-purpose flour
1 teaspoon salt

1 teaspoon baking soda

2 cups sour cream

2 cups blueberries
Preheat oven to 400 degrees F (200 degrees C). Grease 24 muffin cups or line with paper muffin liners.

In large bowl beat eggs, gradually add sugar while beating. Continue beating while slowly pouring in oil. Stir in vanilla. In a separate bowl, stir together flour, salt and baking soda.

Stir dry ingredients into egg mixture alternately with sour cream. Gently fold in blueberries. Scoop batter into prepared muffin cups.

Bake in preheated oven for 20 minutes.
" Fresh Peach Trifle"
What you'll need:
6 large ripe peaches – peeled, pitted and sliced

1 tablespoon fresh lemon juice

2 (8 ounce) containers vanilla yogurt
1 teaspoon lemon zest

1 (10 inch) prepared angel food cake
Place peaches in a large bowl, and gently toss with lemon juice. Place 1 cup of peaches in a blender, set aside remaining slices, and blend until smooth. Place yogurt into a bowl; stir in the peach puree and lemon zest until well blended.

Cut the angel food cake into squares and place half in the bottom of a glass dish. Spoon half of the peach slices over the cake. Cover with half of the yogurt mixture. Place remaining cake squares over the yogurt. Top with peaches, reserving 5 or 6 slices for garnish. Cover with remaining yogurt mixture. Garnish with peach slices. Refrigerate until ready to serve.