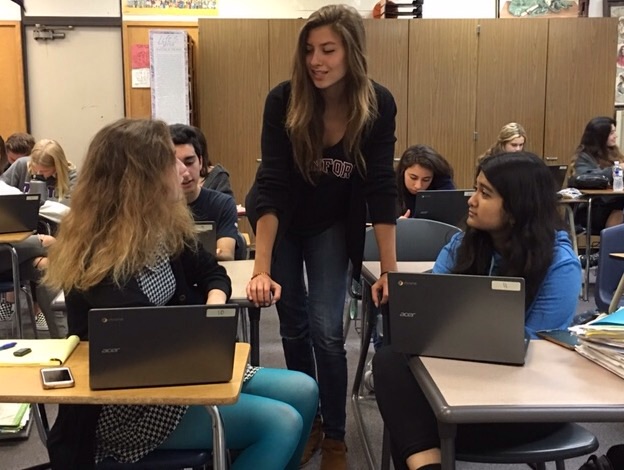 By, Claudia Pacheco | Editor in Chief
May 31st, 2016
"Engineering," I nonchalantly reply to family members when they inquire upon my study plans at Stanford. Truthfully, that reply serves more as a major cover up than a major of study.
In reality, the only priority I feel sure about is joining The Stanford Daily. Two years ago on my first half-asleep zero period of newspaper, I would have never imagined dedicating my free time in college to writing and editing pages of text. However, The Triton Times changed my perspective on publication.
I remember typing out the title of my first article, "Surf Teams Preps for New Season." I chose that topic because I was immensely interested in the surf team (and that one surfer in my math class). But regardless of the impetus, after finishing those haphazardly typed three hundred words, I felt embers within me spark into a meager flame. This new world of journalism and publication served as the lighter fluid for the next two years.
The publishing process pushed me out of my comfort zone. Considering that many of us on staff started as writers, we develop our leadership and collaboration skills when polishing The Triton Times, and these abilities will remain essential for our future endeavors. My role as Editor in Chief made me combat my hesitancy in coaching fellow writers in their abilities and approaching strangers for interviews. As a result of the staff's communication with one another, we grew into an efficient unit, pumping out quality articles on a regular basis.
The Triton Times features student writers who analyze complex issues from the scope of the school to the entire world, speaking from the often-overlooked voices of adolescents – the voices of the future. Along with questioning the socio-political climate around them, they divulge the candid struggles of being high school students in a competitive world.
From creative narratives to breaking news, The Triton Times has served as a vehicle of empowerment for students who, for the first time, have had the chance to speak openly about topics of their choice, without restrictive guidelines. This flexibility, along with the online formatting and ability to comment, expands traditional journalism into debate-fostering interaction between young minds.
Although adults infer about the experience of high school students, one can only truly understand the youth perspective by looking into their minds – by peering through the microscope that is The Triton Times.
High schools and colleges depend on newspaper as an outlet for spirited thinkers and involved students. These writers challenge their audience to mull over new perspectives, gradually transforming fellow students and readers into more global and inquisitive thinkers in response to current events.
Using my experience at The Triton Times, I plan to continue writing and reading articles that question my assumptions, as this will cultivate my growth. My fellow writers have enlightened me with information I will need to make adult decisions like voting, travelling, choosing friendships, and navigating the career world.
So while I have not decided on an area of study, I feel relief knowing I will soon write my first article for The Stanford Daily with my experience with The Triton Times to guide me. Considering the magnitude of progress we have made with our newspaper in just two years, I cannot wait to check back and read the riveting work of future writers.