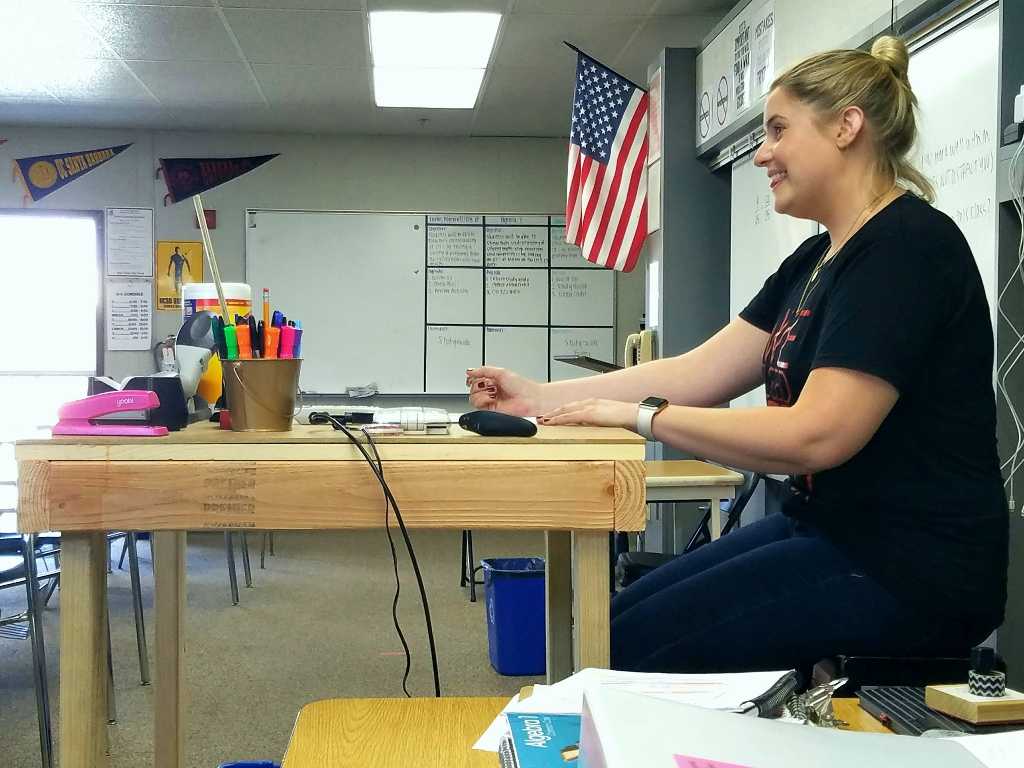 By, Stephanie Diaz | Photographer   &   Victor Mendoza | Writer
September 26, 2016
UC Santa Barbara graduate and Bachelor fanatic Ms. Dimperio has been a part of San Clemente High School for four years. She is one of the youngest staff members of the Triton family and her energetic personality make her students enjoy being in her class. Before Ms. Dimperio began her teaching Honors Algebra 2 Trigonometry and Algebra 1, she majored in accounting. However, once she graduated and began working, she realized that her career aspirations had changed and went back to school with the intention of receiving a Master's in education.
We asked Ms. Dimperio what made her want to become a math teacher and  brightly answered, "I like math and seeing many struggle with the subject motivated me to become a teacher that way I would be able to help them understand the subject." Ms. Dimperio goes out of her way to help her students so that they can improve their math skills and prepare for more advanced levels of the subject, opening up potential careers some students from which some students felt excluded.
However, Ms. Dimperio is not all about being a math teacher. In addition to teaching, she enjoys participating in school events. Recently Ms. Dimperio became the leader of Link Crew, a program in which upperclassmen mentor freshmen. We asked her about her experience with starting a new club at school and how she felt. "I felt good! Luckily I had a great group of leaders volunteer who helped me learn a lot on ways to make Link Crew more fun. I am really excited and looking forward for the program to grow for next year." Ms. Dimperio is always open for new challenges and ready to help create a friendly atmosphere at San Clemente High School for all students inside and outside the classroom.
Seeking to get to know Ms. Dimperio beyond the traditional academic setting, we asked her about other hobbies. She exclaimed,  "I love to cook! And plan future events." Ms. Dimperio also loves the Bachelor and has been watching since her college years, a common interest between her and her students.
As students navigate the stress and adversity of high school life, Ms. Dimperio is committed to ensuring their success and creating an inclusive environment for all, making her an adored member of the SCHS community.