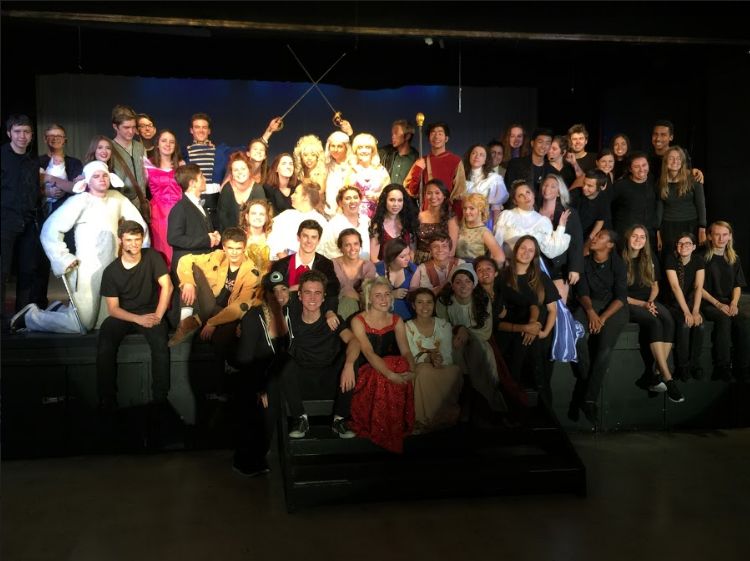 By Darren Dimarco | Writer
September 22, 2016
Fantasy, magic, and all your favorite characters from the Brother's Grimm fairy tales are present in the SCHS Drama presentation of Into the Woods. Starting September 22, audiences will get to experience this award winning musical as they enter a magical world where fairy tale icons from "Little Red Riding Hood," "Rapunzel," "Cinderella," and "Jack and the Beanstalk," come together in order to break an evil witch's curse.
With the expert direction from Laurie Mason, as well as the masterful singing and acting from students of San Clemente High School, Into the Woods is sure to leave audiences astounded as they recount the classic, fantastical stories from their childhood.
For more insight into what you can expect from the play, interviews with SCHS Drama team members Abigail (Abby) Ambach, grade 11, and Tamara Armstrong, grade 12, can be found below.
How do you like the director of the musical?
[AB] She's literally the best.
What is your role in the musical?
[AB] I'm part of ensemble so I'm a flower path dancer and part of the bridal party.
How many songs can we expect from this musical?
[AB] The entire musical is basically song.
Are there any cool props or costumes that were introduced or made specifically for this musical?
[AB] There's a cow costume and a lot of cool props.
Are there any good scenes to look out for? Maybe your favorite scene?
[AB] The flower path scene since I'm in it, and "Last Midnight." That's a good part.
Why should people come see Into the Woods?
[AB] It's really fun and it's really good and we're amazing!
Did you do anything differently in this musical from the original?
[TA] Yes, we added the flower path dancers and a wedding scene, along with some other different elements.
Will people enjoy this play?
[TA] Yes, of course!
Performances for Into the Woods can be seen on September 22, 24, 29, 31 and October 1 at 7:00 p.m in the Triton Center at San Clemente High School. Tickets for the musical will be on sale for $15-18 general admission and $10 for Seniors, Military, Students, and Children. Hope to see you there!