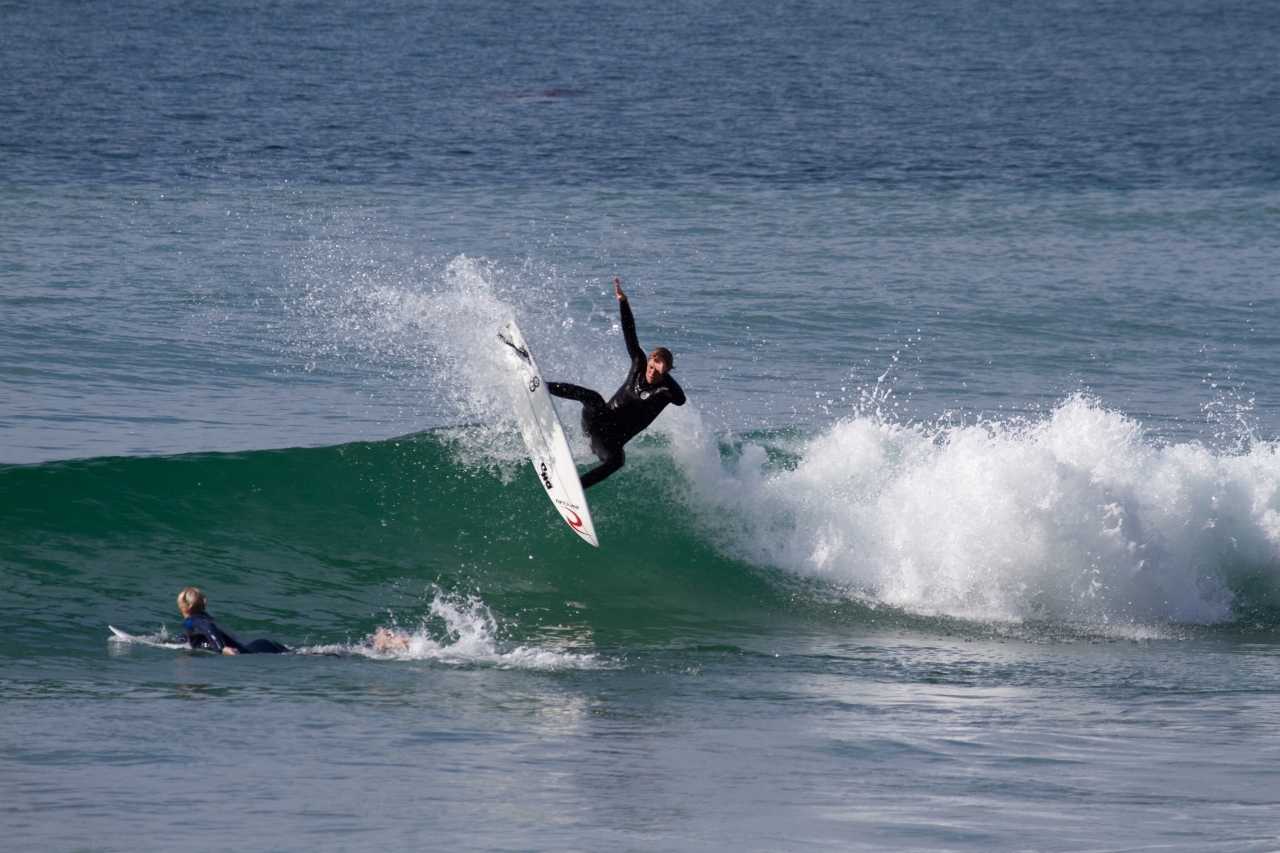 By, Luke Overin | Writer   &   Robert Campbell | Writer
September 21, 2016
After an impressive year earning runner-up at the NSSA (National Scholastic Surfing Association) competition in the men's division, the San Clemente Triton surf team is paddling back out. Although the Tritons did not bring home the gold, this year the team expects to bring home the championship. Once again under the leadership of head coach John Dowell, the team will definitely be prepared.
Coach Dowell, who attended San Clemente High School, was himself on the surf team from 1996 to 1998. He has been the head of the surf team since 2005 and has brought home a ton of state and national titles for our small beach town, 13 total to be exact. Dowell's extraordinary passion for the ocean along with his knowledge about competitive surfing helps him develop and selectively choose his high level surf team. Most importantly, he believes that the surfers on his team must not only be good in the water, but also be kind people with high standards for their reputations. These high standards have helped produce professional surfers like Tanner Gudauskas, who Dowell still remains in close contact with today. 
This high-level team constantly pushes themselves to new limits to improve their skills, since many aspire to become professional athletes. However, people must overcome obstacles in order to achieve higher levels of greatness. For example, junior bodyboarder Gavin Pellkofer had his "worst wipeout at The Wedge in Newport Beach where [he] caught a huge set wave and hit [his] head on the sand." These athletes have no fear and will push themselves to incredible limits for the thrill of "riding the biggest wave, doing the highest air, or getting the hollowest barrel," according to Pellkofer.
Although pushing himself in the water is a goal of his, Pellkofer also has other plans for the season, including being "a good sport, having fun, and creating an example for the kids." This goal is not uncommon for a member of the San Clemente Surf Team; it is very normal to see these riders want to have the best image they can produce for the people of our small surf town, which is under the global microscope of the surfing world.
With new recruits and riders learning from their mistakes and correcting them quickly, coach Dowell can and will lead San Clemente High School to another year of success.
On Friday, September 16, the Tritons took the water for their first competition of the season. The morning supplied knee to waist high waves with minimal power to surf. A low tide and slow rolling waves provided a different situation than the surfers are used to riding at T-street. However, the surfers did not let this stop them from winning.
According to Dylan Gold, a senior longboarder, "the surfers were able to succeed because we did not let the difficult waves get into our heads. We had to adapt their surfing to the given conditions."
Due to the vast type of waves coach Dowell has the surfers ride, they can perform in almost any type of wave with just a slight adjustment in board size and surfing style.
After a victory over Aliso Viejo High School, it was all smiles across the faces of the Triton surfers. According to senior Takoda Albers, "surfers like these two can succeed because they perform many tricks on a wave and do not just try to do one big trick that they might not land."
With many more contest to come, the surfers are guaranteed to prove themselves once again by carving, slashing, and airing their way to victory!