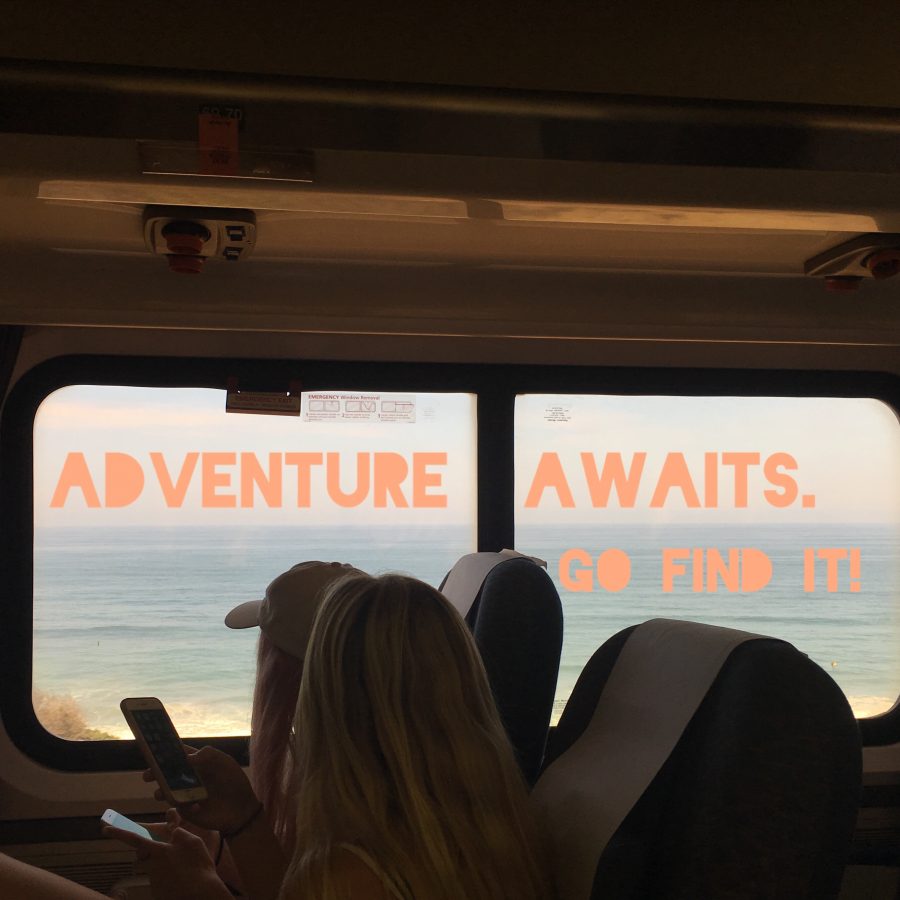 By: Gavin Kelleher | Writer
October 5, 2016
The first and most important part of planning your little adventure is to bring along your closest friends – the people who make any day feel sweet. These are the people who make you giggle and that will be vital in the preparation for this day.
What to Bring
Perfecting an atmosphere of absolute sweetness requires the following: art supplies! Bring paint brushes, pens, pencils, and anything else you may need for a prime creative experience. Along with these basics you may also want to bring glue, sparkles, or pressed flowers, or anything that can be used for making a collage. Perhaps you and your pals will want to document your adventure by finding souvenirs along the way and creating some form of art with them. Let your imagination run wild. Any quirky thing could surprisingly come in handy.
Creature Comforts! Depending on which type of adventure you decide, bringing a blanket or tapestry is advised. Bed comforters can always add a nice cozy feel and are perfect for pictures. Blankets and tapestries are as versatile as it gets; you can set them down to have a picnic after a hike, or lay them out along the sand for sunset. And if you're feeling extra inventive you can manage to create a small fort which can act as a perfect portable art studio.
Munchies! A long day of exploring is incomplete without the right snacks! Try out some new recipes for simple sandwiches and any other small bites to bring. Fruit is always an easy item to tag along. If you are an avid fruit enthusiast, here are some suggestions for fun fruits and ways to eat them. Dragon fruit. Also known as pitaya, this fruit is strangely shaped with a green peel. From the outside, this fruit is seemingly deterring, but when cut open dragon fruit is bright pink, with a kiwi like taste. This fruit is perfect for a fascinating fruit eating experience. Star fruit. Another exotic fruit, perfect for any day. This fruit is a soft yellowy color and tastes absolutely divine. Pomegranate seeds. It's as simple and sweet as it gets. For a complete experience, combine pomegranate seeds with a bit of honey.
Adventurous Taste Buds! Try something new. Exploring new foods and drinks can be a brilliant way widen your experiences. Food is just as exciting as any other adventure. If your adventure will consist mainly of exploring coffee shops and eating out, don't forget your reusable mugs.
Music! No matter the mood – mellow or playful, music is great for any adventure. Fun preparation for your adventure may involve creating a playlist for your day, there is nothing better than discovering the perfect soundtrack for a delightful day.
Where To Go
Doing something out of your daily routine is good for the soul. Contemplate taking a train to a new part of town. This process is all inclusive, the journey to the destination should be just as dazzling as anything else you do that day. Public transportation, when done safely, can add a zesty touch to your adventure. Trains along the coast, if the ocean is something you are fond of, have a very gentle, melancholic feel that amplifies any adventure. When traveling along the coast, most beach towns are easily accessible, depending on the distance you may travel.
If your adventure consists of mostly beach towns, consider local beaches. If you are looking to extend your adventure, here are some great places to get acquainted with.
Oceanside – Oceanside has a great boardwalk and pier, perfect for strolls along the sea. A small local coffee shop is also a lovely addition to a beach day, and right in Oceanside resides a quaint little coffee shop by the name of ' Banana Dang'. This friendly shop is perfect for a relaxing coffee or smoothie break.
Encinitas/Solana Beach – Further down the coast these beaches have many places to hike. It is also home to the famous surf break, Swamis. Solana Beach has long stretches of beach that vary in appearance, as well as a vibrant restaurant scene. If sushi is on your agenda, Encinitas is the place to go.
Ocean Beach – A personal favorite of mine is Ocean Beach, San Diego. About an hour train ride south of San Clemente lays a funky little beach town commonly referred to as OB. With many local shops and an atmosphere unique by comparison, Ocean Beach is a perfect place for a cheeky little adventure. Along with commonly loved tide pools, it also boasts a wide range of places to eat. OB has a vibrant art scene that is fostered by its many businesses. If you are searching for a sweet place to enjoy a slow vibe and some coffee while doing art with your friends, check out "Lazy Hummingbird'. Truly living up to its name, this shop is a prime spot to get your creativity flowing.
With these suggestions, allow yourself to take time away from the chaos of everyday life. Enjoy a day, doing things you love with people you love. We are often so engulfed in a fast paced lifestyle that we don't allow ourselves to enjoy the simplicity of bliss. Happiness is far more attainable than we recognize. Creating a whole day that is centered on sweet things is the best form of happiness. Surround yourself with good people, and good things. Simple and sweet.