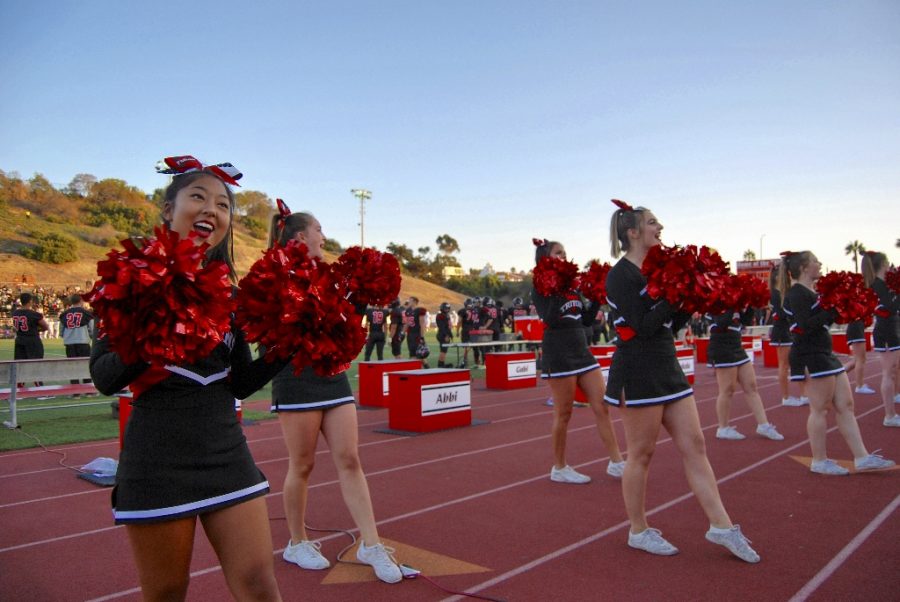 By: Ily Macpherson| Student Life Editor, Kayla Castro | Quality Control Manager, & Geoffrey Osuna | Photography
December 7, 2016
It's a sport that no one believes is actually a sport.
The one team around campus that people often only see at football games and painting posters. Yet, these girls take on a lot more than many may think. The cheer program at San Clemente High puts in countless hours of practices, poster painting sessions, and even puts in extra time to attend other sporting and community events.
With practices three times a week and games varying to once or twice a week depending on the season, the cheerleaders at San Clemente put in the work it takes to be considered a sport. And they go above and beyond that. These girls paint posters for every football game, other sporting events, and even for school wide events outside of athletics. Although the glitter and paint may taint their image, these girls truly believe in the power of school spirit.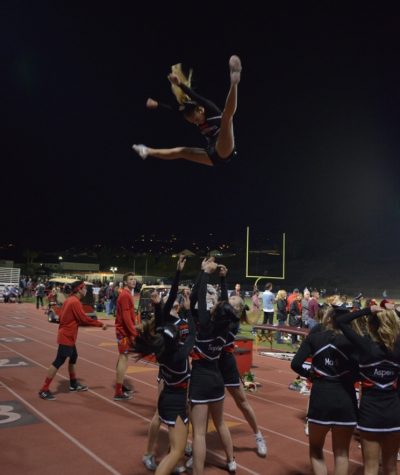 Cheer combines lyrical athleticism with the strengths of tumbling, stunting, and choreography. It embodies the trust and security one feels when spending ten hours a week with the same group of people. Though there has been moments of sadness and stress accompanying the copious amounts of activities they must attend, these girls never fail to fulfill their duties as cheerleaders and role models. Freshman Ashley Stafford of the junior varsity team exclaimed, "Cheer helps me meet all new friends and being able to represent my school in a positive and happy way."
Looking forward to the Friday night games in front of an amazing student section, Stafford and the rest of the teams begin their journey of practices and bonding starting mid-July. Beginning practices in the summer allows for these girls to prepare for the two sports seasons and countless items they have to make in the months to come, yet the spirit they embody while completing these tasks like Stafford is unlike any other.
Despite having a common interest in the sport and its rewards, these girls come from different experience levels. Some girls have no prior experience, some have immense amounts, and some have backgrounds in other activities like dance. Sophomore Serenity Harry, a dancer in the hours when cheer practice doesn't fill her schedule, claimed, "I like both cheer and dance equally but in different ways. Dance is more of an expression and cheer is where I get to be with my friends and cheer alongside the rest of the student body as well."
Although the team has seen four different coaches and four different advisors in the past few years, the bonds they created in the turmoil are tighter than most teams. "The thing I like most about the program is the girls and the experiences I am able to create with them. The team is my second family," claimed junior Kaitlyn Vilardo. Senior Zoe Pattin also noted, "I love the opportunity to meet people that I don't think I would have if I weren't on the team, especially the girls who aren't in my grade. I feel like a lot of things we do are based on trust so you get really close to the people you're around."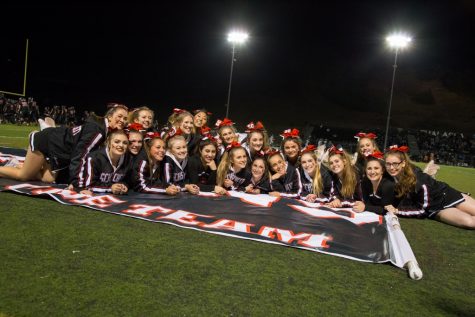 Though all some may see is the short skirts, glitter, and high ponytails, the team hopes to embody the spirit of positivity and diplomacy around campus. Pattin noted, "I really feel like having a positive influence like cheering at games makes a difference to the people we're supporting and I like being a part of that positive force." The SCHS Cheer program hopes to incessantly to unite the entire student body behind this principle and make the school a more positive, encouraging environment for all students with the most Triton pride possible.