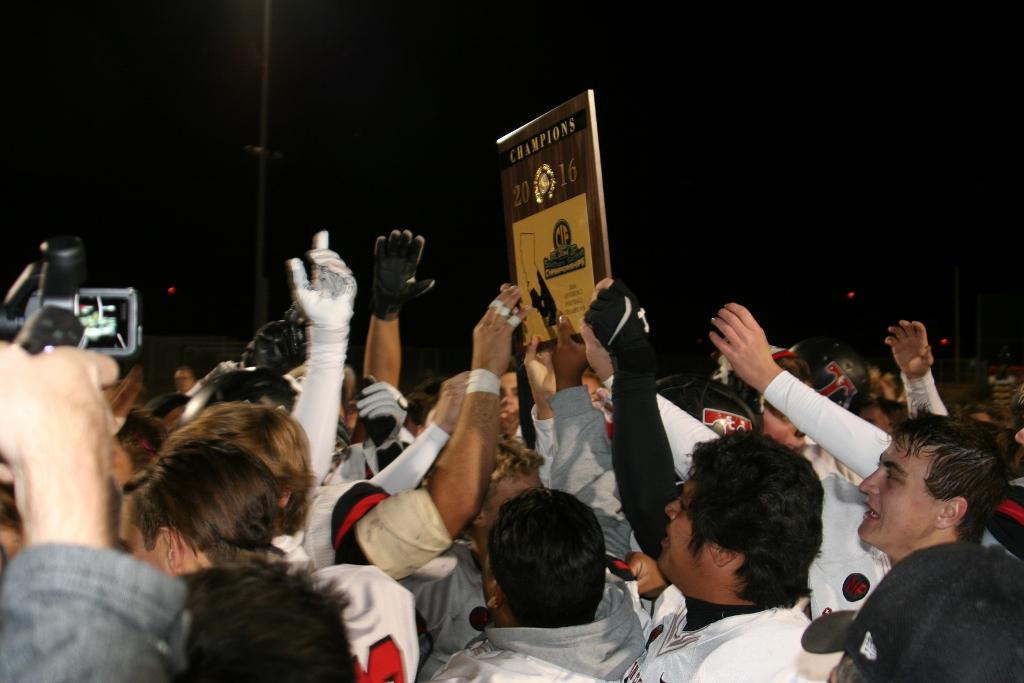 By: Max Jonnaert | Sports Editor   &   Sara Barnes | Newspaper Manager
December 6, 2016
It was a night that was 53 years in the making.
The San Clemente High School football team, after losing in the Division II CIF Championship in heartbreaking fashion these past two years, proved that the third time was truly the charm.
The Tritons defeated the Murrieta Valley Nighthawks on Friday night, with an impressive 45-35 final score to claim their first CIF Championship in school history.  
The game itself had extremely back and forth action, despite the Triton's never  surrendering their early 3-point lead. It also showed off senior USC commit Jack Sears, as he carried the Tritons, in one of his most dominant displays of his career as Triton quarterback. Sears would finish 19/24 for 223 yards with two touchdowns through the air, but his real eye-popping stats came on the ground, rushing for 179 yards and two more touchdowns. 
"It was a game that I will never forget," Sears said. "And it was much more of a win for our city and school than anything else."
Friday, December 3, 2016 @ 7:30 p.m.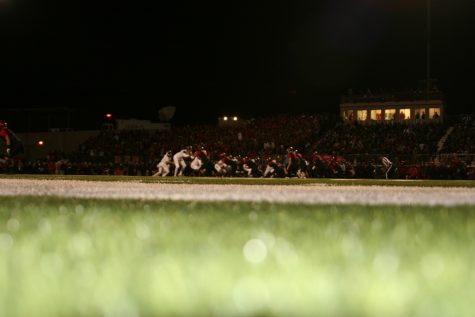 San Clemente @ Murrieta Valley
First Quarter: San Clemente opened up with a field goal from kicker junior Tristan Trager at 6:40, leaving them with an early 3-point lead in the first quarter. Both teams went back and forth on their offensive drives, but neither could secure a touchdown in the first. That being said, the Tritons opened up with sustained drives, dominating the time of possession. San Clemente – 3 Murrieta Valley – 0
Second Quarter: Early on at the 11:52 mark, junior Chris Kane caught a 5-yard touchdown pass from Jack Sears, putting them in the lead above the Nighthawks. Murrieta responded 2 minutes later with a run from Lika Palmer, who finished with 224 yards, that put the team back in contention. Towards the end of the second, senior Brandon Reaves ran one into the end zone to regain the team's 10-point lead. This was contested by Nighthawk Marquis Spiker, who only 40 seconds later caught a pass from sophomore Nighthawk QB Hank Bachmeier to once again make the game a difference of 3 points. San Clemente – 17 Murrieta Valley – 14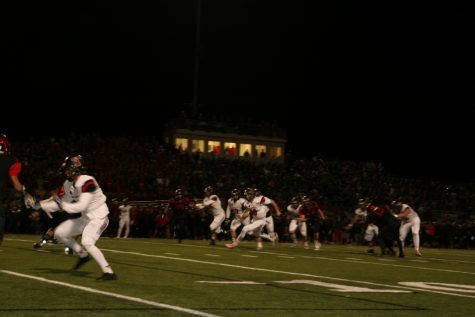 Third Quarter: Coming back from halftime, both teams once again went back in neck and neck. Reaves scored his second touchdown of the game after he ran in another touchdown at 10:37 for 3 yards. Reaves totaled 11-32 yards rushed and 4-35 receiving overall, with two touchdowns. Reaves' touchdown was then matched at 4:10 by Murrieta Valley wide receiver Marquis Spike who caught his second touchdown of the game in the end zone. San Clemente – 24 Murieta Valley – 21
Fourth Quarter: Everything was on the line. At 10:37, Sears in very characteristic fashion, ran the ball into the end zone to put them back at their 10-point lead. At 9:25, Murrieta responded with an impressive 56-yard touchdown pass to Marquis Spiker. A few minutes later, Reaves caught a pass from Sears, putting him at his 3rd touchdown of the game. With the clock running thin, Murrieta pulled themselves back into within striking distance with a 5-yard touchdown run from Lika Palmer at 6:09. Palmer would finish the game with 213 yards rushing and two touchdowns. When the Tritons took back possession, they marched steadily back down the field until Coach Cobb, the San Clemente Offensive Coordinator, called a quarterback draw. 
In one of the most defining moments of the game, Sears cemented his legacy at San Clemente High School as he ran in a 67-yard touchdown to secure the game for the Tritons.
"Coaches saw something from the defense and we drew it up," Sears said. "The guys made some great blocks and I sealed the deal for us." From here, it was just a matter of running out the clock, and when the final whistle blew, the crowd stormed the field (against the Murrieta Valley announcer's wishes).
"Winning the championship was an experience that this school needed and one that we'll never forget," said senior outside linebacker Ryan Russell. It was a scene of euphoria, shock, and surrealism as players, students, coaches, and parents alike embraced each other to celebrate the high school's first CIF Championship in more than a half century. This San Clemente team had done it.
"I didn't realize how much winning CIF meant to the town until I was walking down Del Mar," said senior captain Zach Cochrun. "I was walking in Triton football gear and kept getting congratulated by store owners and shoppers. This really is 'One Town, One Team' and I can't wait for our next game."
While current and former Tritons alike rejoice at the news of the victory, their football journey has not yet ended. This Saturday, December 10th at 7:30 p.m., San Clemente will compete for a California State Championship as they take on Edison at Huntington Beach High School for a semifinal match up. Playing in Division III, the Edison Chargers are 13-1 so far this season, downing La Mirada on Friday night 44-24 to secure their sixth CIF Championship in their school's history.
"As a team we thrived on the knowledge of our past to pave our future," said junior Shane Lockett. "Many of us are looking forward to competing in our first state playoff game in school history this weekend."
Make sure to come out and support the Tritons as they continue to rewrite the history books!