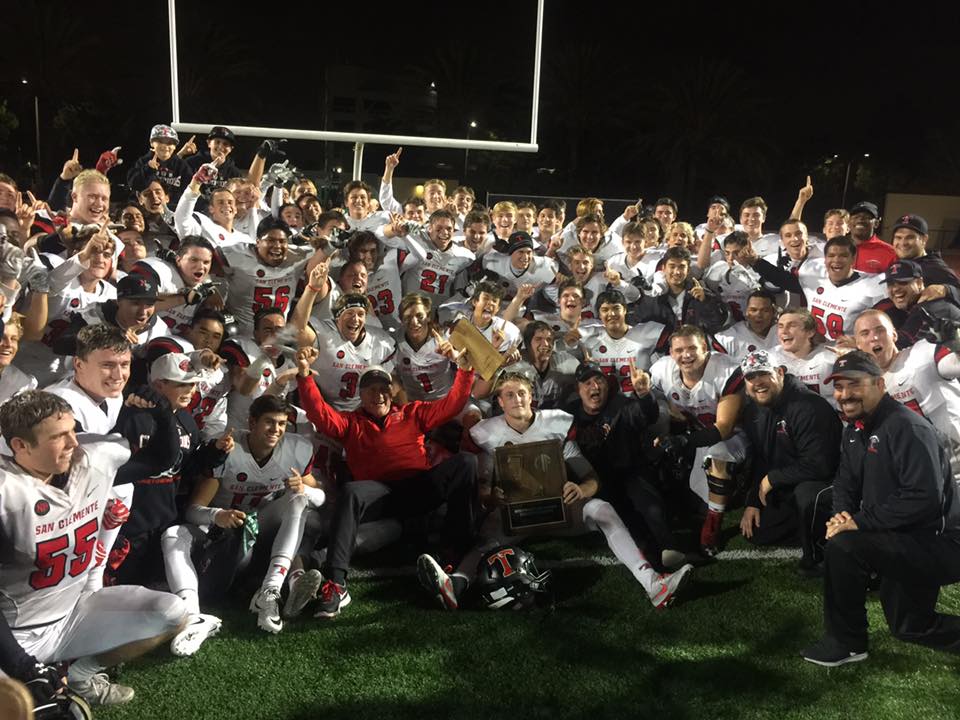 By: Sara Barnes | Newspaper Manager & Max Jonnaert | Sports Editor
December 11, 2016
With the final seconds ticking down and the score reading  39-35, the Tritons, both fans, coaches, and players alike, could hardly believe what was happening.
In what was again back-and-forth battle for the Tritons, who harrowingly escaped with the four-point victory against Edison last night, Dec. 10th.
Unbearable nerves transformed into pure joy in those closing seconds, as the 4,000+ San Clemente fans that had made the trip up to watch their boys earn yet another historic victory in Huntington Beach, stormed the field to celebrate.
"We couldn't have done it without our fans," said senior defensive standout Garrett Silverman, as he was surrounded by cheering friends and family. "This has been an incredible year and it feels like we're a team of destiny."
That destiny has led them to the CIF 1-A State Championship game in Sacramento this Saturday, Dec. 17th against the Del Oro Golden Eagles. The game will be played at Sacramento State University's football stadium, the Hornet Stadium, and begin at 4 p.m.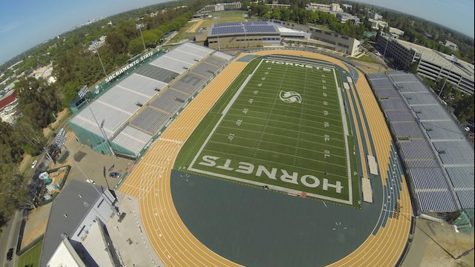 On paper, the Loomis, CA team is a lot like San Clemente's as they featured a balanced, yet potent offensive attack.
They are led by 6'1″senior Mason Hurst, a two-way player who leads the Golden Eagles in tackles with 73 total, and also total yards on offense with  1,535, most of that coming by way of receptions.
That being said, Del Oro does not have their own Jack Sears, who comes into the game leading the Tritons in yards through the air (2,256) and on the ground (1,015). When asked about his expectations for Del Oro, Sears stated, "I'm just excited for one more week with these guys and [to] make history again. We've never won a State Championship, so we're all looking forward to making history again, especially after feeling it last week with a CIF Championship Game. So we'll see if we can do it."
Sure to be yet another tough challenge, if the Tritons are truly a "team of destiny," this game will serve as the final chapter.
Triton fans interested in making the 450 mile trek to support their team, be sure to dress appropriately as the low in Sacramento is 49 degrees with a 10% chance of rain.
Fans that will be watching from home, be sure to tune in to the live broadcast available at:
Cox: Live game on Channel 3
DirecTV: Live on Channel 698