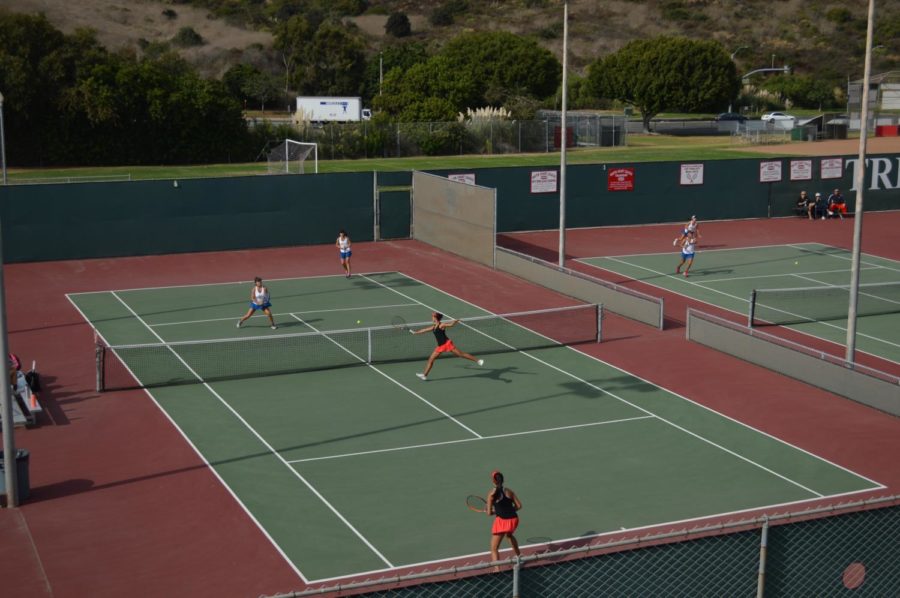 By: Jillian Gellatly | Writer
December 1, 2017
On  Friday, November 3, 2017 the San Clemente High School tennis season came to an end for our Lady Tritons as they lost a tough match against San Marino in the second round of the CIF playoffs.  
Capping off a long season, tying for the fourth year in a row for the South Coast League championship with Dana Hills, the team's final victory came against Santa Margarita Catholic High School when the Lady Tritons won 16-2 in the first round of CIF Division 1 playoffs.
Without their number one singles player, senior Lindsay Hung, who paced the team with an astounding 67-1 record, the Lady Tritons had a tough road ahead of them. The match ended with a final score of 11-7, and the season had come to an end for San Clemente. Hung will continue playing tennis next year at the University of Utah on scholarship where she says she is "looking forward to competing on another team while getting the college experience."
Although the season did not end the way the championship team had wanted it to, there is still so much for the school and  team to be proud of looking back on the season. Head coach John Stephens commented that, "Overall the season went well. We improved as a team as the year went, and we certainly had certain players that improved from the beginning of the season. Our goal was to win league and we did it."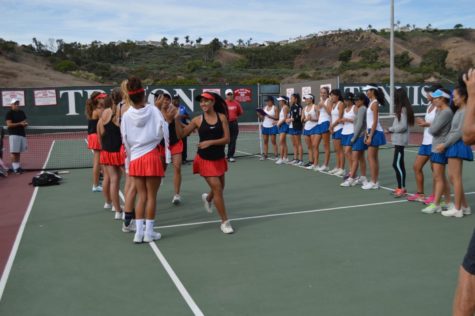 At the start of league, the Tritons faced rival Dana Hills for the first time of the season. In a high intensity match, the Lady Tritons upset the Dolphins 10-8 to move on as undefeated in league, and punishing their rivals with their first loss in league play. "In beating Dana Hills we had doubles teams that really came together the first time we played them and won some important sets," Stephens recalled. 
The team went on to win every match until their second encounter with the rival Dana Hills Dolphins, where they lost in heartbreaking fashion. At the conclusion of the season, San Clemente held onto their league championship by beating San Juan Hills 12-6 in their last match. Then, in league individual finals, the Tritons dominated, bringing home all the hardware. Hung took the league championship in singles, and senior, Sami Nielson and sophomore, Jenna Yeam won the league championship in doubles against a very tough Dana Hills team.
These three athletes were sent to CIF where they dominated once again, making it to the round of 16 out of 128 competitors. Hung made it all the way to the finals, and lost in a very tough match. This was the first time in school history that a player had made it this far in CIF for tennis, especially in Division 1. 
Stephens also stated that one of the biggest reasons for the team's success this year was, "the team getting along and overall enjoying each other." Hung agreed with her coach on this statement and added that her favorite part of high school tennis and especially this season was "going to Mammoth together, bonding all the time, and competing together/supporting each other on the courts."