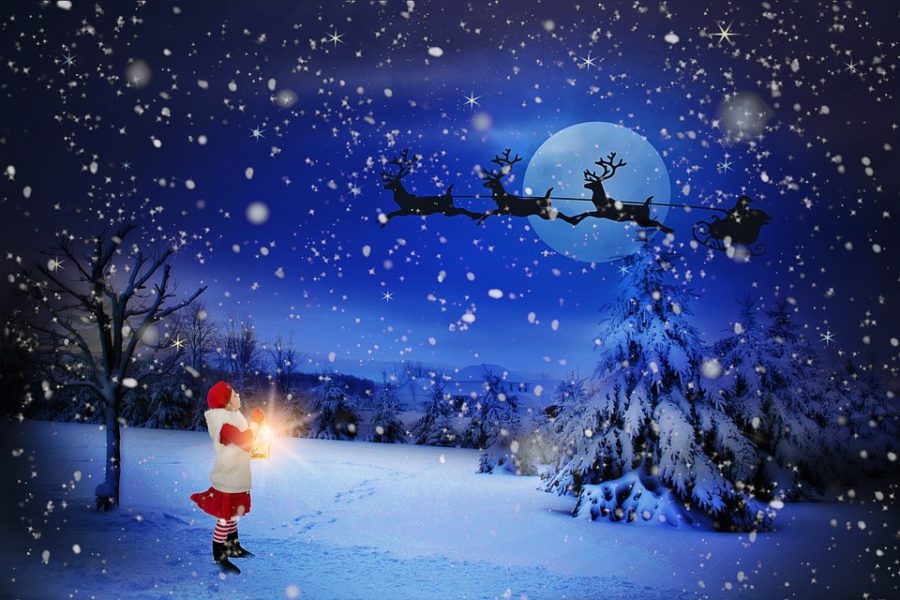 By: Morgan Creek | Opinion Editor
December 12, 2017
With Christmas right around the corner, holiday season is in full throttle. Christmas lights are up in the neighborhood, trees are being bought and decorated, and the massive present buying has begun. 'Tis the season for holiday spirit and good tidings after all! But before we know it, it's December 26th, and the holidays are sadly over. So, what can we do to ensure we're getting the most out of the holiday season? Well, here's a few relatively inexpensive ways you can take your holiday enthusiasm to the next level. All of these specifically relate to Christmas, but feel free to adjust them to the holiday that you celebrate!
1.  Drink hot cocoa 24/7.
 If it doesn't have marshmallows, candy canes, and whipped cream- you're doing it wrong.
There really isn't anything like a nice cup of hot cocoa to warm you up when it's freezing out (metaphorically, of course- this is San Clemente after all). Considering it was 49 degrees when I went to zero period the other day, I think we can agree that school mornings are quite frigid. So make some hot cocoa to-go! When you're walking to class wishing you'd worn a warmer jacket, you'll be grateful to have your cocoa. And, if you really want to emulate the Christmas spirit, make peppermint hot cocoa! You can buy the mix itself, or put some candy cane pieces in it for a DIY version.
2.  Throw a Christmas party, or two.
I mean, Secret Santa = gifts, right?
Christmas parties are a GREAT way to celebrate the holidays with your loved ones. Invite all your friends over to watch Christmas movies, drink cocoa, and celebrate Christmas break! And, why not have a secret Santa or white elephant while you're at it? Set a $10 price limit so people aren't worried about buying expensive gifts. It'll be sure to bring some laughs at the same time. You can also go see some lighting displays, like Dana Point's IlluminOcean or even the lights in your neighborhood, or go ice skating at the Spectrum. These all make for a great party activities for you and your guests! And don't forget that cocoa.

3.  Go find some snow!
Because I don't think it's going to snow on the beach anytime soon…
Because we live in sunny San Clemente, snow is something we unfortunately don't get to experience. But, you can still experience frozen fingertips and snowflakes on your tongue with a little bit of traveling! You don't necessarily need to fly to New York or drive eight hours to Big Bear to find snow either- there are plenty of places in California that are snow-filled. Senior Adriana Rivas explains that Julian is one of her favorite places to go during winter because of its "snow-covered sidewalks, warm apple cider, and overall cute feel." You can also go to Mountain High, a ski and snowboard location that's only two hours away. Don't forget to build a snowman, make snow angels, and have a snowball fight while you're at it.
4.  Play Christmas tunes in the car, in the shower, everywhere.
You can compete with your friends in "how many times can you listen to Mariah Carey in one month?"
Let's admit it- there are a TON of Christmas songs. From Elvis' classics, to Justin Bieber's pop songs, to Pentatonix's all-vocal medleys, there is what may seem like an overwhelming amount of Christmas music. But, that's why you need to listen to it all the time! Make a playlist of all your favorites, or tune into a radio station like 96.5 that's usually playing Christmas songs. You can at least try to listen to all twelve versions of Baby, it's cold outside, right?
5.  Sport some holiday attire! 
There are such things as cute Christmas sweaters, you know…
Want to publicly show your love for the season? Here's your solution: Christmas sweaters. Christmas socks. Christmas jewelry. Christmas makeup? (if you know me, you already know the answer is yes, yes, yes, and YES). Not only will you feel more in the spirit, but other people who see you will feel more spirit too!
6.  Make and decorate cookies!
And obviously have a contest. Like a serious one. With money.
In my opinion, you can't have Christmas without some serious cookie decorating. Maybe its because we always have five cookie jars, or because we hold a family contest across three states, but I really feel like Christmas is missing something without some gingerbread man sugar cookies. Try holding a contest with your family or friends and see what crazy cookies get created. Or, go the alternate route and have a gingerbread house decorating contest. But please note- house-building is not for everyone. Senior Mia McFadden struggles to build gingerbread-houses that stay together. She claims "the icing that comes with gingerbread kits just doesn't hold the house together! These companies are setting you up for failure." If you'd prefer to stick to baking instead of decorating, make some Christmas-themed cookies instead. Snowballs, Gingersnaps, Snicker doodles, Peanut Butter Blossoms… the list goes on and on….
7. Christmas lights don't stop at the exterior of the house.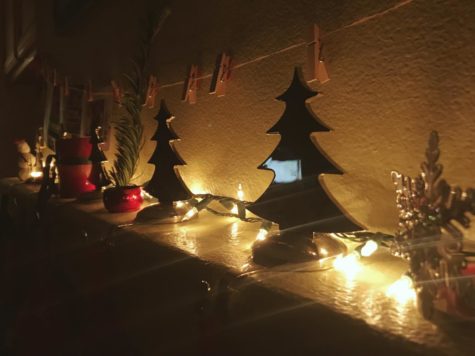 Unless you're that house that connects their full throttle Christmas lights to music. You've probably made your holiday spirit clear enough.
Put Christmas lights everywhere! Seriously! Hang them in your room, in your living room, on the staircase… anywhere you can think of, hang Christmas lights. That way, no matter what room you're in, you can look up and feel the holiday spirit. But make sure to unplug them or turn them off when no one is around! Otherwise, your parents will not be happy when they see their electrical bill. If you really want to take it to the next level, put some battery operated lights in your car. Or, if you're feeling extra artsy, you can further your decorations by making some cut-out paper snowflakes to hang from the ceilings. And, feel free to also hang some of those Christmas gel stickers on your windows. Just remember to take them down before it gets hot again…
8.  Get an advent calendar!
Treat yourself to some pre-Christmas gifts!
There really are advent calendars for all sorts of items. From your traditional See's Candies calendar, to NYX's makeup advent calendar, to a good old Lego Calendar, there really is something for everyone. So why not get one? Or, if you have the extra time, make an advent calendar for your best friend and have them do the same for you. That way, you can customize it to include all their favorite things. A Bear Cost Coffee gift coin? Some Ghirardelli chocolates?? Christmas earrings????? I love it.
9.  Christmas movie marathon!!!!
As cliche as it might sound, I think we can all admit no Christmas is complete without Elf.
Take some time off to watch some Christmas movies! Nothing will get you laughing about Christmas chaos more than Elf, Home Alone, and other great Christmas comedies. Whether you're watching with your friends, partner, family, or even just yourself, it's a guaranteed way to get into the Christmas spirit. Don't forget to pay attention to those overarching lessons about generosity too (Scrooge, Elf, the Grinch- they've all got 'em).
10.  Most importantly, share your good tidings with others 🙂
There is no better way to show your Christmas spirit!
One thing that we may forget during the Christmas season is that the holidays are all about showing kindness to others. While it's important to be generous every month of the year, why not take your generosity to the next level during Christmas time? You could make a child's Christmas morning by donating gifts to those less fortunate or by volunteering at a soup kitchen. Random acts of kindness are what give the holiday season it's magic. So try to do something kind for someone each day- it can be as simple as complimenting someone or donating some spare change to a charity. No matter how small, being kind to others can have a big impact on others' lives. And that is the most important part about Christmas spirit! I think the Grinch, Scrooge, and Walter Hobbs can all attest to that.