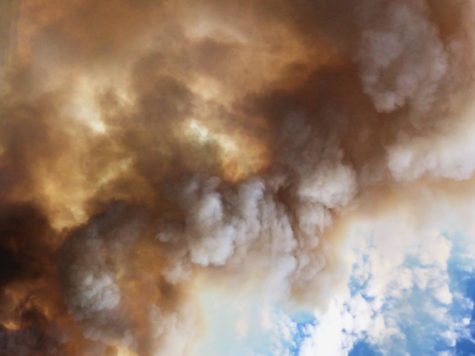 By: Savi Raghuraman | Writer & Lucy Terry | Writer
December 13, 2017
In the first few weeks of December, Southern California has been plagued by an abundance of fires, ranging from San Diego to Ventura County. The fires have threatened numerous structures, including horse stables and the renowned Getty Center. Many of the blazes have been contained this week, but some still rage on.
The first fire that broke was the Thomas Fire on December 4th in Ventura County. It initially started off as a brush fire, but quickly progressed into a behemoth of an inferno. Videos have been shared all over social media of an entire mountainside covered with flames right next to a freeway chock full of people fleeing the fire's wrath. Fortunately, the fire has been contained near many communities and structures along the coast. The Thomas Fire is considered the fifth largest fire in modern California history, as it has already burnt over 230,000 acres, an area greater than New York City, and is still progressing steadily; firefighters have only managed a 20% containment of the inferno. Freshman Andrew Winkler recounts, "My brother's train home from college arrived at one a.m. because of the fire delays north of L.A. He had even taken pictures of the flames because that's how close they passed."
Another fire has posed a closer threat to Los Angeles this week, damaging a much smaller, but more densely populated, region. The Skirball fire started Wednesday, December 6, coaxed by hot, dry winds from a cooking fire in a homeless encampment alongside the 405 Freeway into a devastating blaze that spanned 400 acres. The typically trafficked portion of the 405 that runs between West L.A. and the San Fernando Valley was uncharacteristically empty that week, shut down by the fire department, and the nearby Getty Center and over 700 homes in the Bel-Air neighborhood were evacuated. A dozen homes were partially burned, a half dozen more completely destroyed, and L.A. skies are more clogged than usual because of all the smoke. As of Tuesday, December 12, firefighters had contained the Skirball fire 85%.
Two additional fires east of L.A. have finally been contained this week. The Creek fire, mostly in the Angeles National Forest, decimated 15,619 acres and damaged over 200 structures, while the less destructive Rye fire spread over 6,049 acres in the Santa Clarita area. Even though both have reached containment as of this week, they have contributed to the toll wildfires have taken on Southern California.
Ruby Shapiro, a junior at North Hollywood High School, rides horses at a stable that has been affected by the recent fire. "The Creek fire actually made it onto the property. All the stables stayed standing because they're made of metal, although you could tell that any leftover hay had caught fire in the stalls, but some of our corrals and our goat pen burned down. The fire got to about 20 feet away from my trainer's house, which is on the property, and 15 feet away from our tack room, which is made of wood and holds all the crazy expensive tack. Luckily, it didn't reach either and they're still standing."
Such a week of fires in December would be impossible in most areas of the country. Even Northern California has finally cooled down after their devastating fire season. In Southern California, though, the conditions lately have been ideal for wildfires. The hot, dry Santa Ana winds, infamous for their fire-driving capabilities, blew every day for two weeks straight. And the recent 80 degree temperatures have only helped the fires live longer. This weather, provided with a spark, can quickly, effortlessly produce a massive and dangerous blaze that can survive against the efforts of firefighters as long as the wind keeps spreading it to new lands parched by the dry season. Only this week, with the Santa Ana winds slowing down, have containment efforts begun to succeed.
Conditions favorable to fire could potentially extend into January. Whether California's record-breaking, unbelievably destructive 2017 fire season will actually end with the coming of the new year remains to be seen.