By: Danny Olivares | Arts & Entertainment Editor   &   Lucas Henkel | Arts & Entertainment Editor
December 5, 2017
The air is becoming chilly, colorful lights twinkle throughout the neighborhoods, the movie Elf is playing on a non-stop loop, and pumpkin spice lattes are being thrown out to make room for peppermint mocha. Yes… Christmas is coming. This also means it's time for San Clemente to host the annual "Santa's Village By the Sea". With active support by the community for this holiday, the event took place on Saturday, December 2nd. No one was prepared for how far the City of San Clemente went this year. So grab a cup of hot apple cider and go on this holiday journey with us.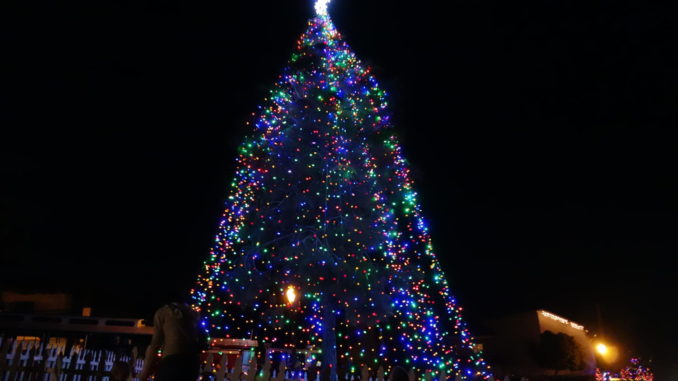 In previous years, "Santa's Village" would begin with the Christmas tree lighting next to the community center and kids would play at the game booths. Afterwards, everyone would walk down to the Casa Romantica for refreshments and take pictures with Santa Claus. This year, however, the whole street of Del Mar was closed off. Almost every shop had a tent out to sell food and drinks, promote their business, and participated in festive games. Compared to past city events held downtown, this might have been the biggest turnout of people for it seemed as if the whole city was here. Our school was also represented by the Girl's Lacrosse team helping out and raising donations. Lights covered each tree and wreaths were placed on each lamppost throughout the street. Professional musicians, school children and even random citizens of San Clemente were filling the street with classic Christmas songs in various forms such as bells, drums, and caroling just to name a few.
The traditional activities still happened next to the community center but with an extra kick of fun. Afterall, there were two mini trains chugging children and their parents around in loops! The beloved mini snow hill also made an appearance this year and people lined up around the park in the hopes of sliding down its icy slopes. A giant inflatable movie screen played beloved classics such as Santa Claus is Comin' to Town and Rudolph the Red-Nose Reindeer. Children and even adults gathered around to watch.
The city's Christmas tree this year was quite beautiful. The tree was standing tall and delicately draped with large bulbs of red and green lights. People can certainly get their kicks with the number of selfies they can take in front of the tree. SCHS students were scattered about. Grace White, who is a senior, gleefully explained "I think this celebration was so adorable! My favorite part was the kids' performances." Senior, Delaney McClure also noted how "everyone was dressed up and walking their dogs."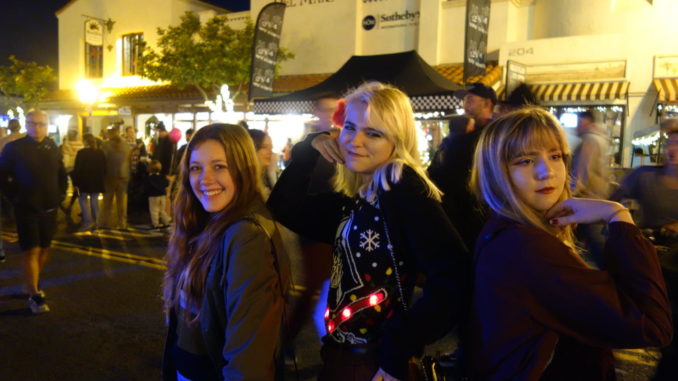 After a good hour of walking, we decided it best to head over to the Casa Romantica and see what they did this year. As soon as walking in, the smell of cookies and hot chocolate filled the air and a grand Christmas tree is spotted, standing proudly on the center lawn and a female band played music with bells.The house was covered with lights and there seems to be a Christmas tree in every corner possible. Entering the main building, a sauve piano player filled the room with music while giving off an aura of sophistication. Craft stations were all over and an adorable North Pole mailbox sat by the table where kids could put their letters in. Senior Drew Henry exclaimed "It felt as if I was in a storybook, there was so much positive energy and everything was beautifully decorated. It was also nice walking through the halls and seeing all the historic memorabilia." Volunteer members passed out the refreshments but only allowed us to take a limited amount which contradicts the "all you can eat" policy from previous years, this must be due to the heavy show-up of people this year.
At the back of the house, a walkway decorated with candy canes and gingerbread men lead to the octagonal room where the fat man with the beard and red suit was listening to children's requests. Of course, I had to see Santa myself and even snapped a picture before being spotted by his elves. It was a beautiful night with a clear, black sky with a luminous full-moon looking at the holiday cheer below and listening to the waves crashing on the beach.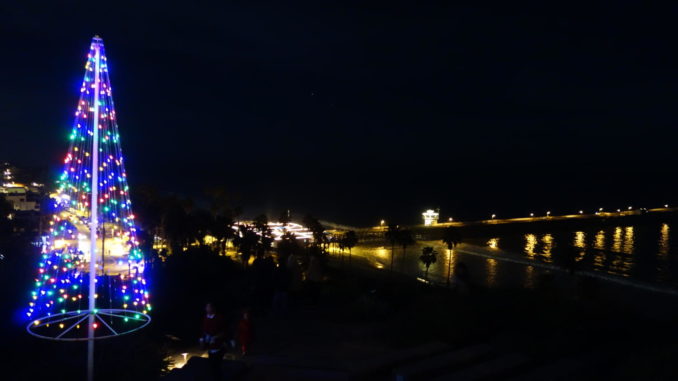 In conclusion, this year's "Santa's Village by the Sea" was a holiday success. It was clear in the faces of the adults and children that Saturday night was a great way to welcome this month of December and the winter season.