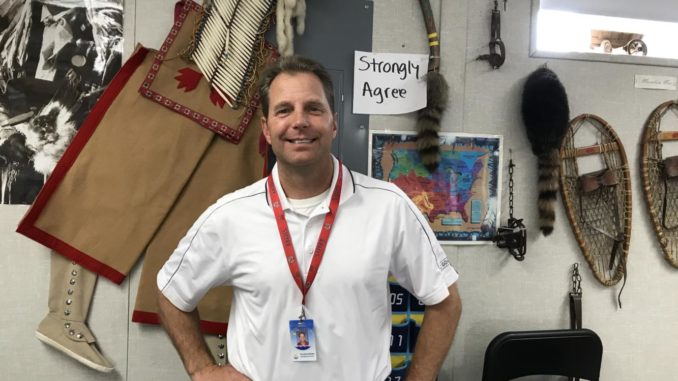 By Zoe Day | News Editor
January 31, 2018
When we look back on our high school careers, the teachers who supported us in our academic and personal endeavors will stand out the most. Their authenticity and passion play a pivotal role in our development as individuals. Mr. Brown, a role model to his students and colleagues, was recognized for his dedication to teaching history as San Clemente High School's 2017-18 Teacher of the Year.
After almost twenty years at San Clemente High School, Mr. Brown is still as passionate about teaching his subject as ever. When a few of Mr. Brown's colleagues stopped by his classroom to announce that he had been awarded Teacher of the Year, he recalled feeling a bit stunned to learn about the honor, explaining that "there are just so many great teachers here on campus." I sat down with Mr. Brown to learn more about what makes his classroom unique.
Which course is your favorite to teach?
I teach eleventh-graders in US History and American Cultures. I've also taught Economics and Government, and I used to teach Geography, back when we had that program here. They all have their unique sides to them, but my favorite to teach is US.
What do you enjoy most about teaching high school?
I love the planning and the students. As a coach, I get to see them out of the classroom, at the driving range hitting a hole-in-one or beating someone five times in a row in wrestling. It's great to see them in other areas in addition to the classroom.
What is the hardest part about being a teacher?
Grading. I'm the worst at it, and I'm forever behind!
What are your thoughts about being selected as Teacher of the Year?
I'm honored by this award. It shocks me and amazes me because there are so many incredible teachers here. When I see my name on the board, I'm still a little stunned. For them to have thought of me, it was unexpected.
How did you become a teacher?
Twenty years ago, I was in the Emergency Medical System, working as an EMT, wondering what I wanted to do. I decided that I wanted to further my education— I had to decide if it would be in that world, or a different world. I resigned from those positions and decided to give it a shot. (Phentermine) I chose Humboldt State because of the beautiful, forested area. I could rock climb and mountain bike and still study something that I loved. I was originally a forestry major, and then I chose history because it was the one thing that I really loved. I had no idea what I wanted to do. I loved the stories and the characters, but I had no idea what I wanted to do with it— become a librarian? Go to law school? I almost accidentally fell into teaching. I did my student teaching at San Clemente High School in '97. I worked on campus part time, as a resident sub, and even in the special education department before teaching history full-time.
What types of activities or qualities do you think make your classroom unique?
My style hasn't changed, but the techniques have. I like to keep things moving. Most of the time, we don't spend more than twenty minutes on any one activity. It'll be a current event, then a video clip, a discussion, or a political cartoon. I'm always mixing it up. History is a story with lots of characters, and I base my teaching around that story.
How would you describe the environment of your classroom and your teaching style?
I want this to be a comfortable place. I want my students to start even just by looking around the room and saying, "This is kinda cool." I want to intrigue them, and I think the atmosphere of my classroom reflects that. I am fairly relaxed, and I enjoy what I do. It's been a few decades now, and I still love coming to work every day.
What is the most rewarding part of teaching?
Teachers call it the a-ha moment, when a kid is sitting there and all of a sudden you can see it— it just clicks. That moment is always the best. When you see a kid get it, it motivates them. I want them to learn and grow and be inspired.
Would you recommend teaching as a profession to your students?
Yes, absolutely. For me, it's fun because it's my passion. I like the kids, I love the history, and it's a great combination. You just have to find out what that is. If you're going to spend forty years doing something, you have to find something you love. Teaching is a great profession, and there are also so many other paths— it all depends on what you're interested in. You've got to figure out which direction is yours.
If you could impart one message on your students before they left your classroom, what would that be?
There's a quote by Abraham Lincoln in my classroom that says, "Most people are as happy as they choose to be." Most of us are in absolute control of how we see the world and our own happiness. When we study different figures from the Depression years, we look at all the people who stepped out of their own hard times to help others. I like to address historical figures who do good things for other people, not for selfish reasons. I encourage my students to see the greater good and to make their own mark on the world.