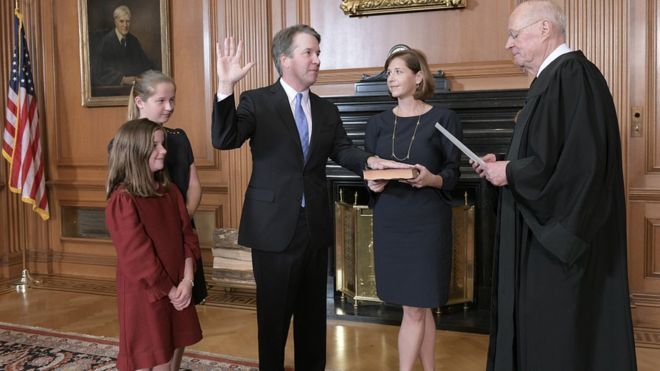 By: Carli Lawrence | Writer
October 11, 2018
After much debate, drama, and for some people a few tears, on October 6th the Senate voted 50-48 to confirm Donald Trump's nominee for Associate Justice of Supreme Court, Brett Kavanaugh. Although many people tried to argue that Kavanaugh would not make a good fit for the position, the Senate thought differently. Brett Kavanaugh was sworn in as the 144th Supreme Court Justice in a private ceremony by Chief Justice John Roberts.
The main reason that many people on the left were worried that Brett Kavanaugh was confirmed was because some of his opinions on very sensitive issues. Now, being in the associate position, right under the chief position, would leave Kavanaugh with a large amount of power in helping to decide some of the most important issues in America concerning abortion, religion, and gun rights.
"I think that even if he didn't commit the crime he was accused of, the well-being and peace of mind of American women knowing that an accused rapist isn't leading our Supreme Court takes priority over this man's desire of a job position," San Clemente High School senior Isabel Grigg said.
Conservatives have stood by Kavanaugh since the beginning of the drama and have continued to stand by his side and support him throughout the whole process. "I think it is good that Kavanaugh got confirmed because it shows how the intolerant, Liberal left will default to dirty politics and slanderous attacks if they don't get what they want," senior Brad Simone said.
Brett Kavanaugh's perfect reputation has been completely ruined throughout the confirmation process. The sad thing is that we will never know for sure what happened on the late summer night 35 years ago between Kavanaugh and Christine Blasey Ford, the woman that has alleged that Kavanaugh sexually assaulted her.
After a long couple of weeks, the decision was finally made, but the drama is not over by any means. The results of the Kavanaugh confirmation has left the people on the left feeling hopeless, angry and upset. On the other hand, people on the right are left with feelings of relief and happiness. Democrats have become so upset over this that they are now going as far as trying to get Kavanaugh impeached. Many people believe that this clash between Republicans and Democrats has intensified the war against both sides.