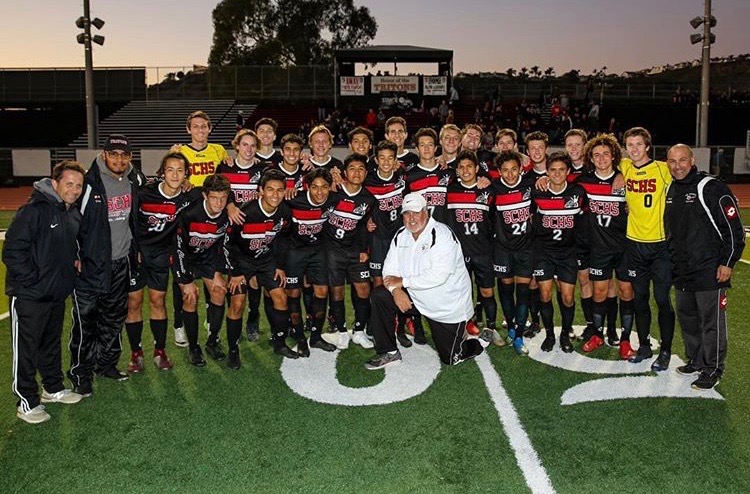 By: Julia Wilson | Sports Editor
February 8, 2019
Kicking off the season with the dominating of Laguna Hills High School 6-1, San Clemente Boys' Soccer only continued to improve. Led by coach Mike Pronier, the team clinched the South Coast league victory for the second year in a row with an astonishing record of 8-0; beating other high level teams such as Mission Viejo and Capo Valley.
"It's so awesome to be part of this team" junior Carson Trager said. "We always know how to have fun but keep it really competitive and high level."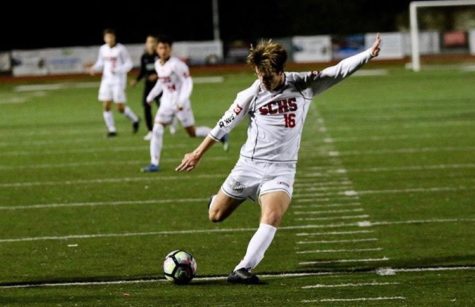 Their league domination began on January 7, 2019 against El Toro High School. The team came out strong in the first half with two goals scored– one by senior Quinn Richards and one by senior Evan Dilbeck. This set the tone for the rest of their league appearances. Throughout the rest of their games, the Tritons never let up and came out on top with and astonishing league record. Another exciting win for the Tritons' was the absolute demolition of San Clemente's known rivals, Dana Hills High School, 6-0 on the Triton's home field. 
As senior Ryan Kowarsch said, "It was so exciting winning so much in league, it took a lot of hard work but it definitely all paid off."
The team consists of 25 boys; 12 seniors, 10 juniors, and 3 sophomores. Key senior returners to the team include Blake Bowen (MF), Liam Linas (D), Ryan Kowarsch (GK), Curtis Harvey (GK), Quinn Richards (FORW), and many others. One of their recent and most important league games was against San Juan Hills High School on January 30th, which secured the league championship for the team, and sent them into the first round of CIF.
On February 7, 2019, the team appeared in their first CIF game this season against Century High School at the Tritons' home field. The team, still riding their high from such a successful league season, swept Century 5-0, scoring 2 goals in the first half and 3 in the second.
Facing off against Paramount High School on February 9, 2019, the Tritons again took care of business, winning 1-0. There next game, the CIF Quarterfinals match against Santa Ana High School, takes place at our field on Wednesday, February 13 at 5 pm. On the season, the Tritons are 20-2-4 and the Saints are 22-5-2.
Come on out to support our boys!