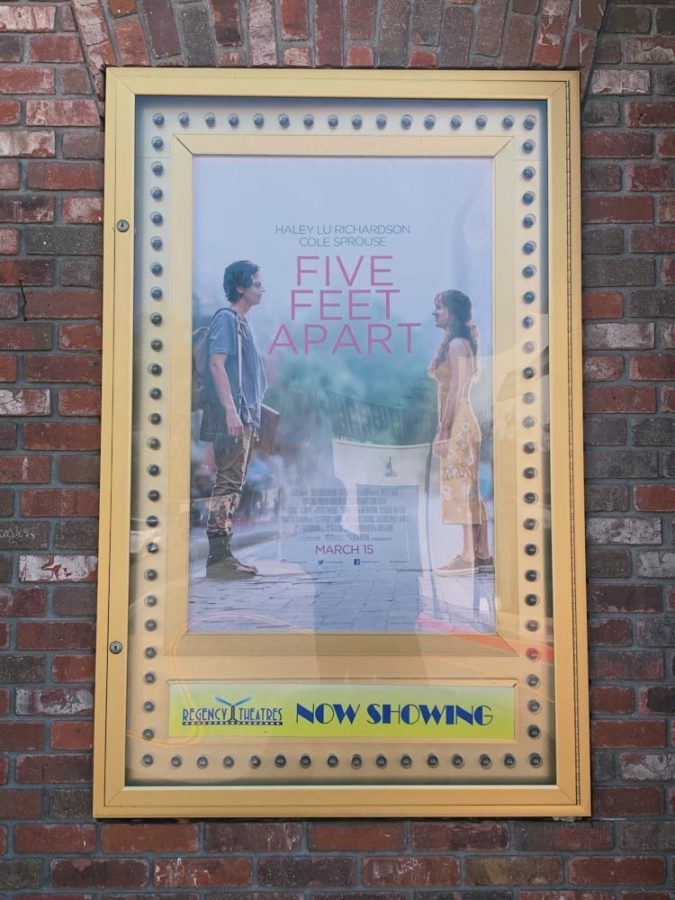 By: Francesca Best and Aubrey Johnston
March 26, 2019
The movie Five Feet Apart recently hit theaters on March 25, 2019 and its the perfect romance story between two teenagers, Stella and Will. However, their love story is anything but ordinary; the two met in the hospital while being treated for the same life-threatening disease, cystic fibrosis. The two star-crossed lovers can never be together due to their medical conditions and must remain six feet apart at all times to ensure they don't make each other's disease even worse. However, as their attraction to each other grows, they begin to question some of the rules and embrace their connection.
Stella and Will are played by Haley Lu Richardson and Disney original, Cole Sprouse. The movie also included another actor famous from the Disney Channel, Moises Arias, who played Rico from "Hannah Montana". Arias's role in Five Feet Apart was vital to the plot; he played Stella's best friend, Poe, who brought the couple closer together.
"The movie has a very similar plot to The Fault in Our Stars," said senior, Conner White. The movie is extremely close to The Fault in Our Stars, as both movies are a tear-jerking, beautiful romance story, with a time limit on their love story. Although the movies had a similar story line, Five Feet Apart also had many unique factors to it. For example, the cast size was small, so that the viewers could get to know each character's back story. This was a helpful factor in piecing together information throughout the movie.
However, the best part of the movie was the message that it sent out to its audience. Five Feet Apart brought awareness to cystic fibrosis and ensured that each viewer learned something new about the disease as they left the theater. Not only did the movie bring awareness to the disease, but it accurately depicted the prognosis, severity, and complications of cystic fibrosis. Head down to the theater and see Five Feet Apart before its too late, you won't regret it!