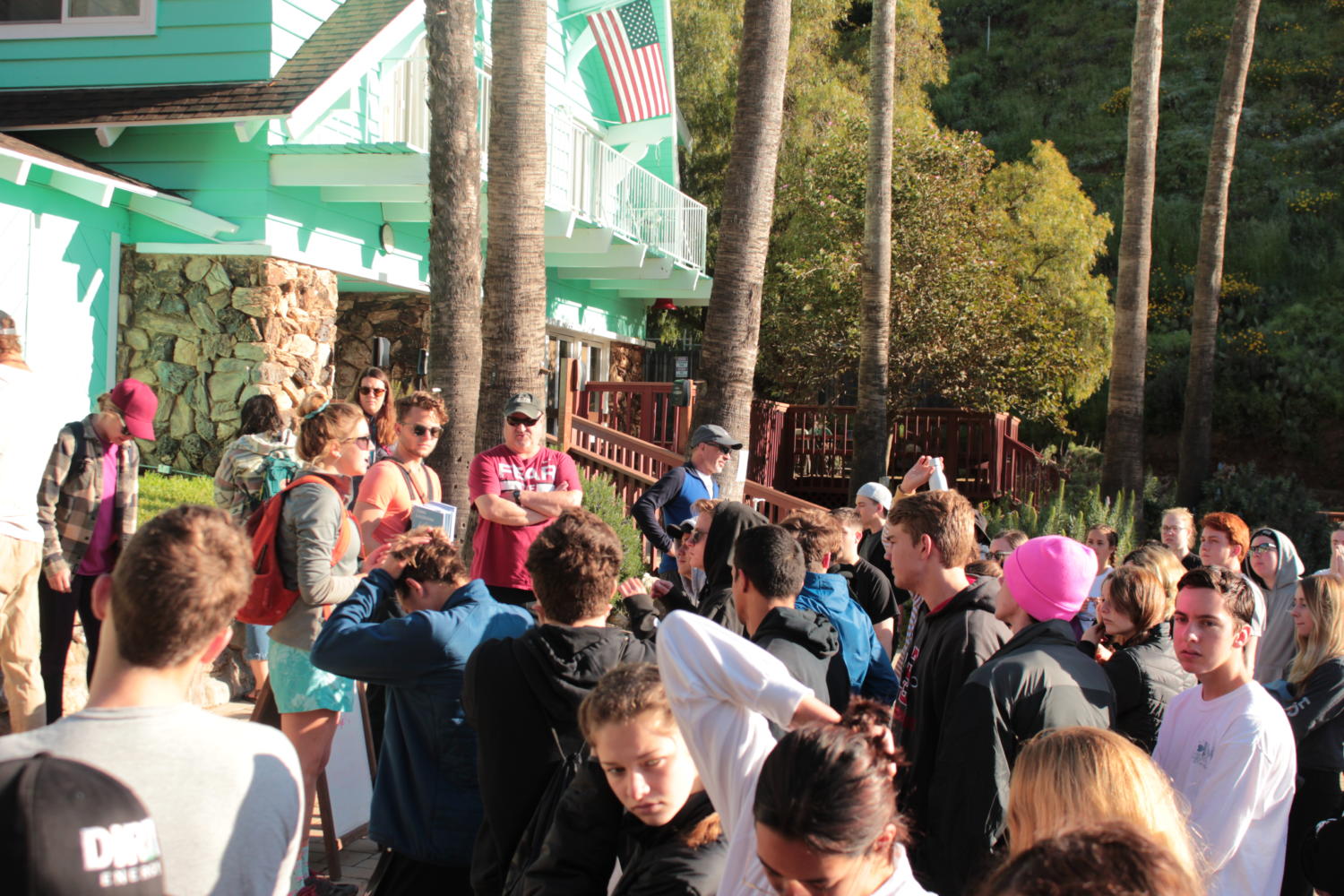 By: Sofia Helmle | Writer
March 26, 2019
On Wednesday, March 20, 81 AP Biology students set out on a venture to Catalina island for a 48 hour adventure full of learning and fun.
On day one, the students met at SCHS to commence their journey with a two hour bus ride followed by a two hour boat ride to the campsite, Fox Landing. Immediately off the boat and settled into camp, students began their first educational adventure of snorkeling in search for algae samples to use in future labs.
"I liked the snorkeling because we got to look like professional divers!" senior Senior Karl Andersen said.
The wetsuits were in fact a very big process including three different pieces as well as booties, fins, and a head piece — all much needed components to stay warm in the fifty degree water. Andersen continues with a laugh, stating "I really loved that we got to experience freezing water temperatures and observe fish and algae at the same time."
Following the sea diving adventure was dinner and a squid dissection lab that taught the parts of the slimy creature as well as basic lessons about forms of reproduction and sea life.
Thursday contained all sorts of fun with kayaking, hiking, and the algae lab that taught a variety of things about sea life and contained interactive experiences with the vertebrates and fish.
Senior Isabella Anderson recalls her favorite part of the trip as the kayaking, explaining "it was definitely the best part of the trip hands down. It may have rained the whole time but the views and the freedom on the ocean as well as being accompanied by all of my closest friends made it really special!" Not to mention it was also her 18th birthday!
After a fun day of activities the students had dinner and some free time before making their way to the camp bonfire where students recounted on their experiences and performed skits about all they had learned…and lets not forget about the s'mores!
Overall, the hiking, swimming, and free time basketball games were more than enough in creating an unforgettable experience for the AP Biology students. This 48 hour adventure in nature was one definitely for the books for Mrs. Finnerty and the Biology program as a whole!