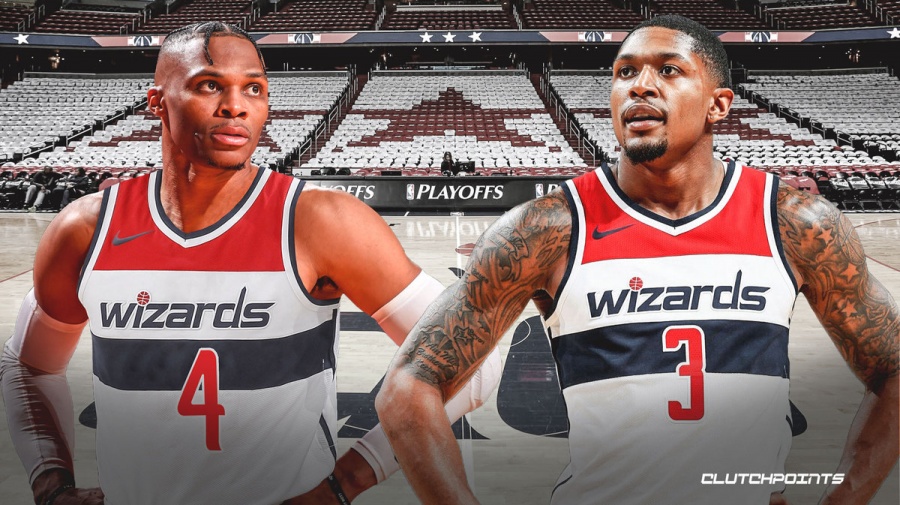 WIZARDS NEW DUO: Russell Westbrook joins Bradley Beal on the Wizards following a trade with the Rockets Photo Courtesy of Clutchpoints
Ben Cooper | Writer
The shortest offseason ever was an active and interesting one, from teams trading stars to drafting potential star players. Teams retooled, reshaped, and started rebuilds in this offseason to direct their franchise to a title.
Atlanta Hawks: B+
The Atlanta Hawks made it clear that they are ready to make a run at the playoffs and add to the young core. The Hawks brought in veterans Danillo Gallinari, Rajon Rondo, Kris Dunn and Bogdan Bogdanovic while also drafting Onyeka Okungu who has potential to become a star. The Hawks have created a roster that is ready for the playoffs.
Boston Celtics: C-
The Celtics made it to the conference finals last season but lost to the Miami Heat. The Celtics had an up and down offseason which included losing key bench pieces Gordon Hayward and Enes Kanter. They did however bring in center Tristan Thompson and guard Jeff Teague who will be solid additions to the team. The one major positive was resigning ascending star Jayson Tatum to a five year $195 million extension, locking him up long term.
Brooklyn Nets: C
The Nets haven't made a big move yet this offseason when many thought a James Harden trade would be completed. The Nets have made many small moves that will help the overall bench depth but nothing to change their championship aspirations. They acquired Bruce Brown, Landry Shamet, and Jeff Green while re-signing sharpshooter Joe Harris. 
Charlotte Hornets: D-
The Hornets decided to sign and spend $120 million on Gordon Hayward who is a former all star and solid player, but not worth that price. They then drafted guard LaMelo Ball who has the skills to be a star but his personality has raised questions on whether or not he can develop. The Hornets may make the playoffs but will not be in championship contention for years.
Chicago Bulls: C
The Bulls surprised many people when selecting Patrick Willams with the 4th pick in the draft, but didn't do much besides that in the offseason. The Bulls are still in rebuild mode and could be fighting for an 8th seed this season or they will be back in the draft lottery.
Cleveland Cavaliers: C+
The Cavaliers drafted Issac Okoro who fills the whole they had at wing and could develop into a star. They traded for center JaVale McGee to clear cap space for the Lakers and signed guard Demyean Dotson who is a solid shooter and a great young role player. The Cavs didn't do much this offseason but they are building up their young core.
Dallas Mavericks: B
The Mavericks brought in many wing defenders this offseason to complement Luka Doncic and Kristaps Porzingis. The Mavs traded Seth Curry who was an elite three point shooter but got wing defender Josh Richardson in return. They signed James Johnson and Wes Iwundu while drafting Josh Green, Tyrell Terry, and Tyler Bey. The Mavs have set up a team that is ready to compete deep into the playoffs.
Denver Nuggets: C+
After a conference finals appearance, the Nuggets had some key losses in free agency. They lost three and d wing Jerami Grant who was vital to their playoff run last season. They also lost bench pieces Mason Plumlee and Torrey Craig. The Nuggets did however resign Paul Millsap and signed, then unloaded Jeff Green. The draft was the best part of their offseason as they got guard RJ Hampton who has potential and could be a great bench player for the Nuggets.
Detroit Pistons: F
The Pistons had the most confusing and worst offseason in the NBA. After losing Christian Wood and Luke Kenard, two up and coming players they signed Jerami Grant to a three year $60 million deal. Grant is an impactful player but the Pistons are not ready to compete for a championship and should be focused on rebuilding the team. They also went out and signed two centers and drafted one creating a rotation of multiple centers for an unknown reason. 
Golden State Warriors: A-
The Warriors started the offseason with star shooting guard Klay Thompson tearing his achilles, taking him out for the second straight season. After this news, they became very active and traded for forward Kelly Oubre and drafted center James Wiseman. This team is ready for a championship run in 2022.
Houston Rockets: C-
After one season, and losing in the second round of the playoffs the duo of Russell Westbrook and James Harden has been broken up. Russell Westbrook was traded to the Wizards for John Wall and a 1st round pick. Wall, a former all star has been out the last two seasons and holds one of the biggest contracts in the NBA. James Harden may be out of Houston as he said he is open to a trade to the 76ers, Bucks, Heat, Nets or another contender. The Rockets should trade the unhappy Harden and start the rebuild. With the signings of Christian Wood and Demarcus Cousins the Rockets could still keep the fans entertained and fight for a playoff spot even without Harden. 
Indiana Pacers: C+
The Pacers didn't do much this offseason, as they re-signed Justin Holiday and Jakarr Samspon, while drafting Cassius Stanley. They didn't make any game changing moves and will likely remain exactly what they were, a playoff team.
Los Angeles Clippers: B-
The Clippers lost key piece Montrez Harrell in the offseason but were able to acquire Serge Ibaka to replace him. They were also able to get guard Luke Kennard who is a great three point  shooter and will help with the spacing of the floor. Paul George signed a five year $226 million extension which raises questions on if Kawhi will sign one soon. They didn't address perhaps their biggest problem which is playmaking, so they will rely on Kawhi Leonard and Paul George to take on that task.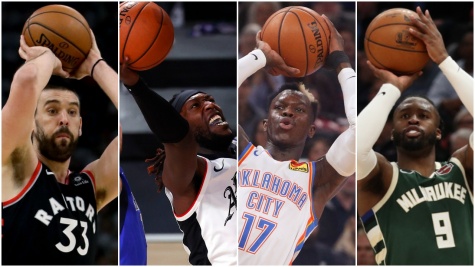 LAKERS NEW ADDITIONS: (left to right) Marc Gasol, Montrez Harrel, Dennis Schroder, and Westley Matthews become Lakers Photo via Getty Images
Los Angeles Lakers: A+
The rich get richer. The NBA Champions go from winning the championship to having the best offseason in the league. The Lakers started it off by trading Danny Green and a first round pick for guard Dennis Schroder who finished second in sixth man of the year last season. They followed this up by signing the 2019 sixth man of the year  Montrez Harrell. They then grabbed guard Wesley Matthews–to replace Danny Green's three and d impact on a cheaper salary–and signed veteran center Marc Gasol who can space the floor and provide another shooter and defender on the floor for the Lakers. The Lakers did trade beloved Laker center JaVale McGee in order to create cap space to sign those other players. "The Lakers got better in the offseason but I am sad to see JaVale McGee get traded even though it was probably in the team's best interest," junior Ben Starks said. They were also able to get Anthony Davis and LeBron James to sign contract extensions. LeBron signed a two year $85 million extension to keep him with the Lakers through the 2022-23 season. Anthony Davis signed a five year $190 million to keep in LA for years to come.
Memphis Grizzlies: B
The Grizzlies had a pretty uneventful offseason but were able to extend promising young guard De'Anthony Melton to a four year $35 million contract keeping him locked up with the rest of the young core.
Miami Heat: B
Following a NBA Finals appearance, the Heat made a few big moves in the offseason. They were able to re-sign star center Bam Adabeyo to a five year $163 million extension and sign Avery Bradley and Maurice Harkless to improve their defense. They re-signed Goran Dragic and Udonis Haslem on team friendly deals to keep cap space open to pursue Giannis Antetokounmpo next offseason.
Milwaukee Bucks: B
After a disappointing playoff run, the Bucks finally managed to re-sign superstar Giannis Antetokounmpo to a five year $228 million dollar extension, the biggest contract in NBA history. They traded for former all star Jrue Holiday, who will help the Bucks this season, but gave up a lot of future assets to get him. The Bucks need to continue building around Giannis so they can compete for championships for years to come.
Minnesota Timberwolves: B
The Timberwolves drafted Anthony Edwards with the first overall pick and traded for Ricky Rubio in the offseason. Malik Beasley and Juancho Hernangomez were re-signed which makes the Timberwolves a threat with the young core in the future. The Timberwolves could get back to the playoffs next season since the 2017-18 season.
New Orleans Pelicans: A-
The Pelicans had a great offseason and have a team that is now ready to make the playoffs. They traded away Jrue Holiday but were able to acquire draft capital that make their future even brighter. NOLA also re-signed Brandon Ingram to a five year $158 million contract along with trading for Eric Bleodsoe and Steven Adams. These pieces will help the young core reach the playoffs this season.
New York Knicks: B-
The Knicks have not been good since Carmelo Anthony left and are still in rebuild mode. They were able to draft Obi Toppin who is a promising young player that could develop into a star. They signed many solid rotational players such as Austin Rivers, Nerleans Noel, and Alec Burks who are on fair salaries that could be used to trade to a contender during the season. 
Orlando Magic: C
The Magic had a very quiet offseason but they were able to draft guard Cole Anthony who has a lot of potential to be a great scorer in the NBA. The Magic have a roster that can still compete for a seventh or eighth seed in the Eastern Conference but they are not ready to make a championship run.
Philadelphia 76ers: A-
The 76ers had a good offseason and finally have built a team that could fit around Ben Simmons and Joel Embiid. The 76ers traded for sharpshooter Seth Curry and signed Danny Green and Dwight Howard who will be impactful veterans. The 76ers, with the addition of new head coach Doc Rivers, have set up a team to compete for a championship appearance this season.
Phoenix Suns: A
The Suns have finally built a team around Devin Booker and he could finally have his first playoff experience. They traded for all star guard Chris Paul who is still a top point guard in the NBA. "Its a much needed veteran who is a great leader and teamed with Booker, could be a scary force in the western conference," junior AJ Nestor said. They also signed veteran Jae Crowder who will give the Suns a great wing defender that can shoot the three. The Suns could have a deep playoff run this season.
Portland Trail Blazers: A
The Trail Blazers have had a great offseason that not many people have been talking about. The big problem for the Trail Blazers in previous seasons was putting wing defenders around Damian Lillard and CJ Mccollum. They traded for Robert Covington and brought in Derrick Jones Jr, Enes Kanter, and Harry Giles III to bolster the bench unit. The Trail Blazers could shock many people next year and make a deep run in the playoffs.
Sacramento Kings: C
The Kings were able to re-sign star point guard De'Aaron Fox to a five year $163 million contract extension locking him up as a part of the future. They did have a bad start to the offseason when trying to sign and trade Bogdan Bogdanovic before actually signing him leading to him leaving for no assets in return. They got Tyrese Haliburton in the draft which was a steal as he has great potential and were able to sign center Hassan Whiteside to a cheap contract. The Kings have built a team that can fight for a playoff spot but they are still far from a championship roster.
San Antonio Spurs: C+
The Spurs drafted Devin Vassell and Tre Jones who have potential to develop within Gregg Popovich's system. They were limited in free agency but were able to bring back Jakob Poeltl and Drew Eubanks who can be good role players for the Spurs. The Spurs need to decide on a rebuild or a retool building around Dejounte Murray and get rid of older players that are not on the same timeline as Murray.
Toronto Raptors: B-
The biggest move the Raptors made in the offseason was re-signing Fred Vanvleet on a four year $85 million contract. Vanvleet is coming off a career year and will continue to be an impactful player for years to come. They also re-signed Chris Boucher who will be a good piece off the bench. They did lose Serge Ibaka and Marc Gasol in free agency but it was time for them to get younger. To replace them the Raptors brought in Aron Baynes and Alex Len to replace them making the Raptors ready for another playoff run.
Utah Jazz: C+
The Jazz re-signed star guard Donovan Mitchell to a five $195 million contract extension that will keep the ascending star in Utah. They did lose center Tony Bradley who was solid off the bench but replaced him with Derrick Favors who is a solid veteran center. The Jazz will remain a contender for years to come after re-signing Donovan Mitchell. 
Washington Wizards: B-
The Wizards completely changed their franchise by trading for star point guard Russell Westbrook to pair up with Bradley Beal. This duo could lead the Wizards to a playoff run but we have to see what they can get out of role players Davis Bertans and newly drafted forward Deni Avdija. This team will likely make the playoffs and if they fit together could be a threat in the Eastern Conference.