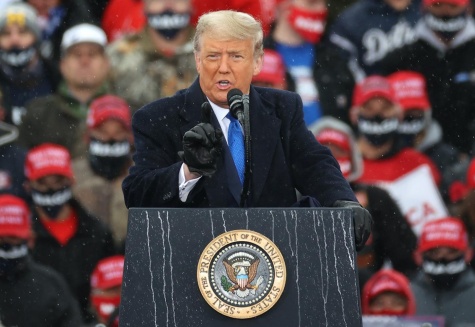 Donya Nadjie | Writer
December 11, 2020
Former Vice President Joe Biden was the declared winner of the 2020 presidential election with 306 electoral votes, according to a unison call from ABC News, CNN, Fox News, NBC News, and The New York Times. President Donald Trump received 232 electoral votes. The General Services Administration determined the political decision results on November 23, 2020, distinguishing Biden as the apparent victor.
Trump continues to decline recognition of the election result by guaranteeing that Biden's triumph was won through voter fraud; however, he began to turn to his supporters for help. Trump has set up an "election defense fund."
His campaign administrator, Bill Stepien, dialed into a private call for supporters deemed 'top givers' in order to emphasize that Donald Trump needed them once again to contribute. Those who donated may have done so in agreement that their money will be utilized towards testing the election result, yet many may have missed that their donations are being reserved for taking care of Trump's reelection debts. 
 "It almost seems as if Trump is lying to his supporters," junior Samantha Shaw said.
Trump has vowed to challenge President-elect Joe Biden's success in court. However, the fine print demonstrates a significant part of the money given to help that exertion since Election Day has practically squared away campaign debt, recharged the Republican National Committee (RNC) and, recently, aided Save America, another political activity council Trump established.
On Trump's fund, it declares that of all the profit made, just half will go towards the effort to recount votes—something Trump has been urging for for the past month. In reality, 60% of donations go to his Political Action Committee (PAC), and 40% will go to the RNC.
This means that most of the money made from donations will not go towards the recount of the election. Instead, the donations will go towards the Super PAC, sponsoring the bid and the Republican party.
"I just don't know what to believe anymore," junior Shelby Reisender said.
Once a donor arrives at the highest contribution limit for both groups ($5,000 for Trump's PAC and $35,000 for the RNC), the cash will spill into lawful records for Trump and the RNC, as indicated by campaign account lawyers who have audited the subtleties of the course of action.