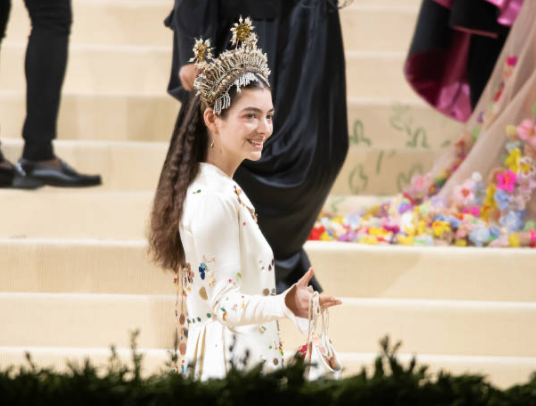 Amy Parr | Head Editor
September 16, 2021
After a year and a half, celebrities and spectators alike were more than excited for this year's Met Gala. Commonly referred to as "fashion's biggest night out," the Met Gala is an annual celebration of the new fashion exhibit at the Metropolitan Museum of Art, whose theme is reflected by the attendees' attire.
This year's theme was "In America: A Lexicon of Fashion," and, as usual, the theme was interpreted loosely by the majority of candidates. There were those who wholeheartedly embraced the theme, those who opted for less extravagant ensembles, and, most tragically of all, the men who insisted on wearing plain black tuxedos. 
"I am always a bit disappointed when I see people come in the typical suit or dress," senior Madeline McDonald lamented. "I like to see guests that are confident enough to really go for the theme and designers that show off their crazy skills with elaborate outfits."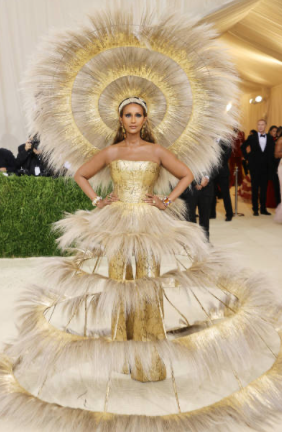 These elaborate outfits are certainly not hard to find given their eye-catching grandeur. Among the attendees who elected for ornamental costumes is supermodel Iman, dressed by Dolce & Gabbana X Harris Reed in a show stopping golden gown accompanied by an ethereal halo. 
"To me, Iman's look perfectly balanced extravagance and beauty and was definitely one of the most eye-catching looks of the evening," McDonald said. Joining Iman as the best-dressed attendees are Billie Eilish, who wore a stunning gown reminiscent of old Hollywood stars, and model Quannah Chasinghorse, who paid homage to her Indigenous roots with turquoise jewelry. Both young women interpreted the theme perfectly; one as a romanticized version of old Hollywood glamour, the other as a tribute to America before colonization. 
Regardless of the theme, which has ranged from "Heavenly Bodies: Fashion and the Catholic Imagination" in 2018 and "Rock Style" way back in 1999, the Met Gala never fails to spark conversation. Contrary to previous years, the recent conversations are centered around substantial issues, as opposed to traditionally superficial critiques of so-and-so's mishap on the red carpet. Alexandria Ocasio-Cortez, for one, took advantage of the American theme to promote her political beliefs, donning a white gown with "TAX THE RICH" emblazoned on the back.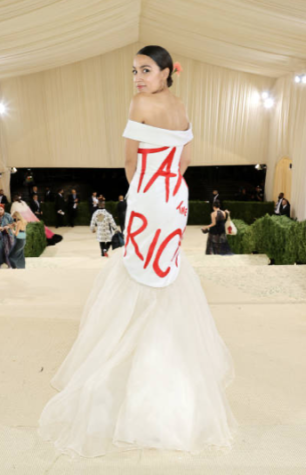 "I think her dress was a good way to spread awareness because a lot of younger people are watching the Met Gala, so it's starting conversations about wealth inequality," senior Brenna Lynch said. "But at the same time, it is ironic because her dress cost thousands of dollars and tickets are $30,000."
Alexandria Ocasio-Cortez, commonly referred to as AOC, is a United States Representative known for her liberal policies, and is very popular among Gen-Z for this reason. Her dress reflects the belief held by many Americans that the 'uber' wealthy billionaires are underpaying their workers and hoarding the nation's wealth. While there is some irony in advertising this message in such an extravagant environment, it serves as a reminder that there is a wide range of wealth. Although spending tens of thousands of dollars on a single night is absurd for the vast majority of Americans, this amount of money is nothing compared to the true target of AOC's dress: corporate billionaires, as opposed to celebrities.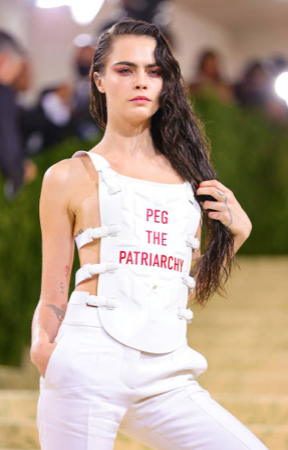 In a similar fashion to AOC, supermodel Cara Delevingne dropped jaws in her custom Dior vest with "PEG THE PATRIARCHY" across the front. Delevigne has attended the Gala nine times, but this year's was "the most simple Met piece [to date], but it says it all for itself," explained Delevingne. Though simple in appearance, Delevingne's vest will not soon be forgotten.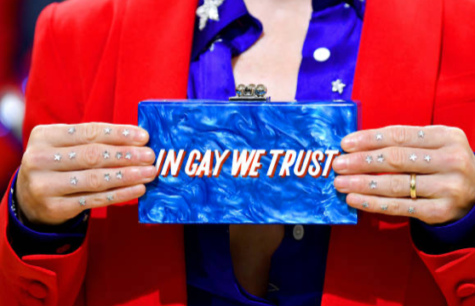 Megan Rapinoe, professional soccer player and LQBTQ+ activist, joined AOC as a first time Gala attendee not afraid of making a splash. Rapinoe wore an American flag-inspired suit, accompanied by a clutch purse which read "IN GAY WE TRUST." Embracing the American theme, Rapinoe's clutch played on a phrase from the pledge of allegiance, replacing the most common justification for homophobia with "gay" itself, poking fun at homophobes and embracing freedom of sexuality at the same time. 
Politicians, models, actresses, and athletes have long made up the Gala's attendees, but with the rise of social media platforms like Instagram and TikTok, a new kind of celebrity—the influencer—has emerged. Debates over the "legitimacy" of these celebrities have been underway for years, but the Met Gala seems to approve wholeheartedly, extending invitations out to TikTok star Addison Rae and YouTube sensation Emma Chamberlain. 
"While I think it's impressive that certain influencers have, with a small team or sometimes just by themselves, built platforms with comparable sizes to our favorite celebrities, I still feel that the Met Gala is a very prestigious event that should be reserved for the most positively impactful individuals of our generation," McDonald said. "Although the line between influencer and celebrity is getting increasingly blurred, to me, those who have contributed to the entertainment business or the world itself with their outstanding talents and impact are potential guests for this event."
Despite the status of influencers hanging in the balance, the pandemic and awakening to racial injustices in America seem to have sparked a newfound era of open politics. No longer will controversial opinions be whispered slyly between friends or bubbled indiscreetly on a ballot, but rather vocalized and magnified to challenge tradition. Many view fashion as a frivolous waste of time, but this year's Met Gala proved that gowns can symbolize much more than beauty.