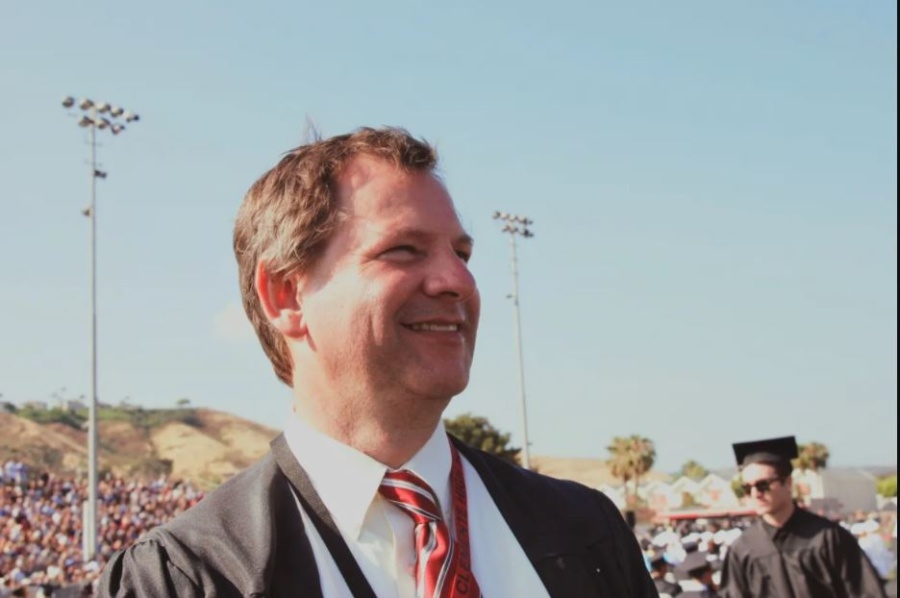 Amy Parr | Head Editor
March 25 started out like any ordinary Friday morning for San Clemente High School students and staff. This illusion of normalcy was shattered with an email delivering the news of beloved Assistant Principal Cameron Lovett's passing. He was just 54 years old.
"I had just gotten out of morning practice when I saw the email that he had passed away," senior Brenna Benham said. "I was in shock and simply could not even comprehend that he was gone. It was so dark and cloudy that day, it just felt like we were all dreaming and that this couldn't possibly be real."
The unexpected news shocked all members of the SCHS community, disrupting the newly acquired sense of normalcy from the lifting of the mask mandate. Just when one tragedy appeared to be ending, another one came in and took its place, leaving a hole in the heart of San Clemente. Known across campus for his British accent and passion for punctuality, Mr. Lovett was always up for a laugh despite his sometimes intimidating presence. 
"Oftentimes people would fear Mr. Lovett and be scared to get in trouble, but he always treated others with kindness and would do his best to keep us students safe," senior Haley Sandstrom said. "He always had a big smile and would love talking to others."
Mr. Lovett was the perfect combination of authority figure and friend for students on campus. While he certainly inspired terror in the hearts of those running tardy, he did so without any hint of malice and was always ready to urge anyone and everyone to "Get to class!" a phrase he infamously bellowed across the quad on any given day.
"I remember during one of the football games he walked by and everyone started chanting 'get to class,'" Sandstrom said. "The smile on his face was huge and it was contiguous for all the students. He was so entertaining at the football games just by being there and making jokes with students in the crowd." 
Mr. Lovett went above and beyond his duties as Assistant Principal. He took the time out of his day to ensure that all students felt safe on campus and did whatever he could to make someone's day just a little bit brighter. 
"He always brought a positive presence and never failed to make those around him laugh," Benham said. "He also played a huge role in covid contact tracing. My mom worked with him and said he created a whole system that was super efficient and made the school way more productive. I believe that he impacted many students' lives whether they were perfect students or always in his office getting in trouble."
Mr. Lovett's kindness was not only reserved for a select few students, but rather extended to the student body as a whole, and as a result, his death touched every single student at SCHS. His humor was second only to his heart, and our school will never be the same after the loss of such a kind-hearted individual. 
"The day we found out it was so sad and I couldn't believe it," Benham said. "Right after school ended I went to go see my mom because it really made me realize how things can happen unexpectedly and how we shouldn't take those we love for granted."
Mr. Lovett's funeral service can be viewed here at 4:30 pm on Wednesday, April 13.