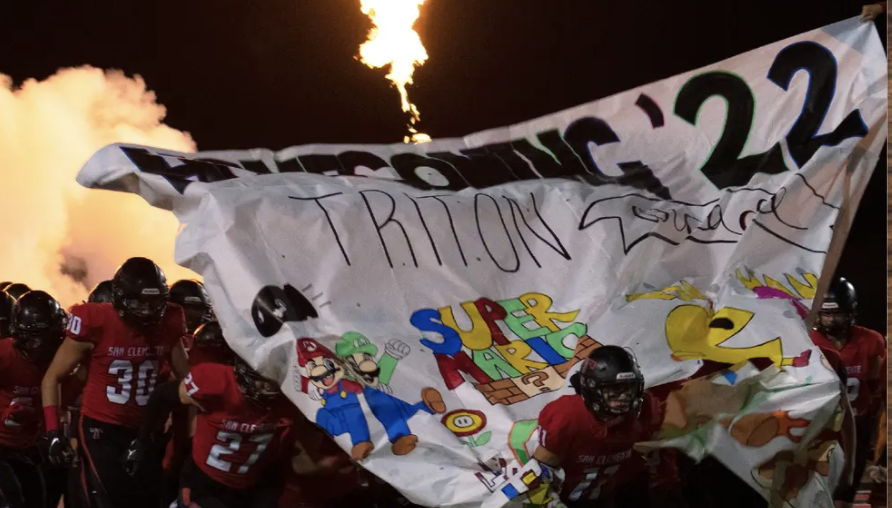 Nicolle Generaux | Newsroom Manager
April 1, 2023
*BREAKING NEWS: Triton Football is scheduled to be shut down after the school decides to cut funding. "One Town, One Team" will no longer be true. 
In past years at each and every Friday football game, lively parents and students alike would jump up and down, screaming the names of their favorite players, overjoyed to be witnessing such a momentous event. The entire town would flood into the Thalassa stadium to see teenagers tackle each other for a leather ball. Cheerleaders put on their best show and kicked the highest they could; parents prepared the absolute best nachos, sandwiches, and cookies to feed the adoring fans; students dressed their best to match the assigned theme; Mr. Popovich rallied the crowd with his insightful comments during the game. 
Football games were the pride and joy of SCHS — until they weren't. 
Apparently, this past 2022 season lacked enthusiasm from the crowd. Enormous amounts of money were spent to train the team, provide advertisements, and arrange the events for the game — but not enough people showed up. Instead of hundreds of supporters drooling over the chance to watch a high school sport, the bleachers were barely overflowing with students, and an unfulfilled hope rang through the school. After weeks of this lack of attendance, the hearts of any true Triton broke, and their defeated spirits deemed the future pointless. 
"Without the football program, this town wouldn't be as close as it is today," commented junior Triton football player Dexter Brice. "Honestly, I have no idea why every student and member of the community wouldn't show up."
SCHS administration found that they were spending more money than they were receiving. So, starting next year, the school is cutting its losses and removing the program.
"What are we gonna do? Spend money on other sports? Music programs?" mentioned junior Chris Pimentel. "Next year is going to seem so empty without football."
Some have even considered shutting down the school. Without football, what are we? Our entire community is connected by football: events like the homecoming football game bring the entire San Clemente community to participate in the homecoming parade, where everyone gathers along Del Mar to support our sports teams before the big show — but there is no homecoming without football. So why does the rest of the school even matter? Is there any other tangible value to SCHS?
Or is football our entire identity?
*This article is satire for our April Fool's edition and is meant for entertainment only.