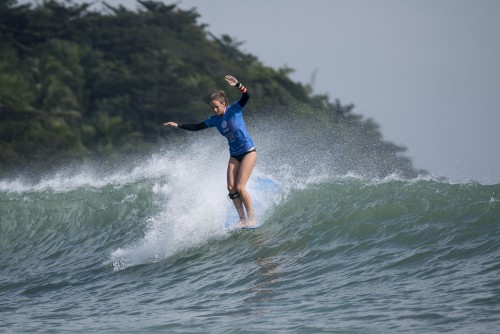 By, Claudia Pacheco  |  Editor in Chief
January 3, 2016
Senior Rachael Tilly wrapped up 2015 raising a trophy high in the sky, winning the title of WSL Women's Longboard World Champion. This last December, she travelled to China for the third year, carrying the training and confidence under her belt to win. When she charged out of the water as the youngest champion ever, the whole world roared in celebration.
We caught up with Tilly to get her feelings about the championship:
 Did you change up your strategies to prepare for this contest?
Preparing for this event was actually much different than ever before. In all the years before, I constantly put the pressure on myself to do well because I and others were counting on me. This year though, I just made it about enjoying the experience. I made sure I was enjoying competing and surfing, and when I was, it reflected in my contest results. This year was by far my best year in results.

 How did you feel paddling out into the finals?
I actually felt more calm than anticipated. I was confident in my surfing through the whole event that I knew I was totally capable of getting the title. I just kept that in mind and soaked up the whole experience of even having the opportunity of surfing in the finals.
Are the waves at that location in China much different from what you are used to in San Clemente? 
The contest is held at a left point so it is different from San Clemente because we don't have any left points to practice on. However, the wave type is very similar to SanO so I practiced down there a lot and caught as many lefts as I could.

What kinds of surfers were you up against?
It was crazy, because I was up against all the girls I have looked up to my whole life and who I aspired to be. Therefore, I was was well aware of these girls' talents and capabilities, but I stayed confident because I knew I had been surfing solid and I had nothing to lose.

How would you describe the feeling and energy surrounding you when you came out of the water #1 in the world?
It was amazing all the support I had around me! Everyone, including my competitors, were so excited for me and so supportive! I travel around the world with many of these girls and therefore have become great friends with them so to have their support and love when I won was an incredible feeling.

 6. Are there any surfing goals you're already looking to achieve next?

Winning a world title back to back is even harder so I'm setting my eyes on that! It's such an amazing feeling to have this title all to myself that it has made me even more hungry to win it again. I'm also looking forward to traveling much more this year and taking part in more competitions as well!
As she will soon graduate high school a World Champion in surfing, this is just the beginning for Rachael Tilly. Along with her fellow Tritons, fans across the globe will be watching and cheering her along the whole way.