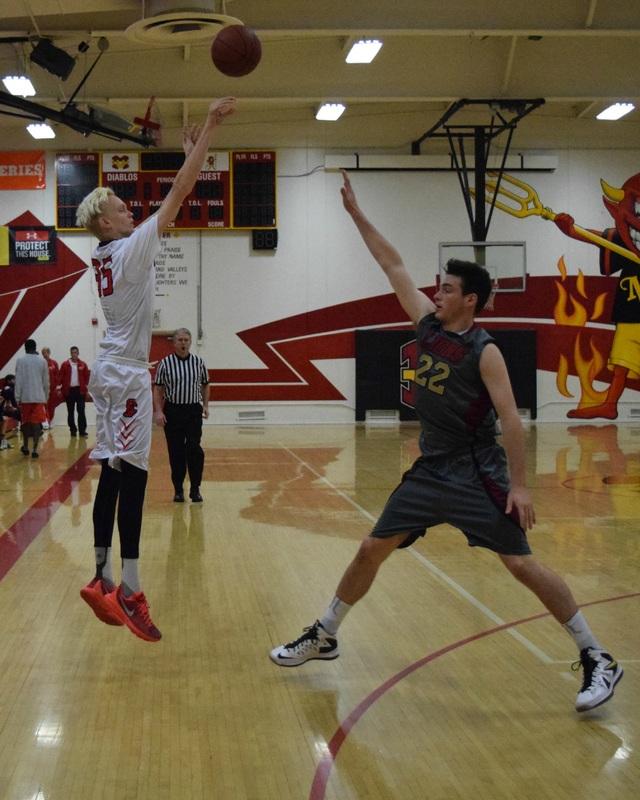 By, Ily Macpherson | Sports Editor
December 18, 2015
Last Thursday in the home Sea View League opener against Woodbridge, San Clemente High School's varsity boys basketball team started their season out with a victory. Ending with a score of 81-68, the boys basketball team is on the road to another successful season.
With a team consisting of eight seniors, five juniors, and one sophomore, the boys basketball team is working with a small team with big game. Although still early in the season, the team began with a high scoring percentage with 75.5 points per game so far. Hoping to keep the same consistency, these boys practice daily to keep up their game. Last year, the team went 19-8-0 in their season yet hope to break this record by running drills and practicing plays.
Head coach Marc Popovich shares the same tenacity as his team. As this will be his ninth season coaching, Popovich expects to compete for a league title, redeeming themselves after the loss in the second round of CIF last year. This year, the team has a "new cast of characters [with] hungry new guys to make a new mark", as Popovich noted. In their journey to pursue the league title, this ambition and determination will be useful to help the team go further in playoffs.
While the rest of the student body will sit on their couches with hot cocoa, the boys basketball team will continue to practice and compete during winter break. Over the break, the team will continue to play in the Irvine World News Tournament. Later in the break, the team will face Valencia and play in the Estancia/Tustin Tournament. Coach Popovich hopes to see his team improve on their defense and controlling their opponents. With improvement in defense and control, Popovich hopes to defeat their biggest opponent, El Toro.
Watch during winter break as the boys basketball team travels to compete in the Irvine World News Tournament and the Estancia/Tustin tournament!