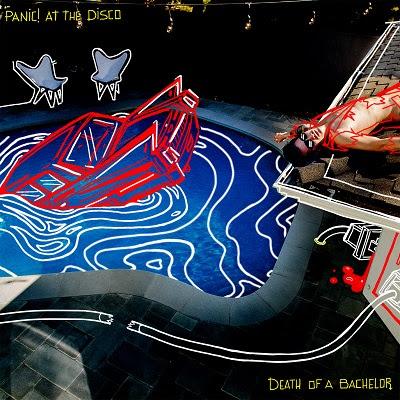 By, Jahfreen Alam | Writer
February 3rd, 2016
Characterized by big band brass fit for a night with Gatsby, signature choruses, and crooning vocals mixed with operatic belts, Panic! at the Disco's new album is both the champagne drinking buzz of an explosive Friday night, and the late night wave of nostalgia that hits the day after. Released January 15th, 2016, Death of a Bachelor marks Panic!'s fifth studio album and first number one album on the Billboard charts. However, the release of the album also signals the beginning of a new era of singer Brendon Urie as the only member left from the band's original lineup.
With Ryan Ross and bassist Jon Walker leaving after the release of the band's second album, Pretty. Odd., and Spencer Smith's departure mid-2015, Urie wrote and recorded the entire album as the lead vocalist and multi-instrumentalist. Still, Urie managed to maintain Panic!'s creativity and signature genre-bending style. The music of Death of a Bachelor leaps from the baroque pop and synth-pop of past albums, and can best be described as just simply pop rock. What separates this album from the others, though, is the risks Urie takes.
Completely written at Urie's home, Death of a Bachelor explores the end of Urie's past lifestyle, documenting some of his wildest memories through the eyes of a matured, married man, of someone much different than who he was before. The twist? Urie infuses hip-hop and jazz influences in a very modern pop rock setting of songs ranging from party anthems and tales of debauchery to powerful pop-tinged gospels and candid confessionals.
The album beings with "Victorious", a passionate anthem of glory. As the second single released before the album, the track rallies you into anticipating the moment the chorus drops, ready to sing and shout with adrenaline coursing through your veins, "Tonight we are victorious / champagne pouring over us!" Continuing the party vibe, the second track "Don't Threaten Me With a Good Time" kicks off with a heavy surf guitar riff that lingers in the backdrop throughout the song as flashes of a killer party from the night before bombard Urie's thoughts. "Champagne, cocaine, gasoline" are only a few things he can recall, but he certainly remembers the entire bash as one "hell of a feeling."
Taking a break from debauchery, "Hallelujah", the first single released, plays like a fresh, powerful modern pop-gospel. With an appropriate use of a chorus echoing of the word "hallelujah" and glorious vocals, Urie practically atones for his sinful night from the song before. However, that doesn't last for long. The third and last single, "Emperor's New Clothes" opens with a dark twist on a classic nursery rhyme and ramps up after every verse, detailing how Urie's past lifestyle has caught up to him. The track truly envelops the lyric "Welcome to the end of eras" as it begins Urie's new persona seen in the next song, "Death of a Bachelor."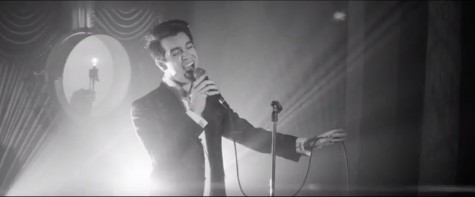 In the title track, Urie channels his inner Frank Sinatra and allows his impressive vocal range to say it all. Powerfully reminiscent of the 1940s and nostalgic of his past life, Urie welcomes "the death of a bachelor" in favor of "a lifetime of laughter." The fifth song comes swinging around—literally. In "Crazy=Genius", tom-tom beats and big brass didn't fail to impress junior Gabby Reid.
"As soon as the song started," she discloses, "I instantly recognized that it was an tribute to 'Sing Sing Sing', a popular jazz/swing song of the 1940s, and my personal favorite of the genre. From a musical and a nostalgic standpoint, I deeply admire his Sinatra vocals and jazzy vibes. It gave the album a lot of character and I enjoyed listening to it wholeheartedly."
The sixth track "L.A Devotee" shapes itself into Urie's overzealous, passionate love letter to L.A. Continuing with blaring trumpets, amazing bass riffs, and a nostalgic theme, the verses feature some of Urie's favorite scenes and memories—from "the black magic of Mulholland Drive" to "drinking white wine in the blushing light"—of a city that soon became his second home. His charismatic and operatic vocals transform the rocking chorus into one where you can't help but to scream out your lungs.
Afterwards, "Golden Days" follows, exploring a type of sentimental angst only pop-rock can pull off. Beginning with a bolstering beat in the first verse, the facade of strength soon fades, melting into a heartbreaking chorus. Soft and vulnerable with just a guitar strumming as the instrumental, Urie croons, "Oh don't you wonder when the light begins to fade?/ And the clock just makes the colors turn to grey." Once again, a theme of nostalgia appears as Urie reaffirms, "All the memories that we make will never change."
Consisting of hip-hop record scratches and the return to a filthy backdrop, "The Good, the Bad, and the Dirty" plays like a biting farewell to things that "were always going to end." A little sarcastic, the song is ultimately very catchy with a message emphasizing letting go of the old and embracing the new, but not without reminiscing first. "House of Memories" follows with a theme of being lonely while being in love; Urie admits "These thoughts of / past lovers / They'll always haunt me," but his desperation for being remembered and having a place in his current lover's "house of memories" overrides the song, tinging it with bittersweet hope.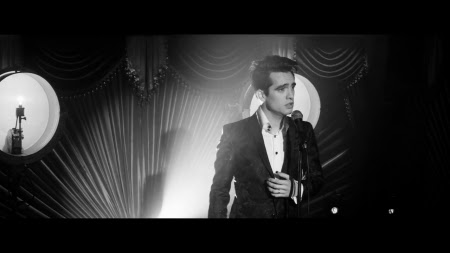 Finally, the album quiets down. Like the somber car ride home after a long night, and the finality of closing credits on a poignant movie, Urie ends the album with "Impossible Year," a soft, emotional piece backed with piano, bass, and horn; it's a heartbreaking goodbye to the band members who have left. He has a new found knowledge of needing to move forward into a new life and era of his career.
Overall, Death of a Bachelor touches upon the important themes of looking back upon a dead past and looking forward to a bright future while simultaneously appreciating the present. The interesting addition of brass instruments transforms the album into something utterly theatrical, but completely characteristic of Panic!'s ever-changing sound. Not only that, but the album introduces a new maturity in Urie as a singer and songwriter.
Panic! fan since middle school and junior, Lauren Hill comments on the growth of Urie musically and lyrically, revealing, "The album was way better than I expected. I appreciated the homage to both his wife and his new home in L.A. It's pretty cool to see him grow."
Junior Caitlyn Vilar, another long time Panic! fan, also comments on the album: "I think it's a very good album, honestly. My favorite songs are Crazy = Genius and Golden Days. I really like how every Panic! album has a different sound and this one is no exception, you know? Brendon is focusing more on his love for Sinatra, and has more of an upbeat pop sound than older songs. It really shows how much he's grown as an artist, and how his tastes have changed from losing previous band members. I'm very proud of Brendon for making such a good album as the only original member of the band."

Urie's risks paid off as he came to terms with his past and, most importantly, himself. I can't wait to see what genre he tackles next and what waits for both Panic! at the Disco as a band and Urie as possible soloist. For him, his journey has only just begun, and the real party waits.