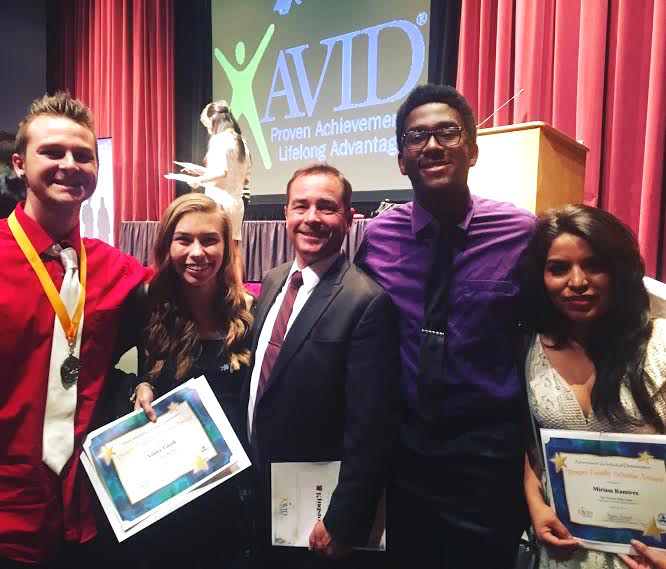 By, Sara Barnes | Student Life Editor
April 25, 2016
San Clemente High offers a variety of programs and classes to help students to achieve their very best, but perhaps one of the most prestigious and beneficial of these programs is AVID. Whether you are apart of AVID or you know someone who is,you know just how much effort these students put into forging a better future for themselves, and how dedicated they are to the AVID program.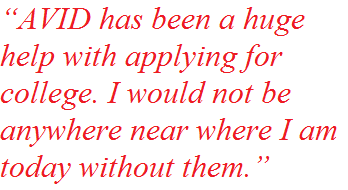 In case you didn't know, AVID is a program to help students get prepared for college. It requires its students to be in enrolled in the class all four years of high school, maintain at least a 3.0, and participate in community service. After all the work the students put in, AVID has a 77% acceptance rate into a four year university after graduation.
Currently the program is being led by the magnificent Mrs. Dollar, who not only makes sure every student is on the right track and heading to their dream college, but also leads amazing field trips for her classes, such as touring colleges, or even a night at Knott's Berry Farm.
Every year seniors graduating with four years of AVID have the opportunity to win some scholarships, but this year SCHS's AVID program won some exceptional scholarships, totaling $64,000!
Four seniors,  Gage Shelmidine, Ashley Guzik, Jonathan Jackson, and Miriam Ramirez received scholarships from Orange County Dept of Ed's AVID Senior Standout Recognition and Scholarship Presentation on April 20th. These SCHS students were standouts at the award ceremony, especially because out of the $68,000 that was granted to CUSD, San Clemente took away $64,000 of that by the end of the night.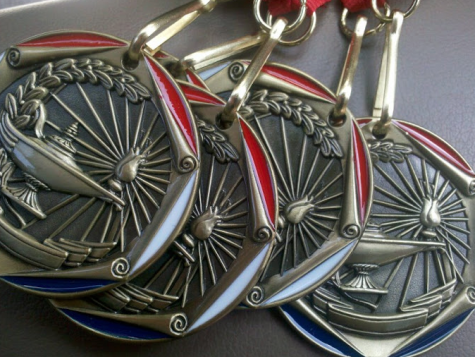 Jonathan Jackson, who is attending Fordham University in New York in the fall received $20,000 towards future schooling from the DeVries Family Foundation. When asked about his experience with AVID, Jackson commented "AVID has been a huge help with applying for college. I would not be anywhere near where I am today without them."
Recognized as the Senior Standout from SCHS, Gage Shelmidine was awarded $12,000 from Dad's House Foundation. Shelmidine is a Triton basketball standout and is still undecided on the direction of his collegiate and athletic future.
Miriam Ramirez and Ashley Guzik were each awarded $16,000 from the Draper Foundation. Ramirez, who has committed to UC Santa Cruz, is extremely glad she became apart of the AVID program. "I'm going to be the first in my family to attend college and winning the scholarship gave me more confidence to achieve the goals I have set," she told Triton Times, also mentioning that "AVID was a great class and it's true that that we have become a family. Everyone there is supportive, and that's one thing you really need senior year."
Congratulations to the four seniors who notably represented SCHS and the achievements of the AVID program!