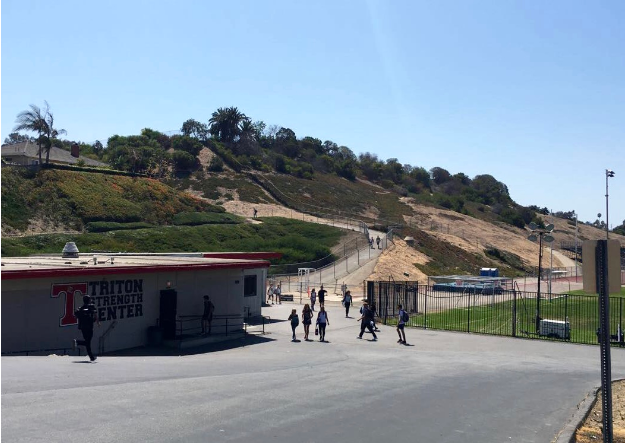 By, Camryn Ostrander | Writer   &   Kenzie McKinnon | Writer
September 8, 2016
For anyone, coming into a new and unknown environment can be scary and nerve-racking–especially if it's high school. For freshmen, coming into this new world can be a bit of a shock, but some like to find the high points and adapt to the newfound atmosphere. So, as upper classmen, we decided to recognize some of our new fellow classmates and ask about their first few weeks in a whole new world.   
We all know the strength it takes to finally jump over the choppy waters of middle school and into the vast seas of high school.  In other words, the transition between the two can be a little rough, to say the least. Thus, we wanted to know exactly how our new friends felt after their first month here at SCHS. So, the easiest way to get a grasp of what they were thinking and feeling was to start off with– How's San Clemente treating you so far?
Fortunately, our school is making a good first impression as ninth grader, Payton Swank shares, "The school's really cool. There's so many different types of people and everyone seems pretty nice." In addition to that, she couldn't help but notice the outstanding student section under the Friday night lights saying, "It's awesome that Triton's have so much spirit; it's amazing to see how everyone's so involved."
 It looks like even the freshman "WANT SOME SC!" and in the words of our Junior ASB President, Trey Russell, freshman are ready to head down that "one town, one team" lifestyle.
Another topic we managed to reach with our freshman was the heinous responsibilities that are inevitably gifted with high school, much like the infamous Hill. Ninth grader, Carson Kendall, even went to the depths of explaining exactly what he could live without in the exciting world of high school. "The worst thing about SCHS is definitely the hill… it feels as if you are walking up Mt. Everest in 80 degree heat."  Freshman Bailey Dill agrees, expressing her hatred by stating, "Yes, I am definitely dreading walking the freshmen hill."  
One last thing we covered with our beloved ninth graders was the expectations that were not met within the first month. We curiously asked– What did you least expect? And how did it catch you off guard?
Freshman, Faith Gillman shares her experience with being caught off guard by the differences between middle school and high school, explaining how "the lunch areas are very different"  and how she wasn't quite used to the them, commenting, "I think it really separates you from your friends… It was weird trying to figure out everyone's place the first few days." Looking back on it, our first few years definitely threw us all some curve balls. However, we think that these experiences are for the best because it's creating another chapter in everyone's book of life.
For the following years to come, these new Tritons will learn how to bend and weave through the complicated obstacles moving forward into their high school careers. It will be a challenge, but they will always know that they´re welcome to ask any upperclassmen for guidance. Fellow Tritons want their peers to experience high school to the fullest. In other words, although upperclassmen may come off scary, they are still open to lending newcomers a helping hand. 
As upperclassmen, we think it's safe to say that SCHS has a lot in store for the class of 2020.