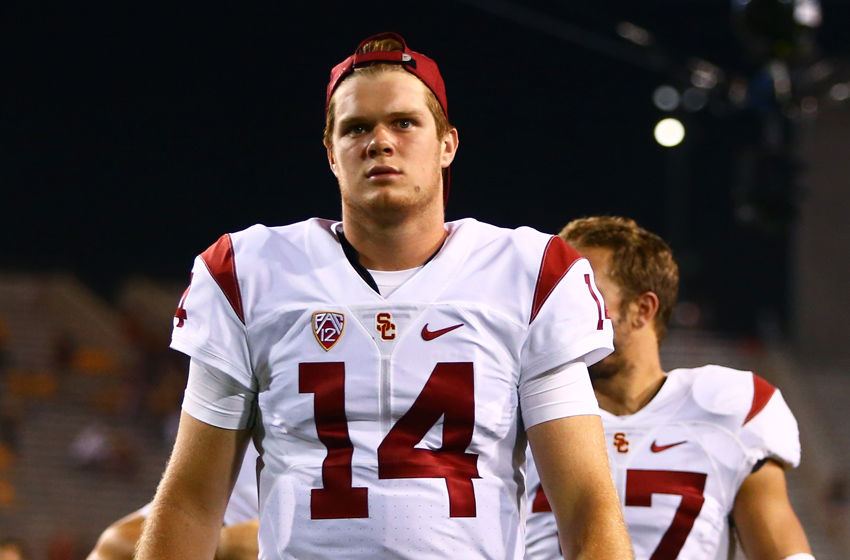 By, Max Jonnaert | Sports Editor
September 25, 2016
It was the announcement that gave hope to many disappointed USC fans, as their football team started out at a measly 1-2.
Looking for a drastic change, Trojan head coach Clay Helton announced that former San Clemente High School quarterback Sam Darnold would be replacing Max Browne as the starting quarterback, more specifically in their upcoming game against Utah.
USC junior Max Browne was only able able to produce one touchdown in his starts against Alabama and Stanford, and while that blame has been laid on many other parts of the team, including the coaching staff and offensive line, Helton and offensive coordinator Tee Martin deemed Darnold more fit for the position.
"I was really excited when I heard the news," junior Triton football player Tyson Mehrens exclaimed. "Sam was always super fun to watch in High School and he proved to be a role model for all of us [on the football team]."
His proving ground came last Friday, when the Trojans took on the Utes at their home field in Salt Lake City, UT. Despite suffering a heartbreaking loss that came on the final drive in the fourth quarter, Darnold boasted an impressive performance. The former Triton put up a strong pass completion of 18/26, averaging around 10 yards per pass attempt,without a single interception. The freshman QB also ran in his first touchdown and gave USC it's statistically best performance so far against a top tier team. He totaled 294 yards of total offense, the most by any player on the Trojans this season.
"I think the coaching staff has played a large part in the failures of the offense and weakness of the defensive line, while switching to Sam has looked really beneficial so far," said senior Nate Shepard. "I think that the coaching staff is where the major change needs to occur."
He's not alone in this thought process either, as on several official USC social media pages, many fans are calling for the firing and removal of coaches Helton and Martin. One user even noted that, "Clay Helton will be the death of this team and Tee Martin will be the one to bury it."
There is only so much a change at QB can do.
Regardless of this most recent solid performance that came up just short of earning USC a victory, Darnold needs to continue his offensive revival in his next matchup. This Saturday, the Trojans take on the 4-0 ASU Sun Devils at home in Los Angeles, CA. A win against this number one ranked PAC-12 team could put USC back on track from one of its worst season opening records in school history.