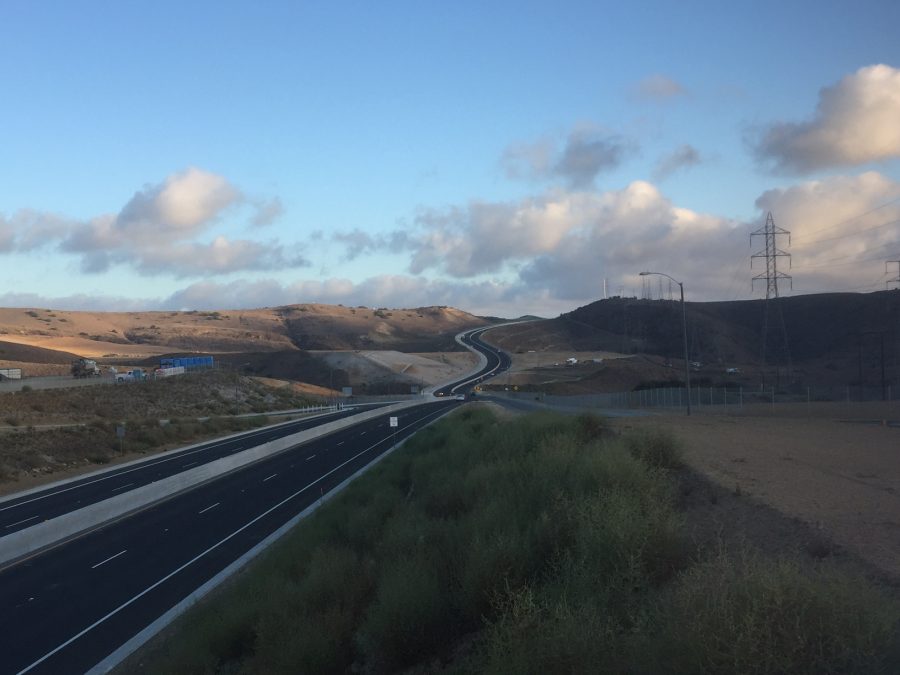 By: John de Koeyer | Writer/Photographer
October 5, 2016
With the opening of the La Pata road extension on August 14 of this year, there has been a noticeable increase in traffic in San Clemente. Senior Thomas Gebauer lives close to La Pata and notes, "there are more people moving around Talega in the last month since the road opened." Uh oh.
Some people are concerned that the new road will bring in too many people into our little beach town. Blue Engelking, a senior here and wave enthusiast, believes that the "La Pata road is a horrendous addition to San Clemente as it allows more people from Ladera Ranch and other cities to crowd our amazing beaches." Only time will tell if San Clemente's  beaches  will attract more people to "plague the line-up with a fury of wave storms  and sketchy  weird smelling rental wetsuits," Blue said jokingly but serious.
Prior to the opening of the new road, the only routes into San Clemente were Interstate 5 and PCH.  The road's planning has been in the works for over twenty years with the final approvals and funding confirmed in 2012. Jason, a manager at the San Clemente Target, indicated that Target "definitely have seen an increase in shoppers over the last month and a half since La Pata has gone through to San Juan from San Clemente.
It is an approximately seven minute drive between Talega and San Juan Hills High School, a drive that previously took approximately 20 minutes depending on the traffic flow on the freeway.  San Clemente resident and Santa Margarita High School student Dev Patel indicated that his drive to school "has been cut in half" since the new road opened at the beginning of the school year. La Pata will provide an additional route out when there is an accident on the 5 freeway, but will increase the traffic through San Clemente from the freeway.  
The road is not yet seen on Google Maps, so it is likely that not all residents in cities like Mission Viejo or Ladera Ranch are aware the road exists. The Christmas shopping season will be here in another six weeks and the new Outlet Mall is now less than a fifteen minute drive from much of Mission Viejo.  The City's sales tax revenue for the current fiscal year related to the Outlet Mall was approximately $300,000, well under the original projected $800,000 that the Outlet Mall was expected to generate according to the City hall newsletter. The new road could provide a boost in business in town.