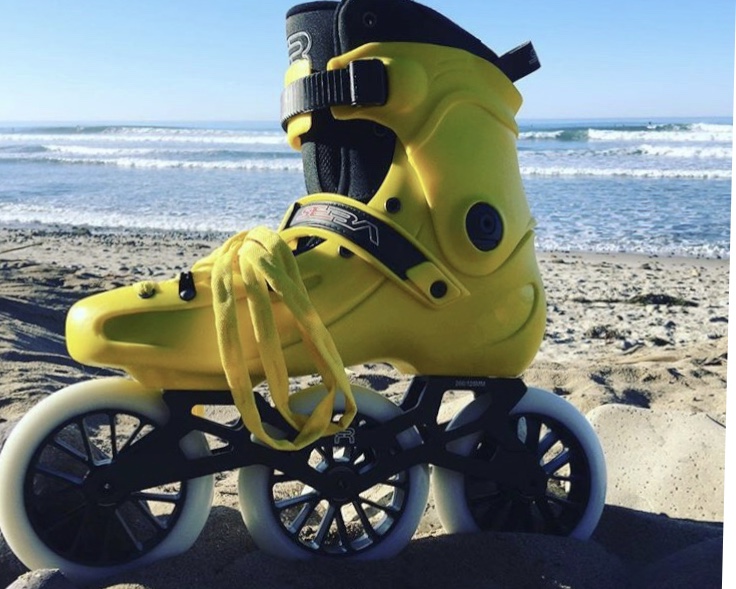 By: Lucy Terry | Student Life EditorJanuary 18th, 2018
If one of your New Year's resolutions is to exercise more, but the thought of heading to the gym sends a shudder down your spine, consider working out with SkateFit. In June of 2017, John Clark, the founder of SkateFit, transitioned from indoor workouts and gym classes to skating along the coast on an old pair of roller skates he discovered in his garage. People would stop him every day and ask what he was doing and how they could join in on the fun. Out of growing interest in his exercises, SkateFit was born.
To be exact, SkateFit is the use of inline skates to complete a low impact cardio workout that still manages to be fun. With the various skating techniques involved in a single workout, it strengthens both your glutes and your core muscles, all the while getting your heart pumping and blood flowing. Plus, the skating motions build agility and coordination, which, for surfers especially, has a noticeable payoff. "You also see the benefits of improved posture and mental well being," Clark added.
When Clark initiated his skating workouts, he bladed from North Beach to Poche daily, with a new pair of Seba skates and a boombox in hand. This is the skating equivalent of running a 10k , which may seem daunting to many. However, don't fret: the typical SkateFit workout is around half an hour and can still burn up to 400 calories.
One of the best aspects of SkateFit is how it transformed the idea of exercising from being unappealing to fun. You can ride with a group of friends or even your family. If safety or your own inexperience is a concern, rest assured—SkateFit is designed to benefit people of all levels of athleticism. "New members of SkateFit begin with a small group on boarding session led by a SkateFit trainer. All basics of control and safety are passed before moving on to the first SkateFit workout," Clark affirmed. So once you or your group are officially cleared, you're free to head down to Pacific Coast Highway and enjoy the sunshine on your skates.
Not only can you workout with your friends and family, but you can do it while taking in the beauty our city has to offer. Skaters can schedule a workout for the morning, afternoon, or  the weekend. Meet up locations are at the Los Mares – Vera Cruz area or at the Camino Real Skate Path. More adventurous skaters can take part in the night rides on Wednesday evenings.
Juliette Clark, a junior and the daughter of John Clark, enjoys the SkateFit workouts more than anyone. "It's nice to get a workout outside, and it's cool having people who are unfamiliar with roller blading see you and inspire them to try it." At the prospects of partaking in a SkateFit workout with her friends, Brianna Blashill, grade 11, replied, "Yes. I would be so down to do that."
If you wish to learn more about SkateFit, you can find them in the latest issue of the San Clemente Lifestyle Magazine or on Instagram, Facebook, and Yelp. Or perhaps the next time you go to the beach, you'll spot Clark and other skaters coasting along.