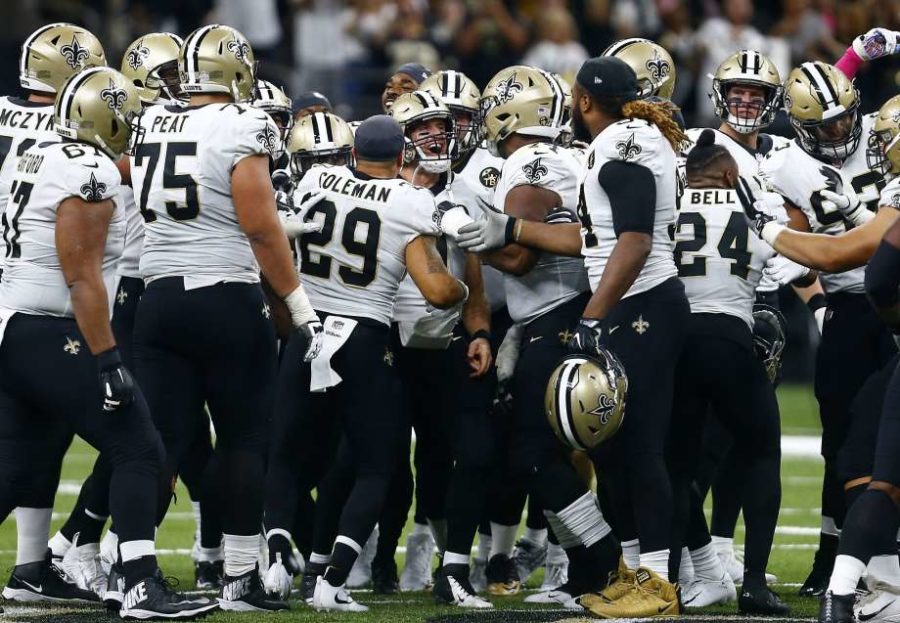 By: Sam Giacobello | Writer
October 11, 2018
Drew Brees has long been one of the greatest quarterbacks in the NFL, winning Super Bowl XLVI as well as 14 individual records.
At the beginning of the week, the New Orleans Saints starting quarterback broke yet another record in the NFL, taking hold of most career passing yards from the previous holder, Peyton Manning. Brees started the night as third on the all-time list, but he needed only 201 yards to pass Brett Favre and Manning against the Redskins on Monday night, a mark he easily hit with 363 yards during the Saints' 43-19 rout of the 'skins.
Brees broke the record in style, reaching the mark in the second quarter with a 62-yard touchdown pass to rookie Tre'Quan Smith. It was Smith's first career touchdown reception, but the receiver was not the one being congratulated at the end of the play. As a tribute to Brees' accomplishment, officials stopped the game for a few minutes to recognize the new record-holder. Brees celebrated with teammates, his wife, and his children on the sideline as the record was announced over the loudspeakers of the sold out Mercedes-Benz Arena, the home crowd roaring for their long-time number nine.
Brees is one of a select few figures in the NFL who have respect from almost every fan of the sport. There are very few people, other than Manning fans, who are disappointed that Brees broke the record. Many SCHS students seemed to be excited with the event, while others did not see the surprise in the Brees holding the record.
"With Brees representing the comfortable Wrangler Jeans the entirety of every day, I'd find it surprising if he didn't get the record at one point," senior James Gamette said. "In my eyes he's always been king at offensive plays, yards, and TDs, and it looks like it hasn't worn off at all."
Others simply basked in the fact that Peyton Manning no longer held the record.
"As a Giants fan and Eli Manning fan," senior Patrick Riley said, "it is nice to see someone beat the other Manning's brother's record."
While his count of fifteen NFL records is an extremely impressive number, there is little reason to think that Drew Brees is going to settle at that number. With at least a few years left in his career, having only turned 39 in January, Brees is only 40 touchdowns away from passing Peyton Manning's mark of 539 career touchdowns. If he continues playing into his mid-40s, which seems likely, he could be on his way to the most career passing attempts and starts in the NFL, provided he can beat out 44 year old Tom Brady. But for now, Drew Brees will be happy celebrating his amazing accomplishment with his family during the Saints' bye week before getting back into the gridiron against the Ravens on October 21.