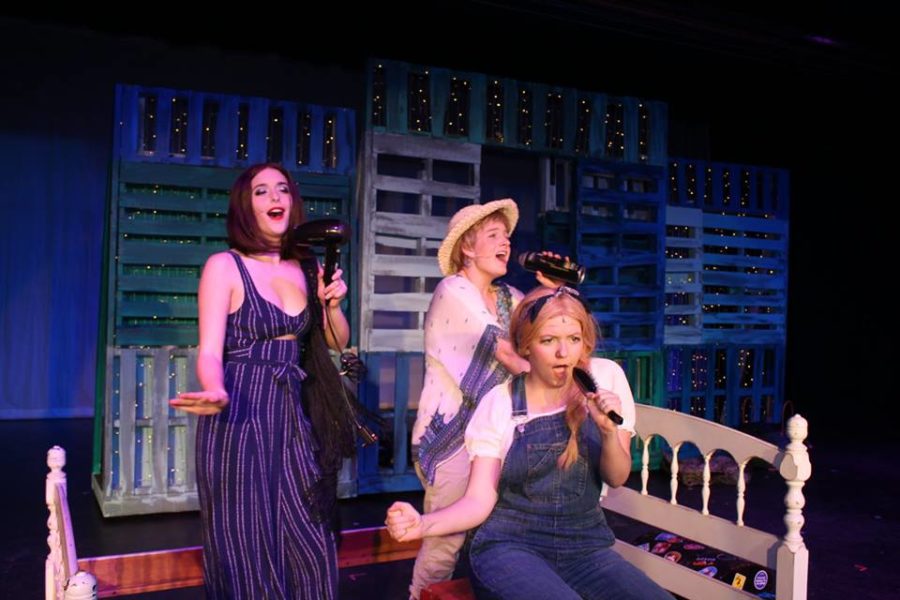 By: Flynn Lloyd | Editor in Chief
April 12, 2019
Everyone should "take a chance"  on the premier of SCHS Drama's performance of Mamma Mia. Filled with vibrant costumes, upbeat dance routines, and hysterical dialogue, the SCHS cast and crew truly blew their audience away.
Mamma Mia has become a well known musical across all ages due to its adaptation of ABBA songs. Furthering the popularity of this fan favorite, the San Clemente drama department exceeded any expectations. Every actor and actress shined on stage and looked as if they were all having a blast while portraying the popular characters to a T. The musical depicts a quirky mother – daughter relationship with a funky 70s flair. The actresses and actors who performed in Mamma Mia were outstanding in keeping their audience captivated, laughing, and, in my case, crying with their humorous dialogue and touching relationships.
Compared to previous musicals done by the SCHS Drama department, Mamma Mia stands out because of the zealous and energetic dance and song numbers. Senior Kiley Hahn said, "I don't know how they [the performers] can sing and dance so well without getting exhausted!" The amount of liveliness each performer put into the performance could be seen by the audience and made Mamma Mia stand out as exceptional. Some performers that stood out were senior Carlie McCleary, cast as Donna, sophomore Emma Rhoades, cast as Sophie, and Viviana Moiso, cast as Tanya. All three actresses belted powerful and emotional songs and conveyed characters that encapsulated any audience member. Though every member of drama, including those backstage, put on an unforgettable show.
Freshman Tanner Lloyd said, "Being apart of this production was hard work and took a lot of time, but it's worth the experience and final product." The drama kids at SCHS have spent hours during and after school to nail this production and they successfully wowed the audience on their premier Thursday night.
So, go find your inner dancing queen at the next few shows: April 18th, 19th at 7:00 p.m. and 20th at 2:00 p.m. and 7:00 p.m.